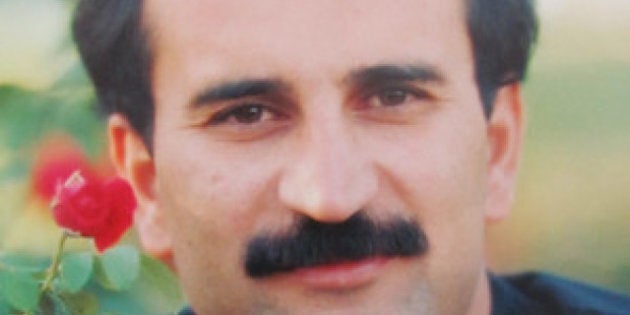 Beygom Yadi Jamaloei is a 70-year-old mother who wrote an open letter four months ago pleading with the world to help prevent the illegal execution of her son, Gholamreza Khosravi.
An excerpt of her letter translated to English reads: "Since my husband died five years ago, Gholamreza is my only hope for living-- but he has been imprisoned for the past four years. Please help in preventing the [Iranian authorities] from taking [my son] away from me. He did not hurt anyone nor use any weapons...Please help me."
Iranian Ministry of Intelligence agents brutally beat and arrested Khosravi, an industrial inspector and wielder, at his workplace in February 2008. Without announcing his charges, the agents threw him in an unmarked car and pointed a gun to his head. They threatened to kill him if he showed any form of resistance. He was taken to the Kerman Intelligence office and barbarically tortured, both physically and psychologically.
After a court in Kerman sentenced Khosravi to a total of six years in prison for his alleged support of the PMOI/MEK, Ali Akbar Heydarifard, the Tehran Deputy Prosecutor at the time (who had no role in the case), illegally ordered the transfer of the sentence to Tehran. According to close sources, the transfer was most likely due to the fact that Khosravi had refused to cooperate with authorities by giving false video confessions.
You may not be familiar with his name, but Heydarifard is notorious among Iranians. He is nicknamed the "Torturer of Tehran." He is most known for ordering the transfer of Iranian protesters to Kahrizak Prison. For those who remember Iranian-Canadian photojournalist Zahra Kazemi, Heydarifard allegedly played a role in her torture and murder in 2003.
In Tehran, Pir Abbasi, a corrupt Judge in the Revolutionary Court, convicted Khosravi of Moharebeh (enmity and waging war against God) and sentenced him to death. Read an interview with Khosravi's family member for more information on the unlawful nature of the charges and sentence.
Since his arrest in 2008, Khosravi has endured more than three years in solitary confinement and practically all his basic human rights have been violated. To date, the Iranian authorities have not presented any evidence to support the death penalty sentence.
To complicate matters more, Khosravi's main lawyer, Abdolfattah Soltani, is also imprisoned.
Based on the information provided by Khosravi's family, the death sentence is currently in the possession of the Execution of Sentences office in Evin Prison and is scheduled to be carried out in September (following the Islamic holy month of Ramadan).
I have personally worked on multiple execution cases and can assure you that international attention saves lives in Iran. You have the power to help Gholamreza Khosravi. Be his voice for justice.
Here are some ways you can help:
2. Contact Foreign Affairs departments in Canada and other countries and urge them to speak out for Gholamreza Khosravi.
3. Contact your local media and urge them to report on Gholamreza Khosravi's plight
6. Spread the word about Gholamreza Khosravi's plight by sharing news related to him on your Facebook, Twitter, and other social networking sites.