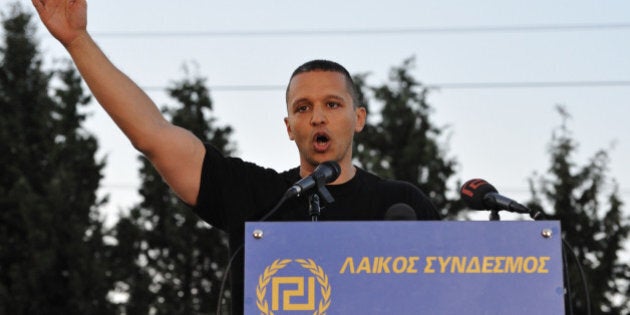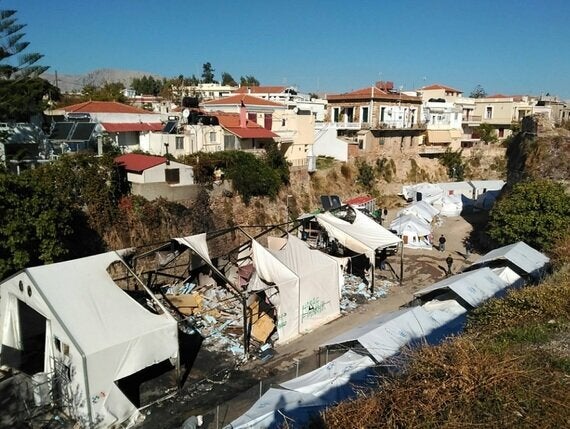 Image courtesy of Daniel Rivas via Twitter
Right-wing fascist group Golden Dawn attacked refugees and set fire to Souda camp on Chios island on Wednesday night. According to eyewitnesses, approximately sixty members of the group descended on the camp around 01:00, launching a series of flares and throwing large rocks before setting fire to several tents.
The group reportedly entered the camp through its entrances on either end and attacked some of the camp's 1,000+ residents. Refugees and volunteers posted videos online depicting the significant size of the rocks, which were thrown from above and tore through the canvas of the UNHCR tents as refugees slept inside.
Several refugees were taken to the hospital as a result of the attack, including one pregnant woman and one man whose skull was fractured after being struck by a rock.
Members of the group then allegedly set fire to one of the large rubhalls in Souda's center and blocked the camp exits. Videos of the fire posted online show chaos and panic throughout the camp as refugees, including many families with babies and young children, tried to escape to safety. The nearby Athena Centre for Women, run by the NGO Action from Switzerland, was quickly opened as an emergency refuge.
Riot police arrived on scene and used tear gas and flares in an attempt to quell the confrontation. However, tweets from volunteers on the ground reported that riot police did little to restrain members of Golden Dawn and instead became violent with refugees. Several reports of police brutality have emerged. One refugee providing updates via Facebook in real time said police had "stormed the tents and started beating refugees and arresting people randomly."
More than 50 people have been detained, including two international volunteers. Witnesses report one of the volunteers, a nurse, was beaten and detained as he attempted to assist the refugees. It is unclear whether the majority of the detainees are refugees or Golden Dawn members.
Golden Dawn is an ultranationalist right-wing political group in Greece, widely described by both scholars and media as a neo-Nazi fascist group. The group's increasingly hostile xenophobia and anti-refugee rhetoric has repeatedly been denounced by other Greek political parties including Syriza, the KKE and Popular Unity.
Golden Dawn coordinated several rallies on the Aegean islands this week to coincide with US President Barack Obama's visit to Athens.
Refugees have previously voiced concerns about the lack of security in Souda camp. In September Golden Dawn members attacked journalists, refugees, and volunteers during an anti-refugee protest, and its members were also accused of assaulting a young Palestinian girl in the main square later that month. Amidst the simmering tensions on Chios, male refugees in particular have consistently reported assaults by hostile locals and say they have received no protection from police.
There are currently more than 4,000 refugees stranded on Chios, living in temporary shelters built to accommodate a maximum capacity of 1,100 people. Tensions have been mounting in recent weeks as the backlogged asylum system continues to stall, and the EU refuses to provide more asylum officials to assist the overburdened Greek hotspots.
Refugees are forced to wait for months in what Amnesty International calls "appalling conditions", and say they receive conflicting and confusing information from the various authorities and organizations responsible for their asylum claims. Recently frustrations have been further exacerbated as the tents and tarps provided to refugees prove inadequate protection against the approaching winter weather, particularly heavy rains and high winds.
Follow HuffPost Canada Blogs on Facebook
Popular in the Community