Just over a year ago, I was briefed on one of the most interesting design challenges of my career. The ask came from Policy Horizons Canada, an innovation lab within the Government of Canada, who aimed to create a serious board game that would enable public servants to learn and practice foresight.
Foresight is a discipline for exploring how issues and events unfolding today could evolve over a longer period of time. Governments, businesses, and other organizations practice foresight as way of seeing potential changes to their operating environments, including emerging challenges and opportunities.
Through a highly collaborative process, our team of futurists, strategists, and designers at Idea Couture worked with Policy Horizons Canada to develop IMPACT: A Foresight Game.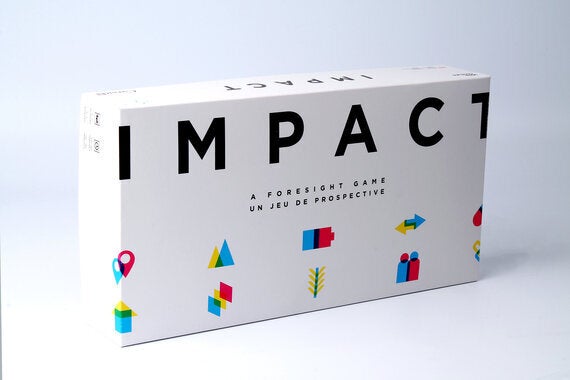 The objective of foresight is not to predict the future, but to prepare for many futures. That's what makes a game such an ideal medium for learning foresight thinking. In more linear formats, such as a films or novels, the narrative is static. But board games are dynamic and can generate a new scenario every time you play.
In Impact, each player takes on the role of a character with a unique job from the future and a set of preferred future conditions that will make their job secure and prosperous. Players compete to achieve their character's preferred future world by playing Impact cards, which trigger events influencing the various domains of society. The roleplaying aspect of the game also encourages empathy as players embody characters and think from different perspectives about what it means to create a preferable future.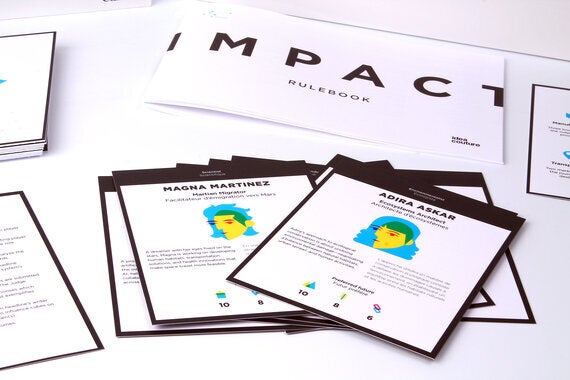 Like the discipline of foresight in general, Impact brings to light the rates and trajectories of change, and the potential second order effects and disruptions that might occur. For organizations, maintaining a competitive intelligence practice that formally tracks rates of social, technological, environmental, economic, and political change is part of ensuring your own resilience.
The content of the game is based on Policy Horizons Canada's report, MetaScan 3, a foresight study that explores how disruptive technologies may shape the economy and society. So, when you're playing Impact, you're engaging with real life technological events that are unfolding today (such as a recent scientific discovery or the formation of a new kind of tech startup) and imagining the possible ways these events could influence society tomorrow.
Players learn about developments in fields like nanotechnology, artificial intelligence, Internet of Things, biotechnology, and robotics; and are prompted to consider their industry, environment, and policy implications.
Impact is used by public servants within the Government of Canada to introduce and teach the discipline of strategic foresight. But the futures thinking skills it cultivates - such as cross impact analysis, synthesis, systems thinking, wind tunnelling, and planning for longterm uncertainties - are just as relevant to ordinary citizens. The future belongs to everyone. Thinking deliberately about how it takes shape is not an activity that should be limited to policy-makers and tech titans. I'd like to see IMPACT, and other tools like it, become widely available to the general public, so everyone can practice thinking about how issues emerging today may affect the world of tomorrow.