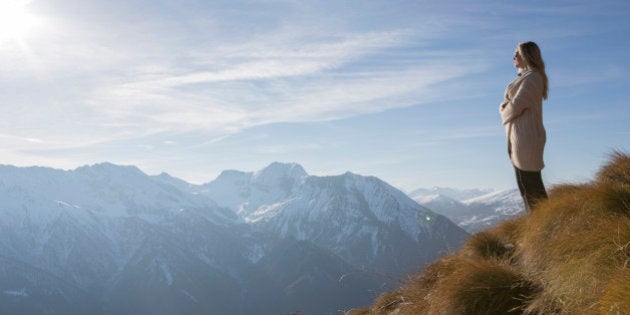 I wanted to begin 2017 by learning about new ways of living and discovering solutions, so I went to meet a woman who is increasingly being seen as an inspirational leader, living in the Central Apennine mountains, in Italy.
Maria Sonia Baldoni is a charismatic founder of a social movement that is rapidly growing and now becoming international. This movement offers a unique approach to sustainable living in harmony with the environment, a new kind of economy, and a rewarding lifestyle.
The name of the movement does not immediately summon up all that it entails: Case delle Erbe, or Houses of Plants http://www.casedelleerbe.it exist in forty locations throughout Italy. This year Case delle Erbe houses are spreading to Romania and Chile.
The idea began in the 1990s in Capracotta, a mountain village located at 1,400 meters altitude in Molise, Central Italy. This was a place with no economy, no tourism and each year the local school was threatened with closure, as people out migrated. The only thing the village had was an abundance of nature.
Maria Sonia describes how they decided to study the historic uses of wild plants in the area, and then learned how to harvest the plants. One member of the group made contact with a health product manufacturer in Milan, giving them a market for their wild forage.
From this simple base the movement grew.
Each Casa delle Erbe in Italy is different but they all share the same lifestyle. The foundation is learning values of local wild plants and their earth honouring traditions from prehistoric times, which differs regionally in Italy. Harvesting the wild plants, Casa Delle Erbe work as a kind of co-operative, creating a network of suppliers that sell to health food business, restaurants, cosmetic companies, etc. They also make their own wild plant products to sell locally.
'There is always more demand than can be supplied,' Maria Sonia explains.
But this is just the beginning.
Learning to recognize and harvest the renewable resource of wild plants, and earth honouring, is the basis of the Case Delle Erbe. Other additional courses include cooking with wild foods, homeopathy, art therapy, permaculture, or music concerts and dance. Each Casa Delle Erbe must always be open, so if the owner goes away, another person from the network fills in and any member can arrange an event at any of the houses in the network. Anyone can join and work to harvest the plants, and everyone cooks and eats together, as well as joining the learning and events that celebrate ancient prehistoric earth/plant traditions.
The radical aspect comes into play when Maria Sonia explains how it works for young people and for people who can't pay. It's a new-old economic structure.
'To join this type of economy you don't have to be a landowner. All you need is to recognize what plants to harvest and be connected to the network to help you process the plants. You can harvest in the wild, on roadsides, in gardens, anywhere. For local people who want to participate, we function with barter only.'
She shows me attractive posters for a permaculture course at one of the houses.
"All the publicity in this region is designed by a young person for free because he wants to participate and learn in the workshops. Another person does the printing, another person brings wood. No money has changed hands setting up the Casa Delle Erbe and we have no sponsors. People come to us and offer the skills they have in order to join and learn. Those who learn become teachers and inspire more people to learn and teach. This is a movement which multiplies from its own energy."
The courses, apart from learning how to harvest, must be lead by qualified homeopaths, agronomists, or naturopaths. Maria Sonia also works with University of Bologna, and University of Salerno, and with PhD students. People come from all over Italy to participate in the workshops. Those who dip in and out of the movement, pay for the training and for their accommodation.
Others, who live near the Case Delle Erbe and want to make it a way of life, barter, and learn for free. They pool resources and skills, selling the plants they harvest.
In parts of Europe where the economy is in decline and young people have no clear future, this represents a dynamic solution. The movement offers work, creativity, a culture of learning and engaging in research about early peoples' traditions surrounding plants, the earth and a holistic life - that does not rely on money.
"People always say to me: 'Why don't you write a book about what you are doing?' I don't want to. There are enough books already. We need to live what we learn. We learn when it is a part of our lives, not by reading about it," Maria Sonia explains.
And the picture is bigger still; the houses are more than a network of centres.
As Maria Sonia relates, the movement works best within a region that is already interested in the ancient uses of plants and traditions surrounding the earth and sustainability. Once a level of interest has been ascertained, then the movement can grow to include individuals -- who are not directly involved in a Casa Delle Erbe -- who bring other skills like that of making musical instruments, researchers and writers, painters and sculptors.
Equally important is an infrastructure of schools where teachers want to learn foraging, hospitals or local authorities wanting to promote, and pay for, the courses for the public. Outside of the immediate community, a larger circle of people gravitate around the houses, and pool resources, if only occasionally.
On a basic level, while I was there I noticed that everyone who arrives brings something and leaves with something.
The region is co-ordinated, so each Casa Delle Erbe takes a specialist role. Hence when one house holds a festival, another house is employed doing the catering, thereby sustaining each other.
If you want to open a Casa Delle Erbe you generally spend many years visiting and living in the other Casa Delle Erbe. It's a community of interest that is growing.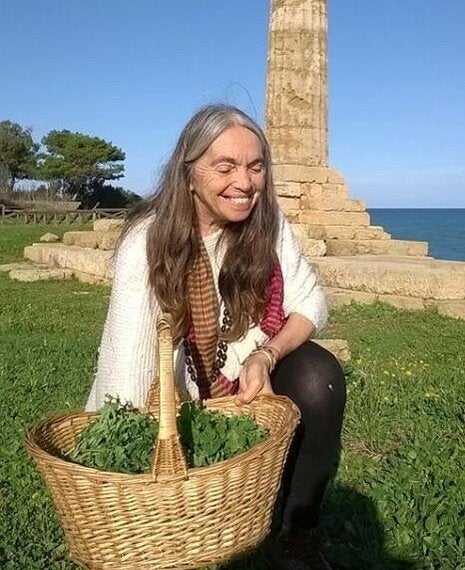 Now Maria Sonia is going to Chile to support a person she has been mentoring, who is returning to her homeland to start the first Casa Delle Erbe in Chile.
"One must never feel alone or be alone in this work. We all help each other because there can be many hurdles to overcome."
The community is impressive for remaining open and fluid, while being so strong.
Wild plants provided a key to life and health, for a large section of the population from prehistoric times until the world wars.
Just as people have forgotten how to forage for wild plants, freely available to us, offering health properties that exceed industrially produced foods, we may also have forgotten how life can be more free. And fun and healthy.
This was the inspiration I needed. The Case Delle Erbe movement will go on to inspire many others internationally during 2017 and beyond.
Follow HuffPost Canada Blogs on Facebook