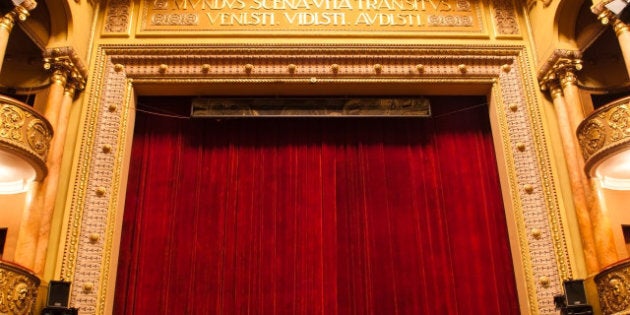 2013 marks the 30th anniversary of Norm Foster's career as a playwright. I had the good fortune to interview Foster just before he headed to Ireland and Scotland from here in London, Ontario. Here's my Q&A:
One of my favourite quotes of yours is: "I've never written a play that I was completely satisfied with, and anyone who has, is too easily satisfied."
A: It's true. I wish I could sit back after writing a play and say, "Wow. It's perfect." No. It's never going to be perfect.The best I can hope for is very good, and even that is shooting for the stars sometimes.
Could you talk about your process? Do you have people who read your work early on who give you feedback? Do you use a workshop process?
A: I write in the morning. Early. I hosted a radio morning show for 25 years, having to get up at 4:30 a.m. and I can't break out of the habit. But, I love that time of morning. My mind is clear and full of ideas at that time. I don't usually write past noon. And I don't let anyone see the work until the first draft is finished. I don't want any feedback until then. I don't want to be influenced by anyone else's opinion in the early stages of the piece and I don't need any positive reinforcement. I'm able to push myself without that. A workshop is very important in the process of writing a play. Hearing the words out loud for the first time tells me what works and what doesn't work. And I don't need a long workshop. I just need to hear it read once or twice and that's it. Then the actors and I go to a bar and talk about something else.
Do you have favourites, or are they all like children, the fruit of your loins?
A: I have a couple of plays that I wish would never see the light of day again. But every play I write is a part of the growing process so I'm glad that I wrote even the ones that I am not enamoured with now because they were all stepping stones in my growth as a writer. The favourites? Hilda's Yard. Ethan Claymore. Mending Fences. On A First Name Basis. And of course the new one, The Great Kooshog Lake Hollis McCauley Fishing Derby. I like this one because all of the characters have a lot of goodness in them. They are nice people at heart. And I also like some of the quirky wordplay. It was a fun show to write.
What do you think of critics? Are you critical? Do you get asked to critique others' works?
A: Someone once said if you're going to believe the good reviews, then you must believe the bad reviews as well. I disagree. I say you should believe the good reviews and assume the bad reviews were written by idiots. I know artists who are very hurt by bad reviews. I'm past that now. I've developed a very thick skin. I've written 50 plays, been through at least as many workshop processes, rehearsal periods and opening nights. There is really nothing any critic can tell me about writing a play that would enlighten me at this point.
Sometimes I get asked to read someone's play and give them some feedback, and I enjoy doing that. But any help I give is constructive. I try to be helpful and not discourage the writer.
I'm very critical when I go to a play that people have paid good money to see. More often than not I am disappointed. More often than not I can see the writer's wheels turning. If I can watch a play and NOT think about the writing, then I know it's a good play.
All levels of society relate to your plays across North America and beyond. Why do you think that is?
A: I think it's as simple as seeing characters up on stage that you know. My first priority when writing a play is to tell a good story, and then I try and populate that story with characters that the audience can identify with. I am from a blue collar background. I don't like pretentiousness and I'm not precious about my work or about the craft of writing. I don't pretend to be writing 'important' plays or 'ground-breaking' plays. I'm just trying to write 'good' plays. They are not always one and the same.
Is your writing talent innate?
A: I do not believe you can teach a person to write. Especially comedy! This is why I don't give workshops for aspiring writers. I will do Q&A sessions but I will not attempt to teach someone how to write. It can't be done. You can either write, or you can't. When I started, I knew nothing about the form of a play, but dialogue just seemed to come naturally to me. A man named Alvin Shaw who was the Dean of Arts at the University Of New Brunswick back then, saw some potential in me and showed me the form -- the actual form -- of a play. Character's name here. Dialogue here. Stage directions in brackets. End the first act with the audience wanting to find out what happens in the second act. That was all I needed to know and I was off and running.
I'm fascinated that you did not see plays before 1980 when you were around 30. Are you ever proof that it's never too late to start anything!
A: Yes, I am! Absolutely. I see maybe five or six plays a year. And even then I think, "Man, if I have to see one more play!"
I know you have said, "You have to know when to stop writing. Know when your play is finished. One of the curses of being a playwright is that you're never ever completely satisfied with your finished product. There is always that one line which you think you could improve. And when you improve that line, you find another. You must know when to stop." Do you practice what you preach? As prolific a writer as you are, you must!
A: I do know when to stop. I try and have a play as close to the finished product as I can before we even go into rehearsal, and then I make script changes for the first week of rehearsal, and then I'll watch the show in front of an audience three of four times in that first run and then I'll make the final tweaks. After that, I don't usually touch it again. I know writers who just keep rewriting and rewriting and rewriting. I figure, if you haven't got it right by the 14th draft, chances are, you never will.
When you see one of your works produced, can you relax and enjoy what unfolds before you?
A: No, I don't see much of my work after it has been produced the first time and that is a conscious decision on my part, because instead of enjoying the shows, I sit in the audience and think, "Oh I knew I should have changed that line!" or "Why is he saying it like that?" or "I should have pre-ordered more drinks for intermission."
Your latest, The Great Kooshog Lake Hollis McCauley Fishing Derby, is having a world premiere here in London. First of all that is one hell of title, a mouthful and then some. What can you tell us about your latest work?
A: Yeah, I hemmed and hawed over that title. I could have just called it The Fishing Derby. But I think this title is catchy. I mean, other plays have long titles such as The 25th Annual Putnam County Spelling Bee, and I thought this would be a title that would catch the public eye. The story is about an investment banker who is on the way to a big conference up north in cottage country and his car breaks down in the town of Kooshog Lake when they are having their annual fishing derby. This man just wants to get his car fixed and get on to his important meeting, but circumstances keep him in town for the entire weekend and he winds up entering the fishing derby. The play is filled with quirky characters, such as a man named Kirk Douglas, and it has a couple of tender moments as well. It is peppered with what I like to call 'off-handed humour'. Lines that you don't see coming that almost seem like throwaway lines. I think -- I HOPE -- that audiences will really take a liking to these people.
What's next for Norm Foster?
A: I'm touring a show of mine called On A First Name Basis with a wonderful actress and friend, Patricia Vanstone. We will be all over southern Ontario and even Quebec from April through to August of this year. I also just finished a Christmas musical with composer David Warrack, and I am about halfway through writing a brand new play.