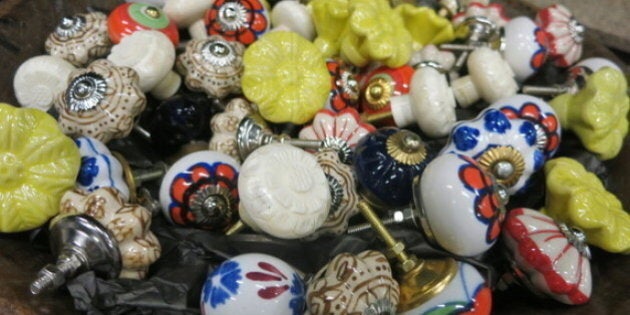 I often say hardware is one of the most overlooked ways to transform a furniture piece -- or even an entire space. But how do you go about choosing from the virtual sea of nifty knobs and pretty pulls? Here's my guide to determining the correct location, style and placement of your new practical accents so you can get the biggest effect from this easy DIY transformation.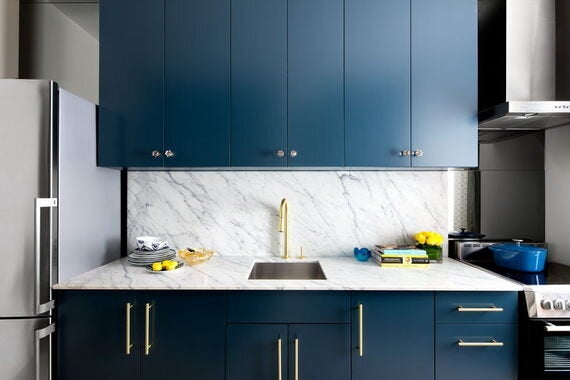 Yanic Simard's home kitchen with a mix of jewel knobs and sleek pulls
Location Location Location
-Before choosing the perfect piece or pieces, you of course have to think about what sort of door your knob is going to dress:
-For kitchen cabinetry, the best option will be easy to grab (with no sharp edges or strange shapes), simple enough to look good in multiples and able to stand up to a little wear and tear. This is a good place to choose a more inexpensive piece in a simpler design.
-On a large cabinet with just one or two doors, take the opportunity to make a WOW statement with an ornate option - the price of one or two knobs or pulls will still be relatively low and even big-box-store furniture will look like a luxury investment.
-For something in between (such as a chest of many small drawers), balance style with how often you use it to find something that stuns you visually without giving you Carpal Tunnel (or hurting your wallet).
TIP: A kitchen with many cabinets is actually a great place to mix two styles together, like a simple bar pull on the lower cabinets and a more special jewel-like knob on the uppers. Choosing two materials helps the contrast look intentional.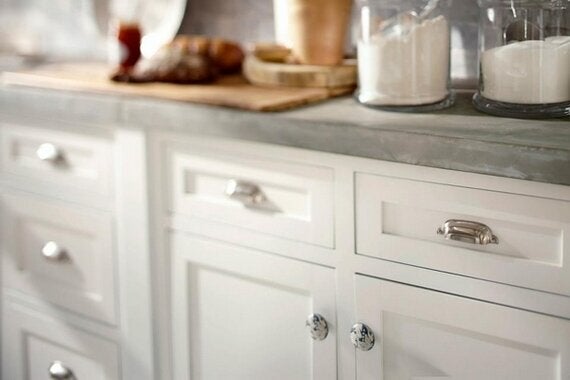 For shaker style doors, consider placing knobs a bit below or above the corner
-When replacing old knobs, the best strategy is to take an old piece to the store with you and find something with the exact same hole size and screw length. If possible, bring an entire drawer/door, or measure first to know how large the knob can be (especially if you're choosing something more decorative).
-This is especially true for two-hole pulls, as you'll also need to match the width between the screw holes.
-However, if you choose a piece with a coverplate you may be able to cover old holes, and easily convert from a knob to a pull without having to fill or patch.
-If all else fails some wood filler and a fresh coat of paint can cover an old hole to allow a better placement - still much quicker and cheaper than replacing all your cabinets and the result can feel like a brand new kitchen!
TIP: When using pulls, try to choose a size that works for all your doors and drawers (if possible); usually about 1/3 to 2/3 the width of your drawers. For shaker doors, go small enough to fit inside the middle panels so they don't look out of proportion.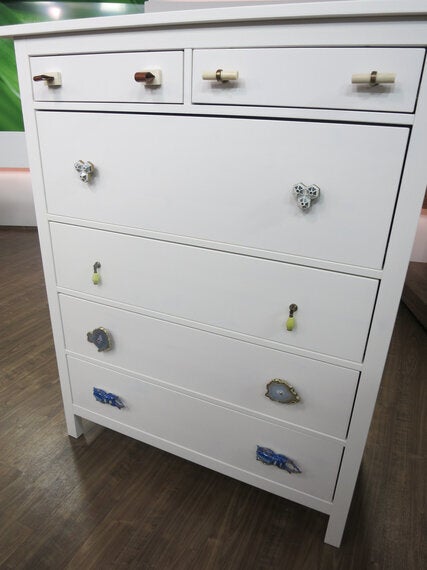 Ikea Hemnes dresser with selection of knobs from Anthropologie
Tip: Hinged or decorative knobs work better where they will see lighter use (while looking beautiful!)
-If you are moving hardware (or installing it for the first time on fresh doors), consider these placement tips:
-For flat doors, you can place the knob nearly anywhere from an aesthetic perspective, but you have to keep in mind how the door swings. This is why knobs and pulls are usually placed in the lower corner opposite the hinges (try 1" in from the two sides), or approximately vertically centred on tall cabinet doors.
-For shaker doors, the hardware should usually fit in the outer border. Try placing the knob (or the lower hole of a pull) in the vertical border, just above where the lower border ends (see picture).
-Drawers can have the hardware placed near the top, or in the middle, but nearly always vertically centred. If your lower cabinets mix doors and drawers, use this flexibility to align rows of knobs across the width where possible for a clean look.
TIP: To ensure a comfortable placement, mime reaching for a knob and see where your hand would naturally fall, and mark that spot with a pencil.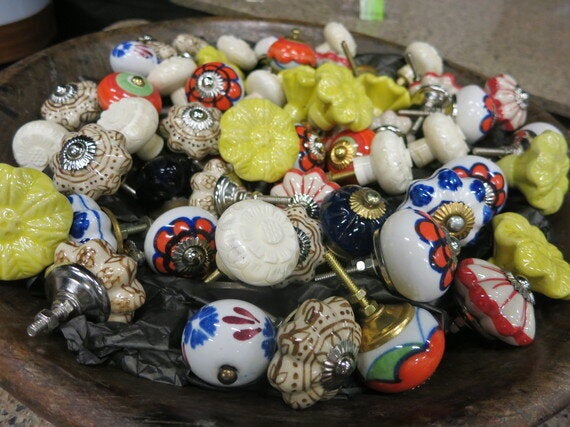 Inspiring knob selection from Haveli Home
For even more knob know-how, watching my Cityline segment on the subject here:
Popular in the Community