Death and devastation of the poor and defenseless has become a cultural norm in Kerala. And even as people and elephants are dying in stampedes at an alarming rate, the masses continue to cling on to their misguided myths.
Four elephants and six people have died in almost 220 incidents of stampedes over the past three months this year. The most recent casualty was a 55-year-old bull elephant, Keshavankutty owned by the infamous Guruvayur temple, a popular rental that fetched a significant amount of money for parading in cultural festivals. He was loaded on a truck and driven to another temple, 120 kilometers away from his jail cell at Punnathoor Kotta, the so called "Captive Elephant Sanctuary." The bull was forced to parade on the 24th 25th and 26th of March. But unable to cope with his deteriorating health he collapsed a couple of days later, dying a miserable death on the temple grounds.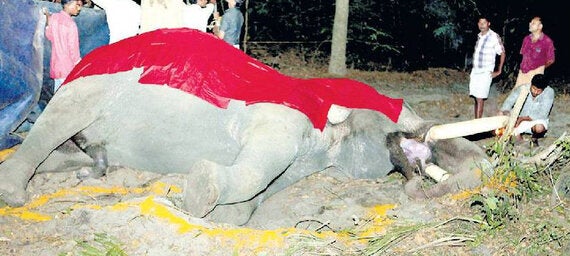 Tragic Death of a Gentle Giant; Photo: Heritage Animal Task Force (HAFT)
To be sure, it wasn't a sudden death. The Heritage Animal Task Force (HATF) Secretary Mr. Venkitachalm decries, the bull was allegedly suffering from pulmonary disease and severe indigestion. Indeed the elephant was struggling to stand all along, but his symptoms were ignored by the festival organizers. Mr. Venkitachalam says the poor animal was so hungry that he began to eat sand from the ground, which could have exacerbated his digestive condition, causing his sudden death.
"Both the Guruvayoor Devaswom and Malabar Devaswom Board officials failed to give proper diagnosis and medical care for that ailing Elephant."
Another tragedy on March 28th involved an elephant named Vedakkumnathan Ganapathy, aka Lucky Prasad. Sick and tired of torture and abuse, he unleashed his wrath after he was brought to a temple in Palakkad district. He killed his mahout and ran amok, leaving a trail of devastation along the way, uprooting trees, and destroying vehicles and properties. In fact he became so furious that he picked up a car from the temple premises and rolled it 80 meters away.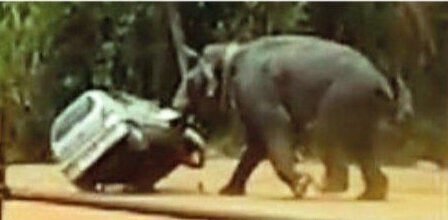 Vedakkumnathan Ganapathy Unleashes his Wrath; Still Shot Cell Phone Video: HATF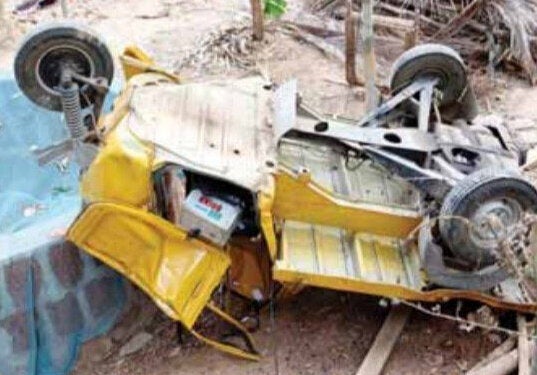 Vedakkumnathan Ganapathy toppled vehicles; Photo: HATF
This being his first "murder", he was soon labelled "killer elephant," but nobody seem to recognize his pain and suffering that pushed him to act this way in the first place. They used illegal weapons to capture and torture the defenseless animal, as thousands of people watched the "spectacular chase" while the poor animal was in agony. He was then transported to Trissur city, where preparations are underway for the Trissur Pooram festival.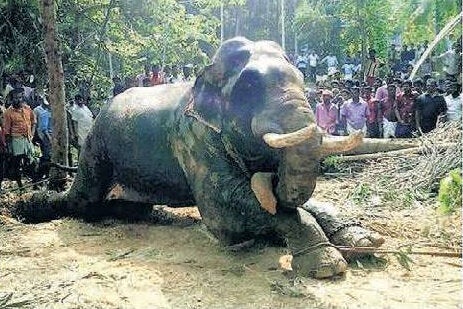 The elephant was captured and tortured, as the crowd looks on; Photo: HATF
Mr. Venkitachalam claims the elephant's owner has no valid certificate as required by the Declaration of Wild Life Stock Rule, 2003, and Vedakkumnathan Ganapathy is kept illegally by a bankrupt realtor who doesn't have the resources to care for the elephant. He will also be paraded unlawfully at the world renowned festival in Trissur that begins early morning April 16th and continues non-stop for 36 hours.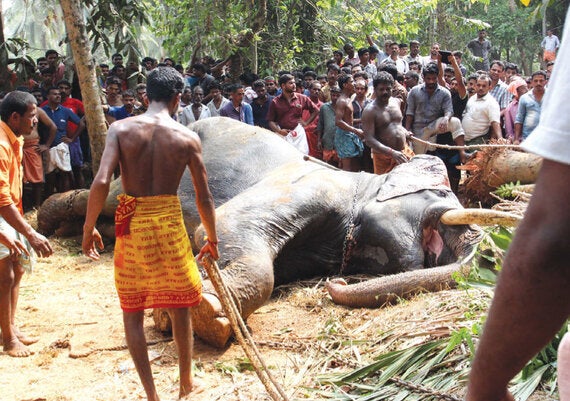 Defenseless Vedakkumnathan Ganapathy after his capture; Photo: HATF
Here's some perspective on the nexus of illegal trade covering up criminal trails. This elephant has changed three owners. His original name was Lucky Prasad, first kept by a Christian family in Kottayam district that sold him to a Trissur resident. The elephant's name was conveniently changed to Pananchery Neelakandan as the paperwork was missing. Two years back he was illegally sold for the third time to the real estate businessman who gave his current name, Vedakkunathan Ganapathy.
The sad reality is, each time these elephants change owners they have to undergo a process called "crushing of spirit". It entails groups of drunken men beating the living daylights out of these defenseless docile animals that are chained to ensure that they become familiar with the commands of their new mahouts. We've gathered undercover footage of the atrocious treatment of bull elephants featured in our multiple award winning and United Nations nominated film Gods in Shackles.
Venkitachalam says, "Lucky Prasad is a living example of an elephant which is being tortured by ever changing owners and mahouts. The state govt. of Kerala is favoring the parading of elephant having no ownership certificates in violation of the Wildlife Protection Act 1972."
Meantime, the Kerala forest department has registered criminal charges against Bharathan Menon, for parading his elephant Vedakkumnathan Ganapathy illegally and defying the August 2015 Supreme Court order that prohibits use of elephants without valid ownership certificate. He faces two more criminal charges, for property loss of more than one crore Rupees ($166,500 Plus USD), and another, for issuing fraudulent checks.
According to Venkitachalam, Bharathan Menon has a history of violations. In 2013 the Kerala Forest Department seized an elephant named Hariprasad from his custody, after he was convicted by the Kerala High Court for transferring the elephant illegally from Assam to Kerala. And sadly, this story rings true for many elephants in Kerala.
The issues surrounding the elephants of Kerala are spiraling out of control. It seems the state authorities are standing helplessly on the sidelines watching these tragedies unfold. Meanwhile, much of the world is unaware of the harsh realities that are cleverly masked by the glitz and glamour. Tourists will soon converge for the world renowned Trissur Pooram festival oblivious to the suffering of the elephants, as the vicious cycle of torture and abuse continue behind the curtain of cultural festivals.
Gods in Shackles lifts off the cultural veil and exposes the truth. Please continue to donate to help us bring into the world Gods in Shackles by Clicking HERE and end elephant slavery.
Follow HuffPost Canada Blogs on Facebook