Having grown up in a household of tea drinkers, I've always had a penchant for a good cuppa. Today afternoon tea has risen to new heights with tea sommeliers and chefs pairing tea with food to enhance the flavours of this repast.
On recent visits to tearooms in Washington and Toronto two very different afternoon teas were tasted.
Tea Lessons at the Park Hyatt Tea Cellar
Afternoon tea is the ultimate experience at the Park Hyatt Tea Cellar in Washington D.C., where a sampling of some of the rarest teas are available. I invited Robin Bennefield, a Washington, DC based travel writer, to join a personal tea lesson at the hotel. We were greeted by Lukas Marcinowski, Food and Beverage manager, who led us to a private area to begin our session and tastings.
The afternoon tea table features some of the most delectable treats to accompany your tea selections featuring delicate savories like Brie with chutney on toast, bacon and crab bites, traditional scones with home made preserves and lemon tarts, panna cotta and pineapple squares. Hyatt's executive chef Sebastien Archambault, changes the menu frequently to reflect what's in season insuring the buffet will compliment the teas on hand.
Chicago's Rare Tea Cellar supplies the Hyatt's specialty teas. Some tea aficionados spend up to $300 for a couple of cups of 1985 EMPEROR'S MASTERPIECE 300. There are less than 7 kilos of this extraordinary tea produced worldwide each year.
As part of our tasting Lukas selected the following teas from the menu: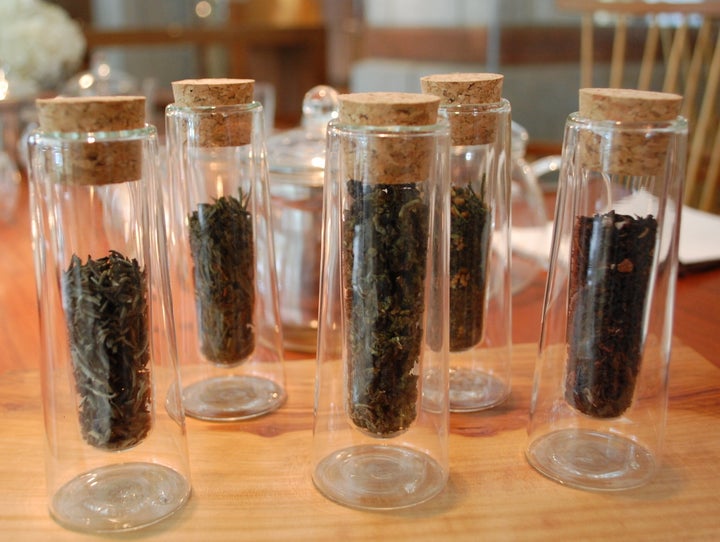 Chinese Green Tea Blood Orange Green
Organic green tea scented with the essence of blood oranges. Sweet fruity green tea.
-- When we took a bite of the lemon tart and then a sip of this tea the wonderful orange flavour burst upon our taste buds.
Japanese Green Tea Genmaitcha
Sencha with the addition of toasted rice. Sweet green tea, with the toasted rice creating a full body.
High Mountain Oolong tea scented with fresh blooming magnolia blossoms. Oolong with a magnificent floral expression.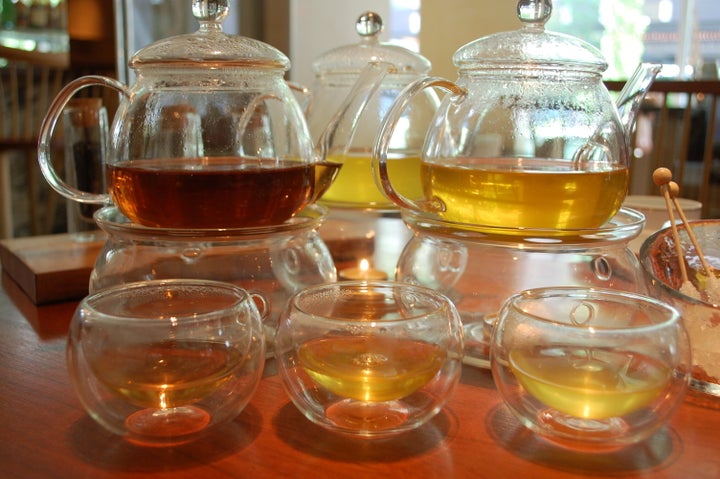 Emperor's Himalayan Lavender
Wild organic lavender grown from the pristine Himalayan Mountains. Naturally floral with intense fragrance.
-- We found that biting into the Pineapple square enhances the flavour of the lavender.
Organic and biodynamic white tea grown deep in the Himalayas.
-- Tea leaves are left to dry in the sun and the oxidation process then whitens the leaves.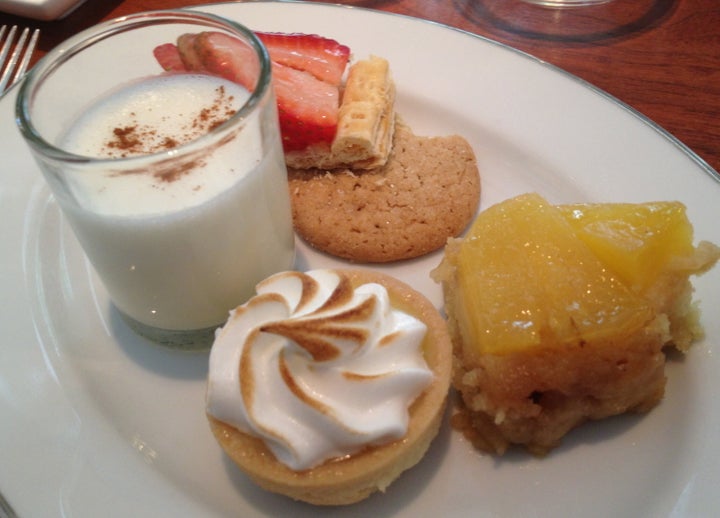 Emperor's Chocolate Elixir
Blend of 4 rare high mountain black teas and 4 fine high mountain estate grown cocoa nibs which are allowed to infuse with each other over a brief aging period.
-- Drinking this tea is like sipping on a desert, its lovely but not one I would drink frequently
Lukas's infectious enthusiasm and knowledge impressed both Robin and I. After our tea lessons we were taken on a tour of the open concept kitchen facilities and the hotel's herb garden.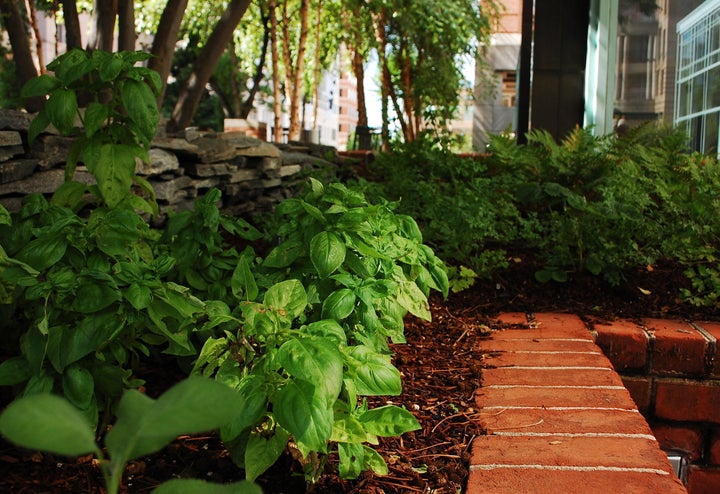 Lukas's top tips for brewing and serving tea:
• Insure hot water temperature is correct for tea brewed. At the Hyatt three hot water temperatures are available for brewing tea.
• Allow the tea to brew for at least 3-5 minutes
• Tea is best taken plain without milk or sugar to really experience the flavour.
• Tea is best served in clear glass pots so you can see how the colour flourishes as the tea brews.
• Store tea in a sealed container to avoid air exposure and hence changing the flavour of the tea.
Lukas received his tea training at the Ronnefeldt Tea Company based in Frankfurt Germany, founded in 1823. During there training students go directly to the source visiting tea plantations. This allows them to see first hand how tea is grown, harvested and packaged.
The Hyatt's Tea Cellar operates seasonally, from 2:30 p.m. - 4:30p.m, Saturday & Sunday.
English Tea at the King Edward Hotel
The King Edward Hotel in Toronto offers a more traditional tea, which I attended with a close friend. Tea has become a very popular to-do activity recently in Toronto for birthdays, family gatherings and bridal party get-togethers. King Edward's tea setting is very traditional English including dainty English china used to serve the tea, a feature that I love. King Edward's photo adorns the grand lobby; afternoon tea has been served at the hotel since it's opening in 1902.
Our waiter came to our table with a specialty tea box allowing us to choose our favourite selection. There are over 20 teas available to choose from including the popular King Edward blend, Golden Assam, Organic Green and Mountain Berry.
My maxim is that an afternoon tea without traditional scones and Devonshire cream is not a proper tea. The King Edward doesn't disappoint. Delicious scones not only arrive with Devonshire cream but also a side of house-made lemon curd.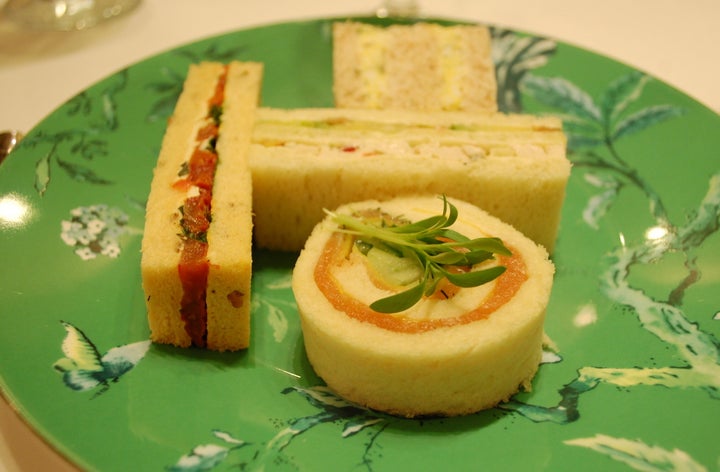 Executive Sous Chef Elaine Wong noted that she has seen a trend explosion in visitors coming in for afternoon tea during a private conversation. Wong is responsible for creating the delicious Tea menu. Finger sandwiches are served as the first course. The sandwiches reflect current food trends with choices including tomato confit with goat cheese and arugula, citrus cured salmon and Wong's favourite chicken cob salad with bacon.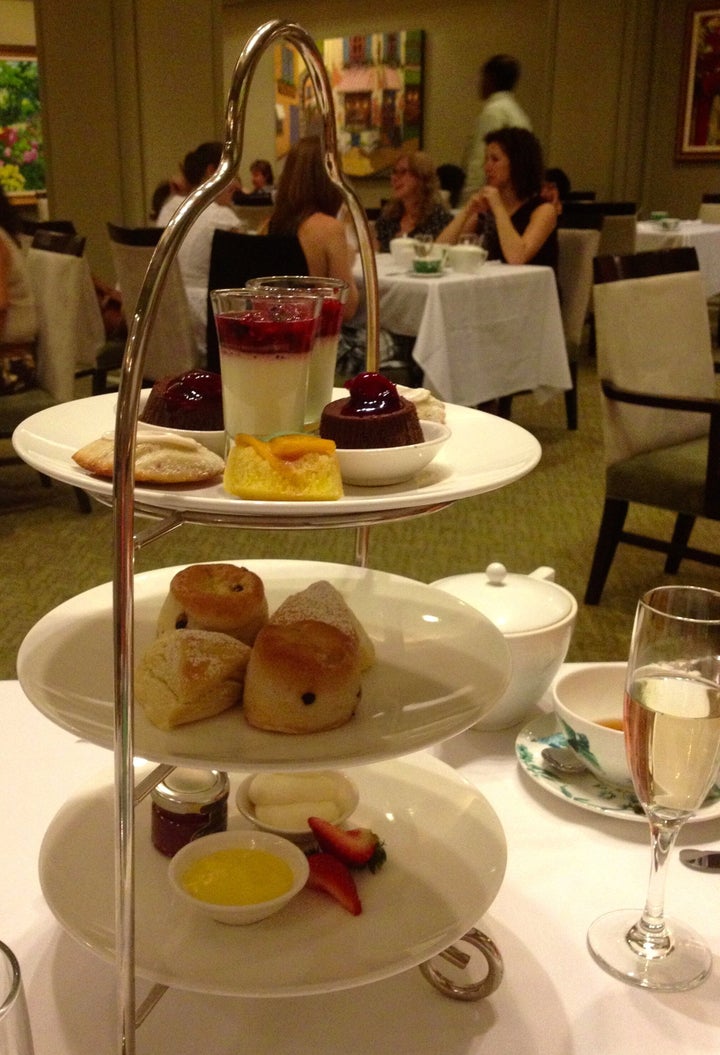 This is followed by a three-tiered sweet service of pastries and petit fours. The King Edward does not to leave out the littlest princesses wishing to enjoy the experience with a Jesters Tea Party menu offering mini peanut butter and jelly and double decker grilled cheese sandwiches along with cupcakes and fairy dusted strawberries 'n' cream scone.
King Edward Hotel tea service runs 2:30 p.m. - 5:00 p.m, Friday, Saturday & Sunday.
Insider Tip for Do It Yourself Teas:
In Toronto I discovered a great fair trade company, organic Oikos Teas from Ceylon. Ronald Francis is the sales person behind the family run enterprise in Canada which I discovered at the Evergreen Brick Works. I have since learned that it's available at fine Toronto restaurants like Pangaea. Chef Jamie Kennedy stocks Oikos Teas at his establishment. Ronald was insistent that I should drink a sample of his tea in a real cup to enjoy the full flavour. Oikos more than measured up to the teas I had savoured at both Park Hyatt Tea Cellar and also The King Edward.
To learn more about Tea visit the Tea Association of Canada website http://www.tea.ca/
Popular in the Community