I cannot believe that all BC Liberals totally support what Premier Christy Clark is doing to public education in British Columbia.
I cannot believe that there are no people of integrity and ethics within the BC Liberal party.
I cannot believe that all BC Liberals are ignorant followers of an "evil" leader whose views they do not question.
I cannot believe that all BC Liberals think it's a good idea to consult with a corporation, Cisco Systems, instead of professional teachers, about what is best for children in schools.
What I can believe is that there are BC Liberals who are economic conservatives but social progressives, people who believe in the importance of access to a good public education as critical to the strength of a democracy.
I can believe that there are many BC Liberals who have had teachers in their lives who made a significant positive contribution to the adults they became.
I can imagine that there are BC Liberals who are wondering how they can support teachers without leaving their political party.
In any fight for social or economic justice, it is those on the "inside" who can make a huge difference when they reach out to those on the "other side."
In South Africa where I grew up, it was white people who worked with other white people and also with black people that was critical to end apartheid.
It is men who talk to other men who can end the scourge of violence against women.
Even in the world of finance, these conversations happen, as when billionaires tell other billionaires that massive economic inequality is not good for anyone.
Those kinds of conversations can happen here too. Conversations between people who voted for the BC Liberals in the last election but who are feeling squeamish and uncomfortable with what is happening in the courts, in our public schools.
We are appealing to BC Liberals of conscience, BC Liberals who walk with integrity, who uphold Canadian values of fairness and equity, to speak to your peers in the party. Speak to them about what you feel is at stake if public education continues to be underfunded and your leader continues her crash and burn attack that started 12 years ago.
Are you truly OK with school districts having to close school libraries? Are you okay with students in distress not having access to a counsellor? Is it fair that students who need support for their learning do not have a learning specialist teacher?
Is it what you wanted when you voted for your leader?
Do you really want a two-tier education system in the province where only those who can afford $18,000 per year tuition have access to small classes and full learning support? Can all BC Liberal supporters afford to put their children into private schools?
We know that you are shocked when you realize that a beginning teacher, after five years of post-secondary education, only makes $48,000 per year and that it takes that teacher 10 years to get to their maximum salary.
We understand why you would not have known this. Given what you are told on the news, it's understandable that there are many aspects about the labour dispute with the teachers that you do not know about.
We understand that it is often confusing and frustrating to sort out the truth from all the rhetoric and posturing and sound bites. But we know that you have been trying to do that, to listen to teachers tell about their experiences in classrooms, how they can't help all the students who need help.
We are asking you to help to ensure that all businesses, not just the LNG industry, have well-educated, skilled workers.
We are asking you to remember that the investment that pays the biggest long-term return for a company and for a country is the investment in the education of children.
We are asking you to do what you can to protect all that made us feel so proud to be Canadian three weeks ago on Canada Day.
We are asking you to help to keep our democracy strong, to keep Canada as a beacon of hope in the world.
We hope that you will help.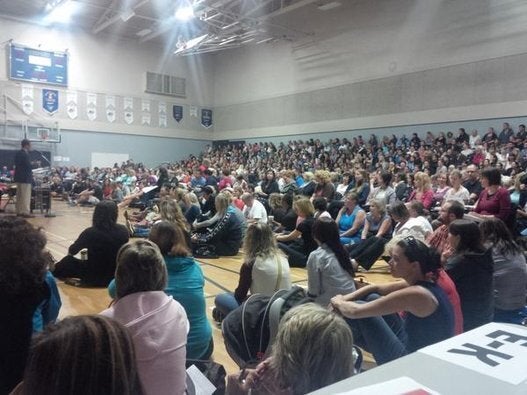 B.C. Teachers' Strike 2014
Related blogs on The Huffington Post B.C.: