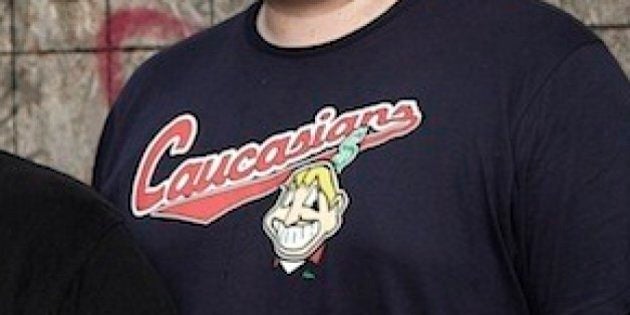 A Tribe Called Red's Ian "Deejay NDN" Campeau has become one of Canada's most high-profile First Nations activists. As his Ottawa-based electronic music crew have surfed EDM's wave to unprecedented heights — including a Juno Award for breakthrough group and Rolling Stone shoutout — Campeau has used his public profile to raise awareness about respecting Aboriginal culture.
One of his primary targets has been sports teams using native names, mascots and iconography. His efforts have included filing a complaint with the Ontario Human Rights Tribunal, which led to the local football team, the Nepean Redskins changing its name to the Eagles. He's also known for wearing satirical sports shirts like the Cleveland Indians-mocking "Caucasians" T-shirt seen in the publicity photo above.
Not everyone gets satire, of course, which has led to an accusation of racism and a boycott threat sent to an Ottawa music festival called Westfest where A Tribe Called Red is headlining on June 15.
A letter sent to Westfest organizers read: "I must take issue with you booking a racist, hypocritical band, A Tribe Called Red." It also complained that Campeau has been seen "wearing a racist t-shirt" and attacked him for making a human rights complaint. The letter is even more disturbing near the end: "they are a divisive band just asking for trouble, especially since alcohol and other aggressive behaviour inducing intoxicants is consumed at the fest."
Never one to back down, Campeau posted the letter on Instagram alongside the caption: "So we're suppose to play Westfest next Sunday. The organizers have been receiving thinly-veiled threatening emails in protest to me performing. Here's one of them. This is my hometown. So disappointing."
Westfest organizers told CBC that there was also a voice mail, but dismissed both. "The phone message had similar wording to the email," the organizer said. "It's probably just one person, but since Ian went public with it, we've gotten way, way more positive feedback ... we're just really excited for A Tribe Called Red and a crowd 4,000 strong of Ottawans being excited for their homeboys."
Campeau discussed the issue with us just last week, explaining "Nobody wants to take football from you. That's my whole point. Nobody says you have to stop watching football. It's this confrontation where they feel that supporting the team would make them feel that we're calling them racist for supporting the team. Well, I don't hate the fans for supporting the team. I hate the team for disrespecting me and my children.
"That's what I don't like about this whole situation — the blatant disrespect for other people's cultures. And people are starting to see that. And I think that through conversation and through confrontation and discussion we'll be able to show these fans that it's not as scary as you think it's going to be."
He also continued his #ChangeTheName anti-Redskins campaign on Twitter with tweets like these: