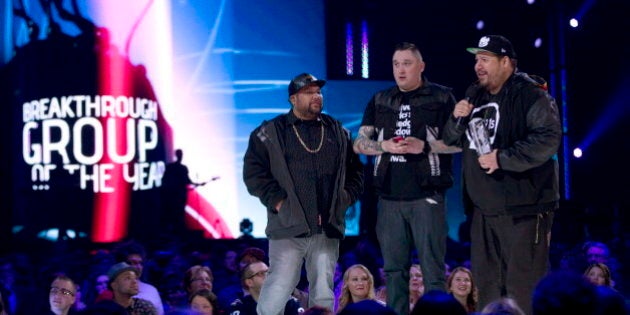 Ottawa's A Tribe Called Red won Breakthrough Group of the Year at the 2014 Juno Awards. As Aboriginal artists winning in a mainstream category at a mainstream awards show, the win was particularly meaningful for the electronic DJ crew.
"This award doesn't belong to us, it belongs to all of us," said Ian "DJ NDN" Campeau during a backstage presser. "This moment right here is a perfect example that Aboriginal youth can excel and achieve any goal that they could ever want. Anything is possible. They can do whatever they want and we're proof of that."
The group made the conscious choice not to submit their album in the Aboriginal Album of the Year category, relying solely on the strength of their music to stand up against other mainstream contenders.
Back in February, Campeau told the Ottawa Citizen that the group wanted to put their album up against artists in the same genre, rather than the same race: "In one category you'd have the George Leach album, a really good alternative rock album, and then our album, an electronic album, to compete for the same award just because we're of the same race. I'd rather be in a category with music of the same genre than to be nominated because of race."
They lost out to Halifax DJ Ryan Hemsworth for Electronic Album of the Year during the Saturday night gala, but snagged a win Sunday in the televised Breakthrough Group category, whose previous winners include Monster Truck, The Sheepdogs, Said the Whale, and The Arkells.
With the increased acceptance of the band, the crew hopes to continue to break down barriers for Aboriginal people.
"The dialogue needs to start happening, and I find that our popularity is a really good doorway to have that conversation," Campeau said. "It's definitely starting, which is great."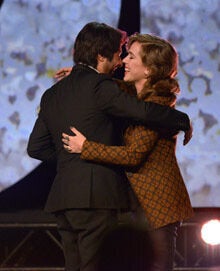 Junos 2014