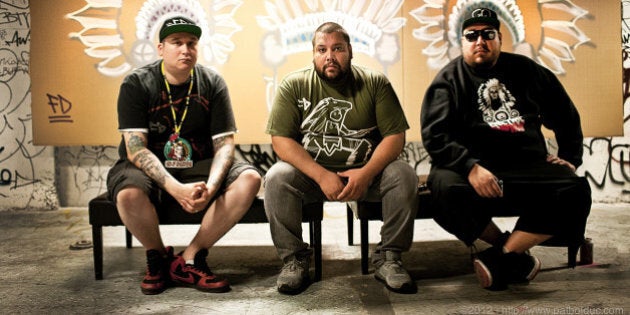 Juno-winning DJ crew A Tribe Called Red have pulled out of the opening ceremonies for the Canadian Museum of Human Rights slated for this weekend in Winnipeg.
UPDATE: ATCR have now issued a statement explaining their cancellation.

"Human rights are great for society. We appreciate the work the museum has been doing to bring attention to global issues. Unfortunately, we feel it was necessary to cancel our performance because of the museum's misrepresentation and downplay of the genocide that was experienced by Indigenous people in Canada by refusing to name it genocide. Until this is rectified, we'll support the museum from a distance."
Winnipeg Free Press reporter Jen Zoratti tweeted initial news of the band's decision on Thursday evening citing a brief statement the CMHR released.
"The CMHR understands the group has elected not to participate over concern around the way Indigenous issues are presented in the museum," the statement said according to the Winnipeg Free Press. "We know that building dialogue and earning trust is a long-term process, and we hope this will again be an opportunity for respectful conversation on issues that historically haven't been easy to talk about."
CBC reports the band was slated to play Saturday evening as part of RightsFest, a festival of music, dance and art in conjunction with the museum's opening Friday.
"The Canadian Museum for Human Rights deeply regrets that A Tribe Called Red will no longer take part in the Museum's opening weekend programming," the CMHR statement began. The statement added the Museum "has extended an invitation to A Tribe Called Red to tour the CMHR at the convenience to experience for themselves the full breadth of exhibit content dedicated to Indigenous perspectives and issues." The statement went on to say officials "noted that input and community engagement with Indigenous Peoples across Canada is ongoing, with the goal to become a broadly representative and accessible public resource on Indigenous issues.
The Museum's official site lists the following lineup for Saturday's free concert at The Forks: Bruce Cockburn, Buffy Sainte-Marie, Ashley MacIsaac, Shad and Marie-Pierre Arthur. The museum was built at an estimated cost of $351 million.
CTV News Winnipeg reported Thursday the opening was being protested by members of the Shoal Lake 40 Community. "Nobody listens, nobody really cares about our human rights," Stewart Redsky told the news outlet. The members hoped to camp outside the Museum to protest, stating their rights were lost when Canada expropriated their reserve land to ensure Winnipeg had fresh drinking water.
News of A Tribe Called Red's decision resulted in some reaction on Twitter. Here are a few:
Meanwhile, Dan General, aka DJ Shub and a former member of A Tribe Called Red, spoke about his decision to leave the band earlier this year. A Tribe Called Red replaced General with 2oolman and have carried on with their touring schedule.
"Touring all over was great -- it gave me the opportunity to see places I wouldn't have in any other situation -- but that comes with the sacrifice of not seeing your family nearly as much as you want," General told Niagara-area publication Bullet News on Sept. 17. The musician added he's continuing to make music and is planning to branch out from "powwowstep" and electronic music.