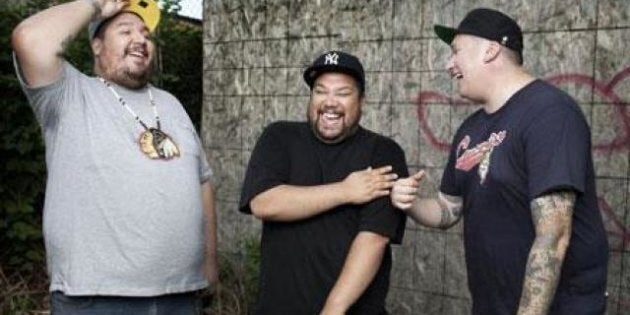 At a time when the native image is "in style" -- see the objectionable Urban Outifitters' "Navajo Hipster Panty," or the "Hipster Headdress" -- a Canadian DJ collective is schooling folks on the difference between celebrating aboriginal culture and misappropriating it.
Ottawa-based aboriginal DJ crew A Tribe Called Red (ATCR) place the traditional music of their youth -- at powwows, visiting family at reserves -- into a modern context by mashing it with the grimey club beats they discovered in the city. And with the spring release of their critically acclaimed self-titled album, their popularity has spiked, leading to gigs all over Canada where they're learnng first-hand how being a native artist is in-of-itself a political act.
Member Dan General, a.k.a. DJ Shub, recalls a recent Toronto club gig occurring the same weekend as the Canadian Aboriginal Festival and the Canadian Aboriginal Music Awards.
"There was a group of non-aboriginals wearing war paint and headdresses. And they didn't see anything wrong with that," says General, 30. "They were in a club full of aboriginals. It was packed, it was sold out, and we were like, 'I hope this doesn't turn into anything.' But nothing happened. It was amazing to have native people understand, 'OK, these people just don't know.'"
It wasn't until pictures of the event were posted online, General says, that "there were questions brought up... It gave us a chance to tell them it's not right. This is the appropriation of a culture. They were very apologetic and just didn't realize. But their act did exactly what we wanted it to do -- it made everyone ask questions."
The platform for ATCR to discuss these issues has widened as blog buzz only increases and they find themselves opening for well-known electronic acts like Major Lazer and Poirier. They're not adverse to entering the pop landscape, having just finished an official remix of Nelly Furtado's "Big Hoops." They recently made the long list for the 2012 Polaris Music Prize, as Canadian critics have acknowledged their work. ATCR appeal to electronic music lovers and club regulars -- DJs NDN and Bear Witness bring reggae, moombahton and dubstep to the mix, while DJ Snub, a two-time Canadian DMC champion, has a decades worth of battle experience in the realm of hip-hop.
It's a fusion some are calling "Powwow step," and there's a right and a wrong way to go about it.
"There are certain songs in traditional music we won't even touch," says General. "Like honor songs or veteran songs -- those songs can't even be recorded. They're sacred. Whereas round dances and inter-tribal songs -- those are made specifically to get people to dance, usually at powwows, to get everyone involved. So it's a natural flow to use that in the club scene."
Sonically, traditional powwows and clubbing come from the same place, where the beat connects us all.
"The rhythm of the drums, the heartbeat -- that's what it's about."
In 2008, DJs NDN and Bear Witness founded the "Electric Pow Wow" in Ottawa, a club night every two months meant for young aboriginals in urban areas who in desperate need of dance music reflecting their unique identity in Canada. General hopes to expand the party to different cities across Canada, which isn't unfathomable. Aboriginal youth aged 15-30 is the fastest-growing segment of the Canadian population, and their move to urban settings demands familiar cultural refuges.
"The kids who come from remote reservations up north into colleges in the big city, they're not as comfortable with going out," General reveals. "I think it's culture shock. For some kids it's the first time they've been away from their parents and in a big city -- and that's pretty scarey."
Social distress faced by peers is familiar territory for the members of ATCR, as is the injustice faced by Native Americans. Bear Witness, who happens to be an accomplished video artist, compiled a mashup for "Woodcarver," a track on their debut album which chronicles the 2010 shooting death of Native American Woodcarver John T. Williams at the hands of a Seattle police officer.
"We were really upset about that," says General. "It's something that should have gotten a lot of press and there should have been reparations for it. As a group, we have some of these people listening to us now, so people might hear it. And it worked. There's been people from Ireland, Sweden and Australia contacting us and asking questions about this. That was exactly the point of that video. To bring awareness."
General insists that while the group is enjoying their newfound platform of discussion, most of their songs are more celebratory in nature.
"We don't want to be pigeonholed as this political DJ crew. We want to be pigeonholed as this aboriginal/First Nations DJ crew that's first and foremost putting out good music, celebrating our people."
Given the rising popularity of electronic music over the past two decades, it's no surprise many aboriginals are involved in the scene. General points to Javier Estrada, a bass/juke/moombahton DJ from Monterrey Mexico who remixed ATCR's "Native Puppy Love."
As edgy labels like Mad Decent look to other cultures (see Diplo's obsession with Brazilian Baile funk) for inspiration in electronic music, and traditional sounds are used across the board in modern dance music (see Kush Arora's indo-Caribbean-infuenced bass music) -- the use of Canadian aboriginal samples runs along the same lines.
"It's basically all a part of this whole world music thing that's happening in North America. It's a movement I think is supposed to happen."
The next big step planned for ATCR is to record a proper studio album in December, and General says they'll be recruiting native performers for an authentic live powwow sound -- rather than using samples. He's careful to point out what ATCR are doing is not meant to be trendy -- it's part of this continent's roots.
"If you think about it, powwow music is the original music that was made in North America, so I'd hope this will stick around for a while."