The 2017 Junos nominations press conference began with an announcement that hometown heroes A Tribe Called Red would be broadcast performers at the Canadian music awards in Ottawa on April 2.
Then the news got even better for the outspoken indigenous DJ trio.
The group has been winning over EDM fans for years, and this year received nominations for Electronic Album of the Year for "We Are the Halluci Nation," Video of the Year for "R.E.D. ft. Yasiin Bey, Narcy & Black Bear" and Producer of the Year for "R.E.D.." and "Sila ft. Tanya Tagaq."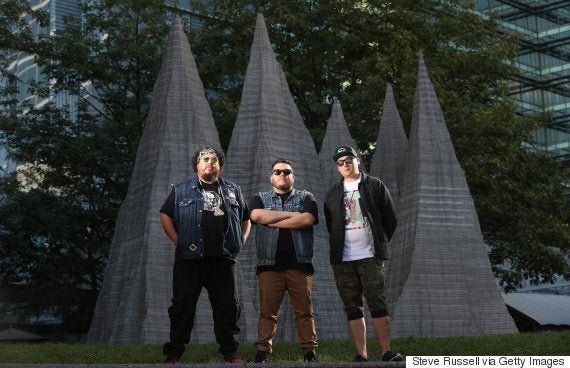 The other major nominees for the 2017 Juno Awards were Drake, The Weeknd and Shawn Mendes who all nabbed five nominations while Alessia Cara and the late Leonard Cohen got four apiece. Tragically Hip also picked up two noms and their singer Gord Downie got another four for his solo album "Secret Path."
A Tribe Called Red did not receive a nomination for Indigenous Music Album of the Year because, as in 2014, they chose not to submit in that category. That allowed a lesser known indigenous act to get the spotlight while they were nominated for best electronic album and won the Breakthrough Group of the Year award.
"This award doesn't belong to us, it belongs to all of us," said Ian "DJ NDN" Campeau backstage after the 2014 win. "This moment right here is a perfect example that Aboriginal youth can excel and achieve any goal that they could ever want. Anything is possible."
This year's indigenous album nominees are Crystal Shawanda's "Fish Out Of Water," Bryden Gwiss Kiwenzie's "Round Dance & Beats (Powwow)," Quantum Tangle's "Tiny Hands," Silla + Rise's "Debut" and William Prince's "Earthly Days."
As well, folk legend Buffy Sainte-Marie, who won that award last year with "Power in the Blood" (then called Aboriginal Album of the Year) will receive the 2017 Allan Waters Humanitarian Award.
"It's just so humbling, it really is," Sainte-Marie recently told HuffPost Canada. "I think the beautiful thing about this particular award is that the music business gets out of the business for a minute and actually looks at the private lives of artists who don't just write a song and walk away."
"That's never been enough for me," she added.
"[This award] looks at the private lives of artists who don't just write a song and walk away. That's never been enough for me."

— Buffy Sainte-Marie
Tanya Tagaq, who won the 2015 Aboriginal Album of the Year did not get a nom for last year's critically acclaimed album "Retribution." However she was nominated for Classical Album of the Year: Large Ensemble alongside Steve Wood and the Northern Cree Singers and the Winnipeg Symphony Orchestra for their collaboration "Going Home Star – Truth and Reconciliation."