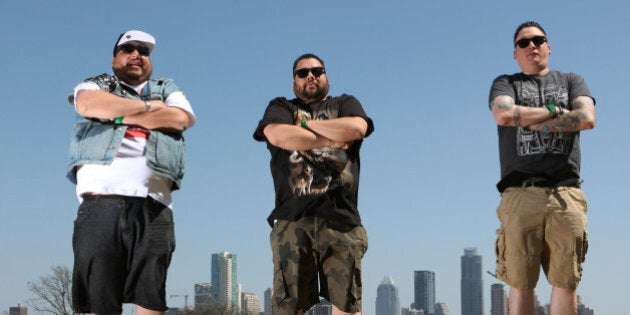 If it seems like you're seeing and hearing more indigenous Canadian musicians lately it's not an accident.
Only a few short months ago Ian "DJ NDN" Campeau, Dan "DJ Shub" General and Bear Witness, the electronic dance crew who make up A Tribe Called Red, won the 2014 Juno Award for Breakthrough Group. Likewise, Bjork-approved Inuk throat singer Tanya Tagaq has been stopping listeners in their tracks with her new album "Animism" (not to mention her "Sealfie" activism).
What they're doing is brave, cool and combines both tradition and modern innovation. More importantly, this music's getting attention which is something that can't always be said of Canadian indigenous music.
Tribe's Campeau believes he knows the reason why this has happened.
"This sort of shift seems to have come with social media and it's fantastic that it has happened," Campeau told Huffington Post Canada Music. "Our first album we put out online for free and it got a Polaris [Music Prize] nod. It made the long list for the Polaris.
"And I don't think it's necessarily a coincidence that Tanya Tagaq and us doing so well within the first generation that wasn't forced into residential schools. I think that's a big part of everything, too. And we're able to talk and discuss and put into conversation our two cents through social media."
Indigenous musicians are now better able to connect with listeners than ever before and it's a game changer for them.
"Our album's being listened to by kids on reserves in rural, isolated communities up north all over Canada," said Campeau. "And it's the accessibility that's different now. Whereas before if you were a First Nations group, yknow, Buffy paved the way for everybody. Buffy Sainte-Marie is a hero to everybody, to every Canadian she should be.
"And that's one example, but it's been the one example. And it is because of social media and it is because people in Moosonee will have a say to vote on MuchMusic or whatever to push a video. It's more inclusive now for everybody. So of course First Nations people are going to get a bigger push now that the community has power to push them.
"Idle No More came the same way, through social media and Twitter. Attawapiskat, that story broke on Facebook basically and the attention came from Facebook. So the power of social media is incredible."
Campeau appreciates the growing understanding that's happening.
"It feels incredible," he said. "It's like this paradigm shift, like society is starting to view First Nations as people all of a sudden, which wasn't the case 10, 15, 20 years ago where we were sort of out of sight, out of mind. Like, we're able to show that we're real people and I feel that this is the way that society is going especially with the senate and Obama and the States."
Needless to say, certain segments of both Washington's ownership and fan base have been resistant to the idea of change. It's something that Campeau says they need to get a different perspective on.
"Nobody wants to take football from you," said Campeau. "That's my whole point. Nobody says you have to stop watching football. It's this confrontation where they feel that supporting the team would make them feel that we're calling them racist for supporting the team. Well, I don't hate the fans for supporting the team. I hate the team for disrespecting me and my children.
"That's what I don't like about this whole situation — the blatant disrespect for other people's cultures. And people are starting to see that. And I think that through conversation and through confrontation and discussion we'll be able to show these fans that it's not as scary as you think it's going to be.
Interview continues afterslideshow
Conversation and confrontation are two of Campeau's key tools in educating others. The artist frequently uses social media to engage with people.
"I approach it as a discussion," said Campeau. "And I do this on Twitter where I argue with racists and racist views and stuff like that. But I see it as a discussion. And you can't have change without confrontation. There's always going to be some sort of growing pain. So you'll see it when you have these discussions with people. And that's why I do argue with one person at a time on Twitter and Facebook."
Williams was quick to apologize, saying, "I respect and honour every kind of race, background and culture. I am genuinely sorry."
Another recent case of misappropriation occurred recently during some inter-personal drama in The Flaming Lips camp. Outgoing Lips drummer Kliph Scurlock accused Lips leader Wayne Coyne of being racist because of his support for the band Pink Pony, and particularly its lead singer Christina Fallin, daughter of Oklahoma state governor Mary Fallin.
It's statements like that — from a governor's daughter — that make Campeau realize there's still a long way to go.
"The daughter of a governor of a state that has one of the highest populations of natives in the U.S. That's the worst part," he said. "That's just sheer ignorance. And it's sheer entitlement to think that you'd be able to do that.
"Mocking people of the culture while they're protesting you wearing this at their concert is just blatantly disrespectful. And that's it. And that's all that I can say on her. She's been told that it's disrespectful and nobody appreciates it and she thumbs her nose at people who say that... But hopefully one day she'll grow up and realize the damage that she's doing right now."
Presumably there'll be no such incidents at Toronto's Field Trip festival on June 7-8 when A Tribe Called Red perform with the likes of Broken Social Scene, Interpol and The Kills. The festival will also feature some of Canada's bravest up-and-coming acts.
"Canada seems to embrace individuality and something that sounds new, something that sounds not like anything else," says Campeau about a bill that also includes the likes of Austra, Fucked Up, Zaki Ibrahim, Hydra, BadBadNotGood and Do Make Say Think along with big name acts Broken Social Scene, Interpol and The Kills. "And the Canadian music culture seems to really, really embrace that, which seems different from say the U.S. where it seems to be more of a pop-centric push where if you're not a pop group you don't really get the push that you need.
"It's great. It's amazing that Canada recognizes groups like A Tribe Called Red and Zaki Ibrahim and everybody else like that. And y'know, where else would a band with a name like Fucked Up get such notoriety? So it's bold, it's exciting, it's new, it's awesome.
"It's definitely a paradigm shift what's happening in Canadian music right now."