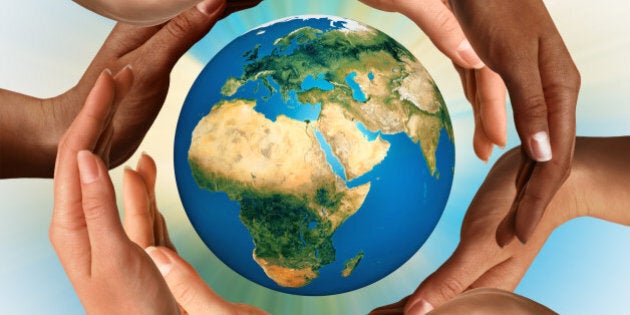 I can't help but look back on 2014 with such gratitude. For Kids Right To Know, it's been our biggest and busiest year so far. I could fill many pages telling you about all the things we've accomplished, but I'll settle for the following highlights...
May: Worldwide March Against Monsanto
Last year's march took place in 400 cities and 52 countries around the world, with more members of the media covering the event than ever before. I had the privilege of appearing on Breakfast Television in Edmonton to also help promote the march in their city, after which I attended the March and Bee Requiem followed by a big GMO-Free Festival, organized by the Toronto Non-GMO Coalition, Bee Keepers of Ontario and Sierra Club at Christie Pits Park here in Toronto.
June: Left Coast Naturals, Veg Expo, and a School Presentation
June began with an inspiring tour of Left Coast Naturals in Vancouver, British Columbia. This food manufacturer and distributor is setting an amazing example by implementing a 100 per cent non-GMO policy on all their products.
Next up, I attended Vancouver's first-ever Veg Expo where I was honoured to be a panelist along with Jeffrey Smith of the Institute of Responsible Technology, and Ian Walker of Hippie Foods. While in this lovely city, I also visited a great secondary school to give a presentation about GMOs and food safety.
July: Of The Land documentary screening and... KENYA!
This insightful documentary by director Bryan Law, shows a different angle of our food industry by comparing big corporate farming to family farming. I was pleased to be able to attend its premiere screening.
Later this month, I was involved in a volunteer mission in Kenya where I gained a much deeper appreciation for every little thing that we take for granted -- from education to clean water, sanitation, electricity and so much more. Needless to say, it was a life changing experience.
September: Three Wonderful Honours
It was a deeply gratifying yet humbling moment to be named one of the Seven Kids Saving The Planet Right Now by Eluxe Magazine. Following that, I was acknowledged as an Emerging Leader by The Clean50 Summit in Toronto. As if that wasn't enough, I was named again, this time in an article most recently published by Post City Magazine about youth, called Top 20 Under 20 which was truly an honour as well. 'Nuff said. ☺
October: TEDx Toronto and Global National News GMO Series
I've lost count of how many presentations I've given in the past couple years, but TEDx Toronto was by far the Olympics of public speaking. The experience was intense, exhilarating, and took far more work than I could possibly imagine, but it was so worth it:
Also it was so amazing being invited to contribute a few words to the book Global Chorus "365 voices on the future of the Planet" featuring words by Jane Goodall, Nelson Mandela, David Suzuki, Archbishop Desmond Tutu, Maya Angelou, Dalai Lama and many more.
October got even more exciting when Global National News aired a four-part series on GMOs and labelling. During the very first segment, Canada's Health Minister Rona Ambrose was asked point blank if she'd agree to meet with me to discuss GMOs. To my utter delight, the Minister agreed -- something I'd been campaigning for more than a year!
November: Canada's Health Minister and...INDIA!
November was by far my busiest month, and one of the most memorable. It all began on November 5 when I had the honour and privilege of a private meeting with the Honourable Rona Ambrose Minister of Health. This meeting felt like the turning point for the non-GMO movement in Canada -- the Minister expressed interest in the information I provided and promised to read all of the research.
The next day, MP Murray Rankin -- who put forward motion M-480 to the House of Commons regarding mandatory GMO labelling -- generously hosted Kids Right to Know's first press conference in the National Press Gallery on Parliament Hill
Rona Ambrose also held a press conference that same day, in which she invited me to meet with Health Canada scientists and researchers as a next step.
A few days after, I gave my last public speaking event of the year at the Festival of Dangerous Ideas, sharing the stage with the pioneer and inspiration of the non-GMO movement, Dr. Vandana Shiva. A year ago, I met her for the first time at the Uplift Festival in Australia, and here she was flying in the middle of a Toronto snowstorm to speak to a full house about the delicate balance between us, the food we eat, and our precious planet.
The very next day, I flew to India to attend the Gandhi Globalization and Earth Democracy Conference in Delhi, followed by an intensive, 10-day course in which I learned how to implement Gandhi's democratic teachings in today's world. Although I already knew about the huge issues of GM cotton in India, experiencing it first-hand truly opened my heart to the issues of GMOs in third world countries.
After the course finished, we traveled to the Himalayas. Then we spent two days at Parmarth Niketan Ashram in Rishikesh with the goal of redefining and refocusing my purpose in the world. There I met with Puija Swamiji and several other top religious leaders who are working together on a program called Wash Alliance to establish cleaner and more sanitary water and hygiene in India.
A mere 10 days after I returned from India, I was traveling to Argentina, now the third largest producer of Genetically Modified Soy, after USA and Canada. While there, I was deeply shocked to learn how little people knew or understood what was happening to their food. Everywhere I visited, I made sure to tell as many people as I could.
The sum of my experiences in 2014 has given me tremendous motivation to steer Kids Right to Know to do even more. Here is our five step action plan for this year:
Meet with Health Canada (thank you Rona Ambrose!);
Continue to reach out to the youth by expanding our educational efforts so that they too are aware that they have the right to know;
Participate in the next Global March Against Monsanto;
Grow our organization, Kids Right To Know;
Work with the public, organizations and the federal government to help make GMO labeling a Law in Canada.
The common purpose of these efforts is to get GMOs labelled, so we can all have the right to know if our food is real or modified.
One of the biggest lessons I learned at the Ashram in India was to expand the definition of world peace. Peace is not just about stopping wars, but about stopping the negligence happening to our environment and people.
My redefined, refocused purpose in the world is to take personal charge to care for our environment, our health, and our future. Despite all the things going wrong in our world, I now know first-hand that there are just as many people pushing for things to go right. I invite you to be a part of this expanded definition of peace: together, let's make 2015 a year of action and get GMOs labelled in Canada!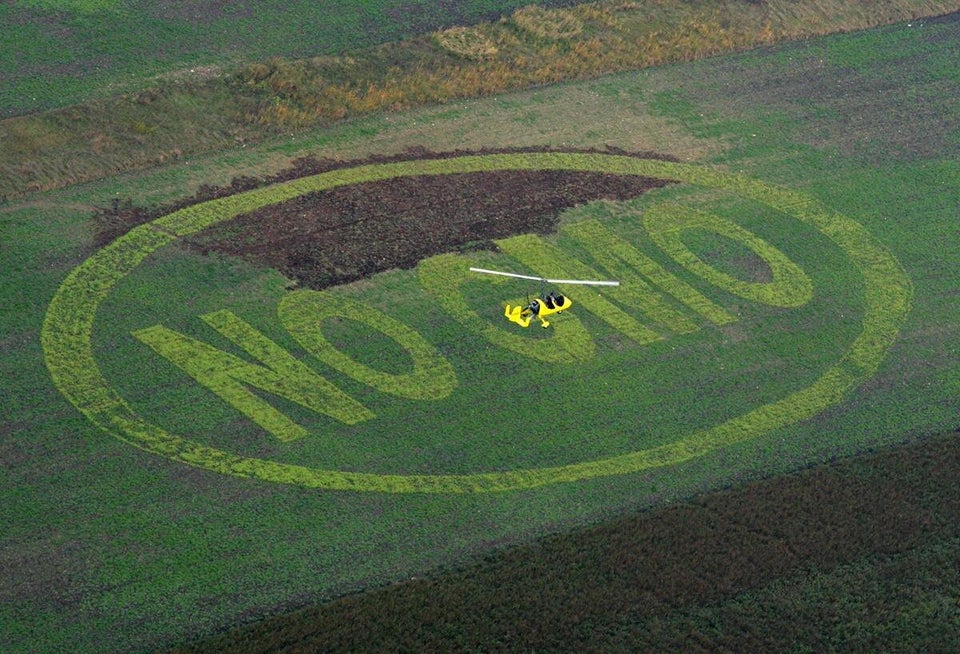 GMO Protests
Popular in the Community