The father of two boys who washed up dead on a beach in Turkey Wednesday said he rejected an offer of Canadian citizenship from federal officials, but Ottawa says there was no such proposition.
His wife, Rehan, mother to three-year-old Alan and five-year-old Galib, also drowned when the boat they were in overturned at night.
"We spent a whole hour holding onto the boat. My children were still alive. The first one died because of the raging waves. I had to leave him to save my second son, who also drowned. I turned around to find that their mother had drowned as well," Abdallah said.
Immigration officials respond
Citizenship and Immigration Canada says it received no refugee application for the boys and their family.
It did, however, receive an application for Abdullah Kurdi's brother, Mohammed, but said it was incomplete and did not meet regulatory requirements for proof of refugee status recognition.
According to a government statement, Abdullah was not offered citizenship.
Earlier in the day, Abdullah identified the bodies of his sons at a morgue in Mugla.
The family were among at least 12 migrants were attempting to cross to a Greek Island from Turkey.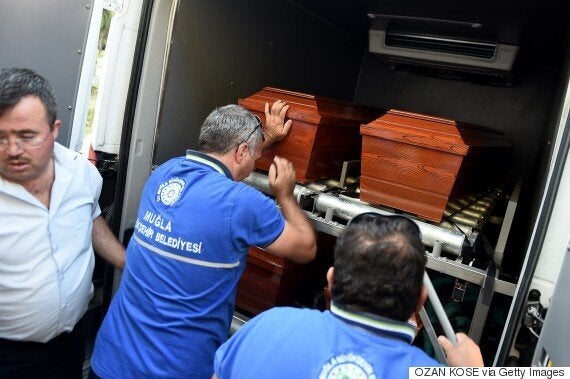 Men load the coffins of migrants and three-year old Alan Kurdi, a Syrian boy whose body was washed up on a Turkish beach, at the morgue in Mugla, Turkey, on Sept. 3.
In an emotional press conference Thursday, Tima Kurdi, aunt of the drowned boys, said she had "no comment" when asked if the Canadian government should have done more.
"To be honest, I don't want to just blame the Canadian government," she said to media in Coquitlam, B.C. "I'm blaming the whole world for this."
She called the tragic deaths a wake-up call for international community, and that stopping the war would be key to ending "all of this."
"My brother's message to the world is to help those people crossing the water," she said.
She described a phone call she had with her brother Abdullah, and shared details of their conversation of what happened when the family tried to cross the Aegean Sea.
"He tried to save them. He did. When the boat flipped upside down and the wave kept pushing him down," she said. "Those two boys were in his arms."
Tima Kurdi said she wrote a letter to Immigration Minister Chris Alexander requesting help to get her brother and his family to Canada.
Kurdi family wanted to come to Canada
Alexander temporarily paused his re-election campaign Thursday to fly to Ottawa to focus on ministerial duties related to Syria's humanitarian crisis.
In a statement explaining his decision, the incumbent Ajax MP, called a photo of Alan washed up on a Turkish beach "tragic" and that he was "deeply saddened" by the image.
"Canada has one of the most generous per capita immigration and refugee resettlement programs in the world," he said.
"In fact, Canada resettles more than one in ten refugees world-wide."
Conservative Leader Stephen Harper reacted to the migrant deaths at an event in Surrey, B.C.
"It's a heartbreaking situation and a terrible tragedy," he said, adding that that mass migrations of people out of the Syrian region won't serve as a silver bullet to a global refugee crisis.
Harper shifted the blame to violence stoked by Islamic State militants.
Incumbent NDP MP Fin Donnelly said he hand-delivered Tima's letter to Alexander in March, six months before the bodies of Rehan, Alan, and Galib Kurdi washed up on the beach in Turkey.
Editor's Note: The boys' aunt told The Canadian Press the boys' names are Alan, and not Aylan, and Galib, not Galip, as originally released by the Turkish government.
With files from Ryan Maloney, The Canadian Press