The Nuxalk word for "rock" is spoken the way it sounds, like feet dragging over a rocky riverbed. When Clyde Tallio says it, he has to conjure saliva from the back of his throat and splash it against the back of his teeth to make it sound right. The word seems impossible to spell out in English.
"Our language is formed because of the environment we live in," Tallio explains. "The English language doesn't reflect that environment and it doesn't reflect the teachings and the spirituality of the land."
That the 25-year-old from Bella Coola, B.C. can pronounce the word at all is impressive enough, but what's even more impressive is that the word is being spoken at all.
Tallio is part of a movement of young aboriginals who are working to save their traditional tongues, fighting a tide that threatens to kill the languages off for good.
The "Report on the Status of B.C. First Nations Languages, " released by the First People's Cultural Council in 2010, concluded that First Nation language fluency in the province had plummeted from 100 per cent in 1890 to 5.1 per cent in 2010.
The report stated that only 8.2 per cent of the total First Nation population were semi-speakers and that language learners made up only 11.1 per cent of aboriginals in B.C.
The cultural council noted a number of causes for the decline, but one of the biggest was government-run residential schools, which began operating in B.C. in the 1880s.
Children attending the schools were "trained, forced and shamed" into abandoning their languages, the report said, adding that even when they left, they could not go back to speaking their languages or teach them to their kids because of "residual shame and trauma."
Tallio has helped revitalize the language in a number of ways. At 25, he's the youngest fluent speaker of his people's language and has taken a leading role in trying to teach younger people how to speak in their traditional tongue.
He's been teaching Nuxalk at the community's Acwsalcta school for the past five years, leading groups of students who are graduating this year. His pupils are mostly in high school and they follow his lessons in traditional song and dance, as well as potlatch and salmon ceremonies.
Tallio also leads the Nuxalk Rediscovery Camp, a program where youth can connect directly with their land. They travel up an inlet to the northern region of Nuxalk territory where they learn to till the land, see sacred sites and tell stories.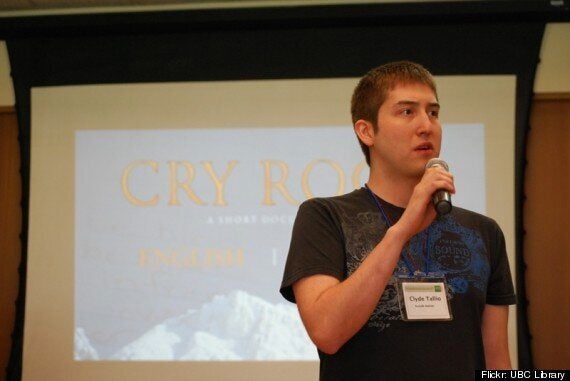 Clyde Tallio, 25, is the youngest fluent speaker of the Nuxalk language. (Flickr: UBC Library)
Tallio's role is "cultural leader," tasked with telling stories about the spirits that Nuxalk people are descended from.
"This is a perfect opportunity to take our youth and be in an environment that's drug and alcohol free, free of all technologies and just learn how to be ourselves," he told The Huffington Post B.C.
As Tallio tells it, there's an increasing passion among Nuxalk youth to learn the language. He relates the story of one of his students who was asked to give a speech. Tallio only expected him to give a short speech demonstrating progress with the language, but every word he spoke was perfect. He blew his teacher away.
"I don't see young people push it away or reject it as it once was," Tallio says. "I think we've accomplished a lot because we've returned the spirit of being Nuxalk back to our people."
As he tells it, revitalizing the language is a good antidote to other problems such as drug and alcohol addiction.
"It also benefits other ways. With high self-esteem, we have youth that transfer that strength into other areas, whether it be school or sports or other things, so it starts to create this net benefit across the whole community," Rivers says.
Rivers began offering the classes as an alternative to traditional language courses taught through the school system. He found that Squamish members didn't succeed in that environment because the courses were modeled after second-language classes, which often involve translating English words directly into other languages.
At Language Nights, instead of being instructed on what they should be learning, participants are allowed to "hunt" the parts of the language they want to learn, and develop enough foundational skills that they can speak it with confidence. Mistakes are treated as speed bumps rather than bad marks on a report card.
The nights attract an average of two dozen people. Many have been young people from the community, with young mothers showing a particular enthusiasm for learning the language.
"There was kind of a long-term vision, where they really felt like the language is important not just for me, but for my children," Rivers says.
Learning the language in an informal, collaborative environment has shown him that the current generation of young aboriginals is "taking charge" of preserving Squamish culture and language, and giving hope to a people who have long strived to reclaim their identity.
"There's a lot of benefit in reclaiming our culture and saying for ourselves that we have problems, but we're going to solve them and our culture and traditional values are going to lead us in finding these solutions."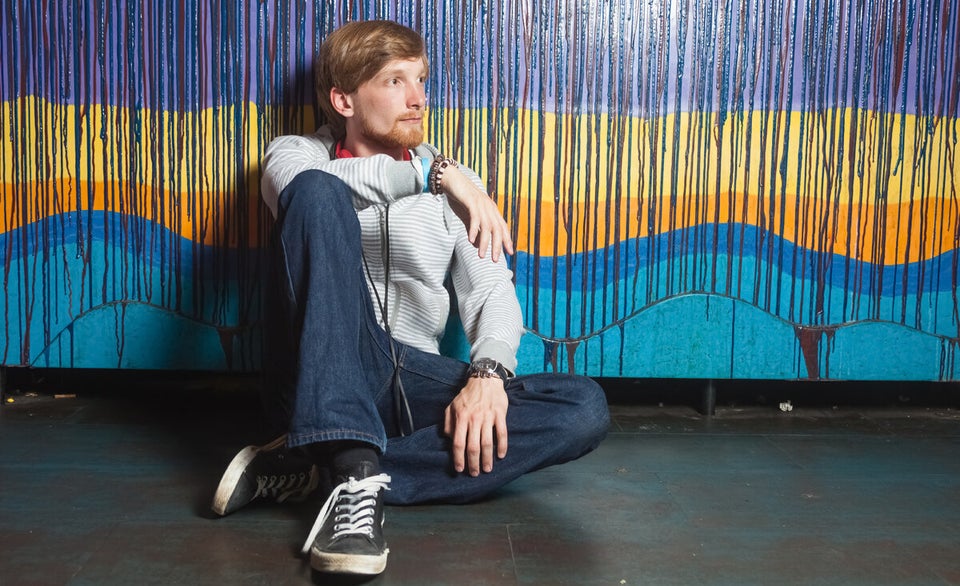 The Canadian Millennial: Survey Says