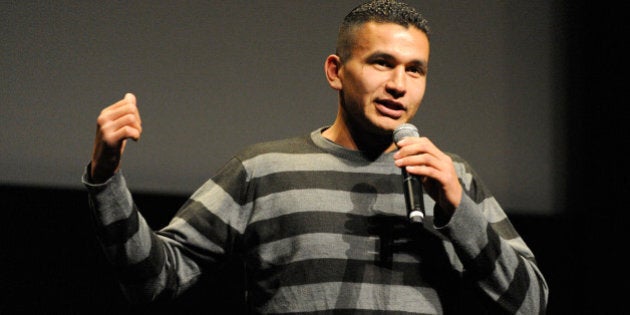 Canada's colonial reality means Aboriginal people here face challenges where non-Aboriginal people enjoy opportunities. But I believe that through the hard work of many activists, leaders, and thinkers, Canada is slowly decolonizing. In the spirit of optimism that rings in a new year, I'd like to focus on some of the events that signal this gradual shift, even while recognizing that, in the words of Justice Murray Sinclair, head of the Truth and Reconciliation Commission, this work will not be completed in our lifetimes.
The First Nations Education Act is Quashed
Early May saw the Assembly of First Nations' National Chief Shawn Atleo step down over his support for the Harper Government's First Nations Control of First Nations Education Act. The proposed legislation had bitterly divided the AFN, and with Atleo's resignation, the feds simply didn't have the political capital to push it through.
The Act promised nearly $2 billion for education on-reserve over five years -- starting in 2016. But it was fundamentally the result of backroom dealing and political horse trading, not grassroots outreach, engagement, and consultation. Atleo had already lost the confidence of many First Nations leaders, and was seen as being too close to the federal government. And Harper, of course, is not popular among Aboriginal people (among many other groups). It should have been clear to these two that, considering the importance of consultation in today's federal-Aboriginal relationship, that a top-down solution would be an exceptionally hard sell.
As for the substance of the bill itself, a great deal dealt with "accountability" measures -- and even gave the federal government the authority to take over on-reserve schools if they didn't meet the goals mandated in the legislation. This flies in the face of the received wisdom for working towards decolonization -- or even just improving ownership over a program or a project. Federal control over delivery of services is more paternalism, and certainly not "First Nations control over First Nations education."
But perhaps the most astounding thing about the bill was that it was defeated at all. This government has a reputation for working unilaterally, holding little regard for stakeholders (unless they happen to be energy industry lobbyists). The declaration that the First Nations Control of First Nations Education Act was on hold almost immediately after Atleo's resignation may signal a positive shift towards respect for First Nations decision-making authority by the federal government.
The Supreme Court's decision last summer to recognize the Tsilhqot'in First Nation's title over a 1,700 square kilometre parcel of land was hailed as a "game changer" by seemingly every media outlet in the country. This was the first time that the Supreme Court actually declared Aboriginal title over a specific piece of land. And it says a great deal about the BC Treaty Process, and other land claims processes elsewhere: namely that they don't work.
Starting out as a protest over the granting of a logging license to a lumber company way back in 1983, the Tsilhqot'in persevered for decades. Lower courts refused to accept their arguments of traditional use and occupancy, but the Supreme Court of Canada ruled unanimously in their favour.
We should recall that the Tsilhqot'in have never accepted Canadian sovereignty over their lands; in 1864, they went to war to defend their rights to self-determination. The conflict was only settled when the British colonial authorities invited Tsilhqot'in leaders to a peace conference, then clapped them in shackles and tried them for murder. The use of the Canadian court system to finally win justice for the Tsilhqot'in is a bit of poetic irony, even if it took 150 years to arrive.
According to Terry Teegee, Tribal Chief of the Carrier Sekani Tribal Council, "We are still trying to figure out what it means in regards to resource development and how we can utilize this decision to positively assert our peoples rights and title to the land." It's clear that many other First Nations in BC and across the country are facing the same question -- and the Tsilhqot'in decision will spark a great deal of litigation by groups asserting their constitutional rights to land and resources.
The Nationwide Call for an Inquiry into Missing and Murdered Indigenous Women
Despite Stephen Harper's claims that the issue of missing and murdered Indigenous women isn't "on his radar" and that it's not a "sociological phenomenon," Aboriginal and non-Aboriginal people in this country seem to feel very differently. The death of Tina Fontaine in Winnipeg this summer sparked a massive, nation-wide movement for action to prevent violence against Aboriginal women.
According to the APTN, the mainstream press and non-Aboriginal people reacted very differently to the death of Tina Fontaine than to the similar death of Felicia Solomon Osborne 11 years ago.
When Osborne went missing, and parts of her body were found in the Red River, almost no attention was paid by the media or society at large. But Tina Fontaine's death has spurred protests and vigils across the country, and both opposition parties and provincial premiers calling for an inquiry into missing and murdered indigenous women.
The rate of violence against Aboriginal women in this country is a tragic consequence of our history of colonialism. But by paying attention to this issue like never before, we can only hope that positive change is on the horizon.
Vancouver Recognizes that it Sits on Unceded Territory
Out in Vancouver, the talk radio stations refer to Mayor Gregor Robertson as "Moonbeam" for his support of backyard chicken coops and bikelanes. I'm sure the talk radio outrage machine was in full fury when they learned that the council officially recognized that Vancouver sits on unceded territory of the three host nations of Musqueam, Squamish, and Tsleil-Waututh.
This was an unprecedented move pushed by city councilor and now deputy mayor Andrea Reimer, and was unanimously endorsed by council.
The decision to officially recognize Vancouver sitting on unceded First Nations territory was not only symbolic; it comes with a number of substantive moves by the city to reach out and work with the three host nations. For the first time, Vancouver city councilors are meeting with representatives from the Squamish, Musqueam, and Tsleil Waututh nations, and hammering out important agreements for service provision.
Reimer, whom I interviewed earlier this year, claims that cities have a role to play in reconciliation, and sees First Nations people living in Vancouver as her constituents who she is duty-bound to represent. This approach is one that could be easily taken up by other municipalities across the country, and would be one way to incrementally improve Aboriginal-non-Aboriginal relationships.
Aboriginal People Recognized in Arts and Culture
It seems that non-Aboriginal Canada is waking up to the rich cultural output of Aboriginal people of Turtle Island. In 2014, Aboriginal artists from across the country were awarded a number of prestigious cultural prizes.
Tanya Tagaq won the Polaris Prize for music. Her album Animism pushes traditional Inuit throat singing to new heights, and wordlessly expresses Tagaq's commitments to social and environmental justice.
Thomas King won the Governor General's Award for Fiction for his book The Back of the Turtle. The novel follows a number of perspectives, from a Toronto resource industry CEO, to the shamed First Nation chemist returning home to the community his products scoured of life. It presents the disparate realities of corporate Canada and the communities dealing with the toxic consequences of economic growth, issues we in Canada are grappling with more and more.
And Wab Kinew guest-hosted Q. Kinew is a force of nature, working in music, broadcasting, and the academic world simultaneously.
The fact that Aboriginal artists are beginning to infiltrate the mainstream cultural consciousness is significant. This heralds the possibility for a shift in the non-Aboriginal imagination, which often still maintains a view of Aboriginal people that belongs more in a John Ford western than in contemporary reality. Reading, watching, and listening to Aboriginal artists can enable non-Aboriginal audiences to appreciate the humanity they share with Aboriginal people, and hopefully break down the barriers of racism and paternalism that mark Canada's colonial reality.