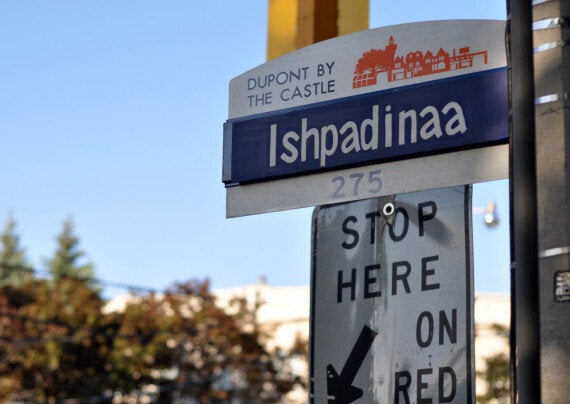 Aboriginal activists replaced a sign on Toronto's Spadina Street with its Anishinaabe name — Ishpadinaa. (Photo courtesy Ogimaa Mikana)
For three years, aboriginal activists in Toronto have been replacing street signs and historical plaques with Anishinaabe versions. And now they're doing something bigger.
A huge billboard has been erected, featuring a phrase in a language that's unfamiliar to most Canadians. The Anishinaabe words translate to: "If you want to learn something, first you must learn this."
"What we're trying to do is, in a creative way, make a political statement about our presence here and what's happened in the past and how to move forward in a good way," artist and activist Susan Blight told The Huffington Post Canada.
The sign also features a wampum belt, traditionally used to mark agreements between indigenous peoples — a reference to a treaty between aboriginal nations that pre-dates European settlement in North America. It's located in the Parkdale neighbourhood for a reason, since it was home to a large indigenous population before it gentrified.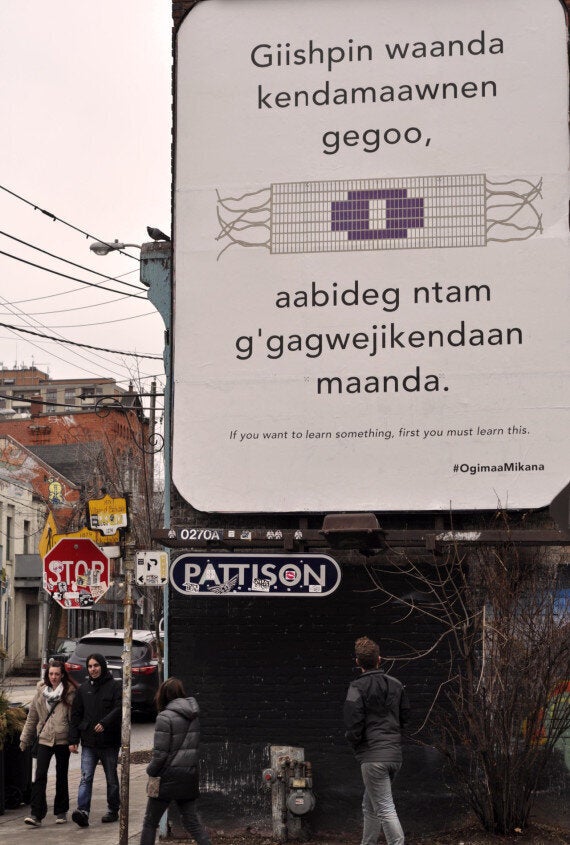 A billboard at the corner of Queen Street West and Noble Street features an Anishinaabe phrase and a wampum belt. (Photo courtesy Ogimaa Mikana)
Toronto can be alienating for indigenous people, who don't see their own history reflected in the landscape, Blight said. The first goal with the billboard project is to remind Anishinaabe people of their own heritage: "That becomes really important in a settler-colonial system."
And the idea that began around the same time the Idle No More movement was just getting into full swing has a large education component.
"The other part is to remind non-indigenous people that this is indigenous territory," said Blight. "And to remind them that there's a 15,000-year history here that a lot of people don't really know anything about."
"I want people to think about how renaming is used as a tool of colonial erasure."
Blight and fellow Anishinaabe activist Hayden King changed their first street sign on Toronto's iconic Queen Street West, reclaiming it as "Ogimaa Mikana." It's now the name of their project. The first word means someone who leads the people, and the second is a street, trail, or path.
"We liked the way that that name changed the context of that street. So we named the project after that," Blight said. "It's really meant to honour the women leaders of Idle No More."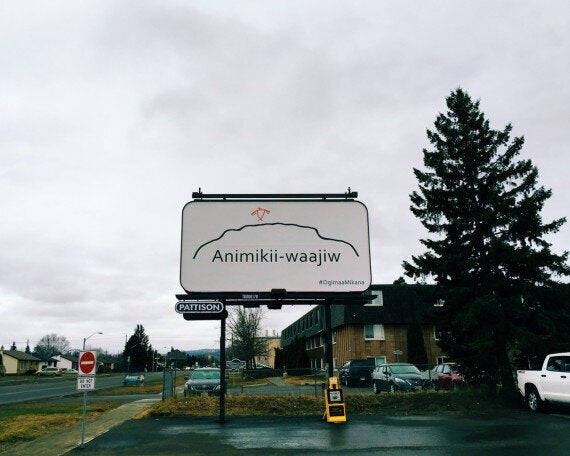 A billboard in Thunder Bay, Ont. shows the Anishinaabe name for Mount McKay, a popular lookout. (Photo courtesy Ogimaa Mikana)
Another billboard in Thunder Bay, Ont. reads "Animikii-waajiw," or "where the thunderbirds land." That's the original name for what's now called Mount McKay, a popular lookout in the area.
The project was paid for by a grant from the Ontario Arts Council. Blight said more billboards are planned in the Ontario communities of Peterborough and Sault Ste. Marie.
While she did not disclose the cost of the billboards, the Thunder Bay one will stay up until the third week of May, while the Toronto sign will remain until the space is purchased by someone else.
Blight hopes people who pass by the signs will be inspired to educate themselves and ask questions.
"I want people to think about how renaming is used as a tool of colonial erasure," Blight said. "It's an actual erasure of our history and a way of alienating indigenous people from our own places, our own lands, our own sacred sites, our own rivers."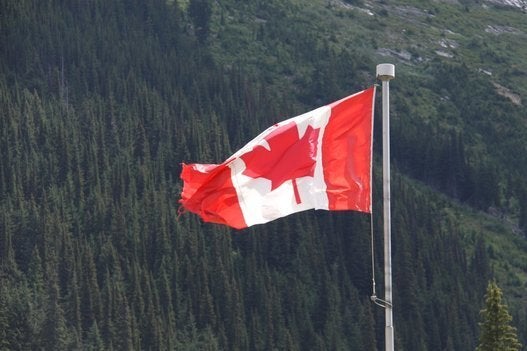 11 Facts About Canada's First Nations
Popular in the Community