When Jane walked into emergency to make sure her abdominal pains didn't signal problems with her pregnancy, she rubbed at a speck of dirt irritating her eye. The nurses took a look at Jane and leapt to their own conclusion: a pregnant aboriginal teen with reddened eyes? She must be on drugs or abused. They interrogated her and, ignoring her explanations, called for a social worker. It was hours before anyone even looked into her abdominal pains.
When Anne visited a Vancouver Island hospital for a routine pregnancy check-up, a nurse read in her medical record that she was Métis, and saw a notation from years before about a child welfare issue, long since resolved. The nurse immediately called in child welfare. Anne's routine hospital visit turned into a Kafkaesque drama.
Jane and Anne are made-up names, but their stories are real. They are among those gathered by Sara Wolfe, a registered midwife in Toronto, and Dr. Don Wilson, who practices obstetrics and gynaecology in Comox, B.C. and works with First Nations people from across Vancouver Island. Both Wolfe and Wilson are members of Canada's First Nations, and they have helped the Society of Obstetricians and Gynaecologists of Canada (SOGC) update guidelines for providing culturally sensitive health care services for aboriginal women.
Wolfe and Wilson have seen many such examples of the unfair stereotypes and cultural misunderstandings that aboriginal women all too often face in Canada's health care system. Most Canadians walking into a hospital or doctor's office would never face what Jane and Anne did.
According to Statistics Canada, the average life expectancy of First Nations Canadians is five years less, and for Inuit as much as 15 years less, than for non-aboriginal Canadians. Infant mortality is as much as four times higher in some aboriginal communities than the national average.
The SOGC says evidence increasingly shows culturally-sensitive health care leads to better health for aboriginal communities. However, Wolfe and Wilson say aboriginal women face a plethora of problems when they seek health care.
Wilson has more than once overheard doctors and nurses talking about aboriginal patients in derogatory terms, suggesting their health problems all stemmed from the fact they were aboriginal.
"People aren't getting good access to care because of stereotypes they are getting in mainstream health care," Wolfe says.
While poverty, drug abuse and sexual abuse rates are higher among the aboriginal population than for non-aboriginal Canadians, Wolfe says health care professionals too quickly jump to the conclusion that they are a factor with every aboriginal patient they treat. As in the cases of Jane and Anne, doctors and nurses often immediately involve child and social welfare agencies without determining if they are actually needed.
Accommodating traditional practices is another area where the Canadian health care system often falls short. For example, Wolfe explains that virtually all aboriginal cultures believe the placenta has a spiritual connection to the child and should not simply be discarded as medical waste after the birth.
Each aboriginal nation has its own ceremonies for disposing of the placenta, but Wolfe says hospitals make it very difficult for mothers to reclaim the placenta after birth. One hospital, she says, required mothers to sign a form promising not to do anything "distasteful" with the placenta, such as eat it. "It was very condescending."
A survey of residents at Canadian hospitals conducted earlier this year by the University of Toronto found that, "residents have little background knowledge of indigenous women's health." Of the 17 medical schools surveyed, only four consistently included aboriginal health issues in their curriculum.
The SOGC has worked to advance culturally-sensitive health care for aboriginal women since they published their first set of guidelines in 2001. The updated guidelines, published this summer, now include practical tips for front line health care workers such as: "Understand that there can be large cultural variations between patients. Get to know your First Nations, Inuit, and Métis patients individually and do not make assumptions."
All sectors of Canada's health care system should have guidelines for delivering culturally sensitive care, and our medical schools must integrate education about aboriginal health and culture into their curricula.
When we walk into a hospital or doctor's office, we all expect our health care providers to be respectful of us and our individual needs. Canada's aboriginal peoples -- and women in particular -- deserve no less.
Craig and Marc Kielburger are co-founders of international charity and educational partner, Free The Children. Its youth empowerment event, We Day, is in 11 cities across North America this year, inspiring more than 160,000 attendees from over 4,000 schools. For more information, visit www.weday.com.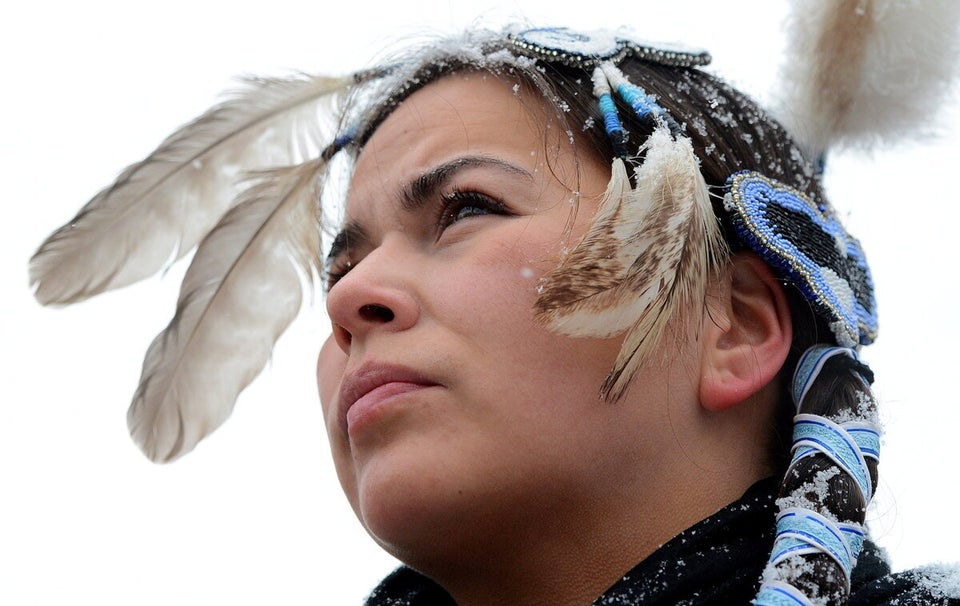 Idle No More: In Photos