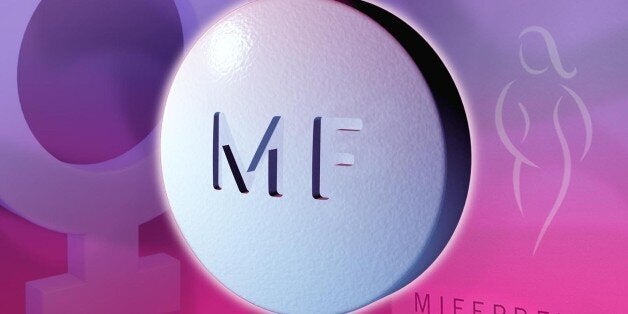 Every day we receive calls on our Access Line from people across the country seeking to terminate a pregnancy. They have a lot of questions and very often want to know where to get the abortion pill or, in other words, where they can get a medical abortion.
No doubt the thirst for this information is based in part in the stark and surprising realities of poor abortion access in this country. Only 1 in 6 hospitals provide abortion services in Canada, the majority of which, like free standing sexual health clinics, are disproportionately dispersed across Canada, with most located in urban areas. Even the Minister of Health recognizes that "abortion services remain patchy in parts of the country, and that rural women in particular face barriers to access." And limited availability is compounded by other barriers like wait times, age, financial resources, migration status, and physicians refusing to provide referrals on moral and religious grounds.
People across Canada and globally choose to end pregnancies for many different reasons. What's important is that they have options to safely carry out the decision they have made. While there are still major barriers, in Canada at last, these options are expanding.
While medical abortion has been available for some time in Canada, the method used involved the off-label use of a cancer and arthritis medication called methotrexate along with misoprostol. The low-level of knowledge among health care providers in Canada regarding medical abortion and the previous regimen's off-label use, however, meant that few physicians were trained or comfortable providing it, contributing to low availability and demand.
This reality has left the potential of medical abortion in Canada completely untapped. Medical abortion is an important way to expand choices when it comes to terminating a pregnancy. It can be offered earlier than a surgical abortion, it could reduce wait times for surgical abortion procedures and wait times overall, it could potentially increase access to abortion in more remote and rural areas, and it can be offered to people who have a strong desire to avoid a surgical procedure for whatever their reason. And studies do show that those who prefer a particular method and obtain it are most satisfied with their healthcare experience overall, which can have enormous implications for their overall well-being and health.

Mifepristone has the potential to become a solution to the many barriers to abortion that exist in Canada and could address the new federal government's priority to "better equalize access for all Canadian women." Unfortunately, the regulatory decision by Health Canada, which granted approval of Mifegymiso and outlined its roll-out in Canada, suggests little will actually change when it comes to access to medical abortion in Canada.
Here's why: only physicians will be permitted to prescribe the drug. And Health Canada has mandated onerous training requirements for physicians and pharmacists to prescribe and dispense the drug, rather than making appropriate information available and allowing the use of professional judgment. Such requirements will likely mean poor take-up amongst a wide swath of physicians and pharmacists.
Limiting the ability to prescribe Mifegymiso to physicians especially restricts access to the service in communities where it is most needed, in rural and remote areas where physicians are lacking and abortion services are far and few between. So what's the solution? The Government needs to ask Health Canada to examine ways to ensure appropriate task-shifting in the provision of medical abortion that allows and trains other qualified health professionals (such as nurse practitioners and midwives) to provide these services.
But there are other concerns too. For one, the private registry, which will prevent those seeking the service, or those wishing to refer clients to the service, from knowing which physicians in their area are trained to provide it and which pharmacists are trained to dispense it. What's a solution here? This one is easy. Make publically available a version of the registry listing those providers who have consented to being identified in this way.
And finally: Mifegymiso is expected to cost a whopping $270.00 per package. The cost is significantly more expensive than the previous regimen and is cause for concern over accessibility if medication costs are not covered. While the physician fee will likely be covered across Canada, the Minister of Health could work with the provinces and territories to ensure that the medication cost is also covered and move a national drug plan forward that guarantees access to a comprehensive range of medication, medical devices and appropriate supports.
These concerns aren't complicated, but political will at the provincial, territorial and federal level is needed if we are serious about equalizing access and providing safe abortion services for all people from coast to coast to coast.
Follow HuffPost Canada Blogs on Facebook
Popular in the Community