A Calgary group is calling for Calgary Pride to "act in solidarity with the Black Lives Matter Toronto movement" and "bar any police representation" from this year's Pride parade and affiliated events.
An open letter to the organization was posted on the Generation Forum website on July 10, two weeks after Black Lives Matter protesters brought the Toronto Pride parade to a standstill until organizers agreed to a list of demands which included banning police floats from future events.
"Black and Indigenous queer people, particularly Black and Indigenous trans women, are disproportionately mistreated by police... Canadian police forces have a history of surveilling, violating and brutalizing LGBTTQ2SIAA people through raids and incarceration," reads the open letter written by activist Trent Warner.
No community consultations
Warner says he was inspired to write the letter when he read a statement Calgary Pride sent to 660 News after the events in Toronto stating that the organization would continue to welcome law enforcement in the parade.
"I didn't see any community consultations from them," Warner told The Huffington Post Alberta. "Being a member of the LGBT community in Calgary and in Alberta I see and I hear from friends who are people of colour that it can be very whitewashed and it can be very exclusive."
The Calgary Police Service's LGBTQ liason officer posted a response to the open letter on his personal Facebook page, calling it exclusionary.
"I completely understand that there is a historic mistrust of law enforcement (that is why my role exists), we all do, but times have changed," Const. Andy Buck wrote.
However, one Indigenous LGBT activist disagrees, saying it's not exactly true that times have changed.
"I understand how important it is to have police presence there... but these are people from your community that are telling you we do not feel safe because of the history between the police and queer people of colour and trans people of colour. We're part of this community as well," Evans Yellow Old Woman told HuffPost Alberta.
"Our lives are way more important than peoples' feelings.'"
A study by Egale Canada Human Rights Trust found that LGBT Canadians who are also people of colour face significantly more complex forms of oppression than their Caucasian counterparts.
'We should be talking about this'
Yellow Old Woman, who has been involved with Idle No More in Calgary, says he appreciates how Black Lives Matter has created an open dialogue to discuss issues Indigenous Canadians are facing with the police, something he would like to see Calgary Pride echo.
"It gave the opportunity for other people of colour to be like 'you're right, we should be talking about this," he said. "I think we should remember that Pride isn't always a celebration.
"Our lives are way more important than peoples' feelings."
Warner sent the open letter to Calgary Pride when it was published and has since followed up, but has yet to hear a response. The Huffington Post Alberta has also reached out to Calgary Pride for comment.
"At the end of the day it's not about the police, it's about the marginalized people in our community who can't celebrate Pride with our community because there's a presence that's unfriendly to them," Warner said.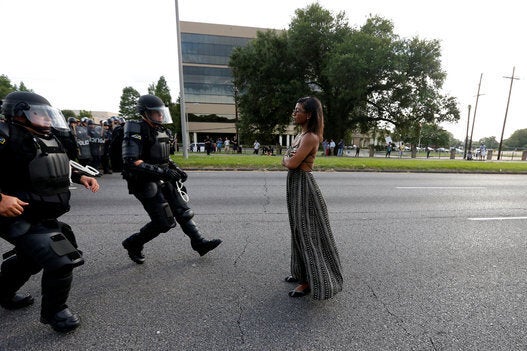 Black Lives Matter
Popular in the Community