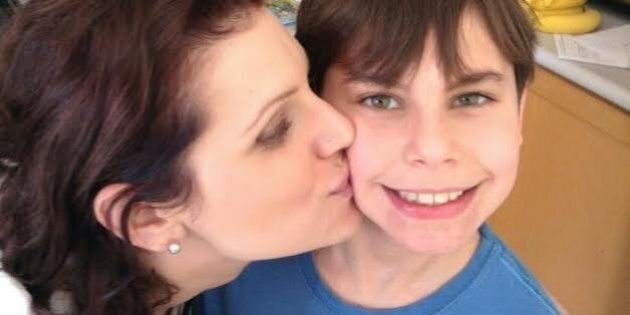 Toronto child and youth worker Sheera Walton spends a great deal of time assisting children with Attention Deficit Hyperactivity Disorder (ADHD). But when it came to the diagnosis of her own son Darius at age six, she was surprised by her reaction.
"Being knowledgeable about it didn't help," remembers Walton. "As a mother, I felt that I did something wrong."
Walton recognized the symptoms in her son, who was more rambunctious than most kids. Darius could be destructive, breaking toys and hurting others. All of this made it hard for him to make friends.
"I was told I had to be tougher on him and that Darius was the way he was because I was young and a single mom," Walton remembers. "It's been a long and lonely road for us. Many think ADHD is a cop out, so it's difficult to discuss. Darius is a great kid and I wish people could look past the stigma and see him for who he is."
Walton and her son definitely are not alone in contending with the stigma that swirls around an ADHD diagnosis. In fact, the Centre for ADHD Awareness Canada (CADDAC), says it is "one of the most common, yet misunderstood and stigmatized disorders in Canada." And that stigma is sometimes just as hard for parents and kids to deal with as the diagnosis itself.
A medical neurobiological disorder with no cure, ADHD affects more than one million Canadians. There are three subtypes: inattention, hyperactivity and impulsivity, each with its own set of symptoms including losing things, difficulty staying focused, fidgeting, talking excessively and grabbing and hitting others.
"I talk to a lot of parents whose kids have been diagnosed with ADHD and they are reeling and very upset about it and don't know where to go or what to do. Very often the parent does not want the school to know. They don't want their child to have that stigma," says Heidi Bernhardt, national director of CADDAC.
"But I say to them, if your child is struggling either academically, socially or behaviourally in the school setting, believe me your child is already labelled by every kid in that class, by the parent of every kid in the class and the teachers at the school. Unfortunately, most often it's an incorrect label with a lot of stigma of either this is a bad child or a child who isn't disciplined or a child who is not very bright and all of these things are incorrect."
According to the National Resource Center on ADHD, seven common myths lead to the stigmatization that plagues families.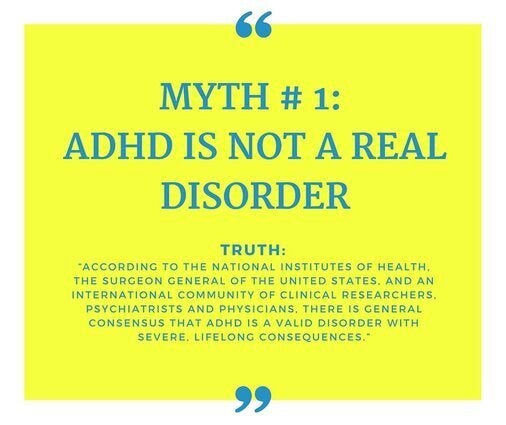 Biggest Myths About ADHD
Obviously, parents don't want their kids (or themselves) to face judgment or shame, so some delay or avoid having their children diagnosed. But studies have shown that undiagnosed and untreated children, adolescents and adults with ADHD are at a greater risk for low self-esteem, substance abuse, anxiety and depression.
"We're afraid of the stigma that comes with mental health issues," explains Lilly Blue, a Toronto mom, about why she and her husband Mark delayed having their eight-year-old son Blake diagnosed until this year.
The couple first noticed Blake exhibiting ADHD-like behaviour when he was in junior kindergarten. He had trouble following directions and controlling his emotions. He was constantly on the go, had frequent meltdowns and became aggressive and "rude" when he didn't get his way.
"The school couldn't handle him anymore," says Blue. "He's smart, but hardly any learning was happening due to his behaviour." On top of that, Blake felt bad about himself because he was constantly getting in trouble at school and didn't understand why.
Blue and her husband decided to take Blake to see a psychologist for an assessment this year. After three days of testing, Blake's ADHD was confirmed and he will be put on medication soon. But Blue's concerns aren't over.
"There are lots of misconceptions out there. I'm afraid people will treat him differently and only see ADHD," she explains. "Once we settle down after the diagnosis, we definitely plan to educate people so this condition becomes mainstream and those who have it don't have to worry about stigmatization."
Blue has every reason to be concerned. ADHD stigma can lead to the child being bullied and shunned in the playground -- and not always by other kids.
"I had a neighbour around the corner that would not let their kids play with [my son] because he was too wild and loud," remembers Kathy Simmons-Price of Innisfil, Ontario, whose son Mark has ADHD. "He was not allowed to come play on their jungle gym. We had friends that would not invite us to their homes because my son was 'too rowdy.'"
Simmons-Price believes the stigma and backlash she experienced from other parents enabled her to become a strong advocate for her son who is now 18 and an honour student. "I learned to fight for him," she says. "I went from a shy, quiet mom to a lion."
Simmons-Price even found herself calling into a popular Toronto talk radio station to argue with a professor being interviewed who said ADHD was a food allergy.
"People's lack of knowledge and understanding about ADHD makes me mad and hurt," says Simmons-Price. "But it also drives me to ensure Mark is a success. I will always fight for my son."
Heidi Bernhardt of CADDAC says this is exactly the right approach parents should take.
"You don't want to hide it," says Bernhardt. "If you do not disclose the diagnosis or discuss the diagnosis with your child, siblings, family members, what not, you're basically sending the message to your child that this is something to be ashamed of. And you don't ever want to send that message."
Bernhardt says transparency breeds acceptance and ensures children receive the help they need in all social settings. "Very often the parent does not want others to know because they don't want their child to have that stigma," says Bernhard. "But it's only through knowledge and education that understanding is going to take place."
Diagnosis can have many benefits for the family, as well, including accessing resources and forming a support group with other parents.
Organizations like CADDAC and Canadian Mental Health Association are tackling the stigma on the macro-level in our country. Through public awareness campaigns, like Mental Health Week, and fighting for public policy, they are working to both improve the care of children with mental health issues, like ADHD, and create a more supportive environment. After all, some of the most successful people in the world have ADHD, including Bill Gates and Richard Branson.
"ADHD kids have a lot of positive qualities," says Dr. Doron Almagor, a Toronto-based psychiatrist. "It can lead to more creativity, they're often more energetic and they can accomplish a lot."
Since her son's diagnosis, Sheera Walton says Darius is doing much better in school. She decided medication was the best option for him and he is now stabilized and thriving.
"My advice for parents would be to remember you know your kid best. You know deep down if something isn't right," says Walton. "They need you to love them and be their strongest advocate because at the end of the day, professionals and others are in and out of their lives, but you are with them always. They need you to help them become loving, happy and contributing members of society."