For the first time since she lost her left leg in the Boston Marathon bombing, a ballroom dance teacher performed on stage, bringing an emotional climax to a TED Conference talk by the man who created her bionic leg.
In a short, sparkly dress, Adrianne Haslet-Davis danced a rumba with dance partner Christian Lightner in Vancouver on Wednesday. The packed audience — many with tears in their eyes — rose to their feet in a "thunderous standing ovation," reported The Vancouver Sun. Former U.S. vice-president Al Gore, who is attending the conference, later went over to congratulate her.
Herr, the director of the biomechatronics research group at MIT Media Lab, also argued there's no such thing as a disabled person. Herr's own legs were amputated after he got frostbite during a rock climbing accident in 1982, and he wears two prosthetics.
"At the time, I didn't view my body as broken. I reasoned that a human being can never be broken," he told the crowd, according to the TED blog. "I thought: Technology is broken. Technology is inadequate. This simple but powerful idea was a call to arms to advance technology to the elimination of my own disability, and ultimately the disabilities of others."
Story continues after slideshow: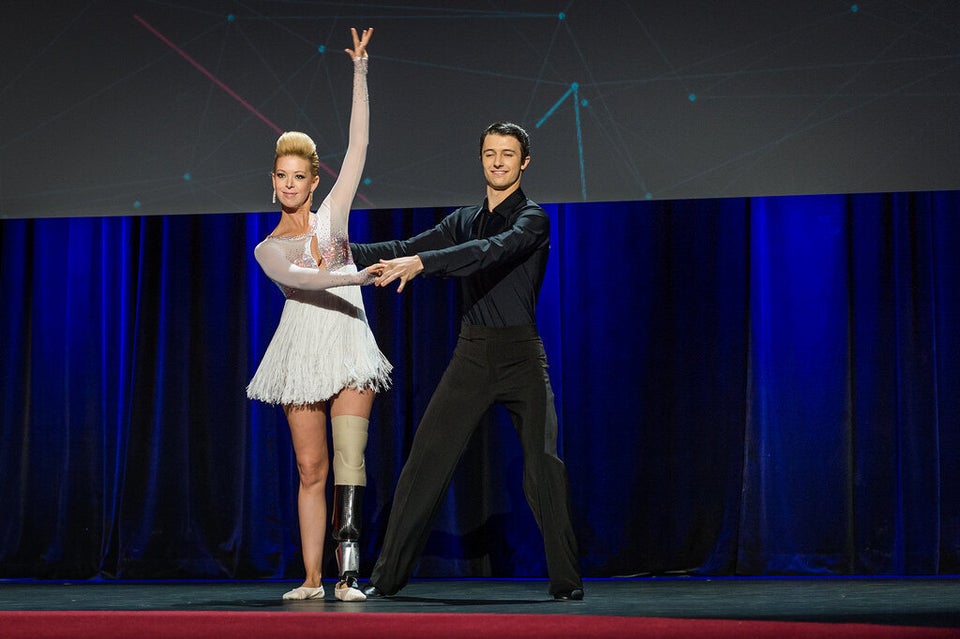 Adrianne Haslet-Davis, Boston Bombing Survivor, Dances At TED Conference
Haslet-Davis, who taught at the Arthur Murray Dance Studio in Boston, had been watching the marathon last year with her husband. They were both injured in the explosion.
Haslet-Davis met Herr at a rehabilitation hospital.
"I just remember thinking … my whole life has changed," Ms. Haslet-Davis told CBC. "My world is different. My whole body is different. It's so different, in fact, it felt like I had a hand growing out of my head. … And him saying that was the first time that I felt like … maybe it could be OK to be an amputee."
She was scheduled to speak to other media as well after the TED performance, but had to leave the room because she was overwhelmed, reported The Globe and Mail.
Herr's team electronically mapped dancers' movements and then programmed a bionic leg to recognize and anticipate those dynamics.
"In 3.5 seconds, the criminals and cowards took Adrianne off the dance floor. In 200 days we put her back," Herr said.
"Bionics are not only about making people stronger and faster," he says. "Our expression, our humanity can be embedded into our electromechanics."
Like this article? Follow our Facebook page

Or follow us on Twitter