"Brilliant!" we all thought. "Another conversation about body awareness is making international headlines!"
American Eagle Outfitters, Aerie's parent organization, said in a released statement on Friday, "American Eagle Outfitters proves once again they're not afraid to take a risk and have a laugh in support of a good cause... the brand reveals today its #AerieMAN campaign, featuring a mix of quirky characters of different sizes and personalities sharing 'real life' stories in their skivvies, was all in good fun to parody the #AerieReal campaign by Aerie, a leader in body-positive marketing."
The brand then stated it has pledged to, "forego retouching its male models in its underwear and swim images beginning Holiday 2016."
For many (read: the Internet), that was not a good enough answer as to why Aerie, AEO's loungewear spinoff, decided to use male body image issues as a punchline.
"#AerieMan was not a prank but rather an opportunity for us to raise awareness about body positivty," an American Eagle spokesperson told Mic, who was also dissatisfied with the press release answer.
"This has actually improved my self esteem,'' says Williams in an interview as reported by The Canadian Press. "Not so much that I think I look better on the whole, but I think it's more that I don't have to be concerned about my flaws as much. I don't think I have the greatest body in the world, obviously, but this has made me go a little bit easier on myself.''
In a campaign that champions "being you," it's a shame that body diversity was the victim in a rather thoughtless April Fools joke, especially for a company like Aerie who first promoted body-positivity in their #AerieReal ads back in 2014. The mission of many of their campaigns has been to stop using unretouched photos and challenge "supermodel standards by featuring unretouched models in their latest collection of bras, undies and apparel." Now why make a joke of that?
Lesson learned, American Eagle and Aerie? When it comes to body image, it's no laughing matter.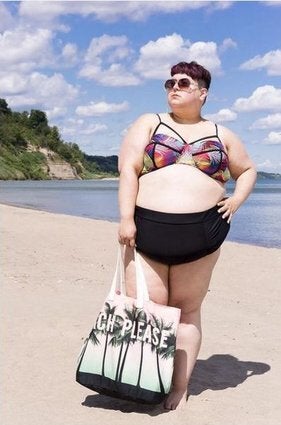 Body Positivity: 16 Inspiring Women Leading The Movement