A woman asked me one day after an upbeat book talk I gave, "Do you ever get sad?" I said yes, "I cry about war. Then I dry my eyes and I do something about it." Most of my friends cry too when they watch anything to do with the Holocaust and other world atrocities past and present. The main thing is to then do something to reverse it. Apathy is also the enemy.
My best friend feels the same way as I do. Captain Trevor Greene is a great journalist. We met while studying at The University of King's College. He was an A student in journalism and wrote the book on the missing women on the East Side of Vancouver long before anyone was noticing these women were disappearing.
Trevor and I were taught in Journalism school that the job of the front page of the newspaper is to show disorder, with the goal to get to order. I sometimes wonder if the second part, the goal to get to order gets lost. World peace depends upon all of us, not just government and military, but citizens, business and media to realize we serve the same people.
Trevor got sad about war in Afghanistan. So he dried his eyes and went and did something about it. He served bravely in Afghanistan with the Canadian Forces.
Captain Greene risked his life in Afghanistan because he could not watch the images of war on TV without doing something to help the families there. In Afghanistan, while sitting in a peaceful Shura, he spoke to the elders about how to bring clean drinking water and health care to the families. As soon as he began speaking, an uneducated young man who had been convinced by the Taliban that free thought or free will should be denied to the village struck my best friend in the head with an axe.
During the long healing journey in the hospital I promised my best friend I would take on his mission of peace while he healed. Then I realized I didn't have a way. Like every North American woman, we want peace, and yet, there aren't many ways for me as a women to connect directly in building peace. I am not a brave soldier. I am not a world leader. So I created a way. I wrote a book to empower women to run for office, launch companies and end bullying.
I brought the thesis to life when I began to buy legal essential oils from my supplier, Abdullah Arsala in Afghanistan so he and his tribe would not have to grow the illegal poppy crop that oppressors force farmers to grow. We went from my initial investment of $2000 for all of the orange blossom oil he had to purchasing $100 000 in legal crops in just two years. I make and sell perfume with these oils, Afghanistan Orange Blossom, Noble Rose of Afghanistan and now our collection of fragrances extends to Haiti and The Middle East.
Now that the troops are pulling out of Afghanistan, I am concerned. So are the people of Afghanistan. We learned a great deal about Afghanistan and its future at the Halifax International Security Forum this past November from the top leaders from Afghanistan.
A panel moderated by Elise Labott, Foreign Affairs Reporter for CNN reaffirmed for me and all in attendance that we must not abandon Afghanistan and that there is hope. Media mogul, Saad Mohseni of Moby Group shared that Afghanistan could return to a civil war. He shared that although the people of Afghanistan are much better off now if the support of the world is not there, violence will be stepped up by the oppressors who are waiting for us all to leave.
There are many glimmers of light and hope for Afghanistan. One of them is a man by the name of Amrullah Seleh, The Former Intelligence Chief for Afghanistan who explained the issues around peace. He said, "The Taliban have less than 10 per cent approval by the people of Afghanistan and negotiating with them is not something the people of Afghanistan want." Seleh is considered by the international community to be a most competent leader in Afghanistan with a reputation for clearing out corruption. Seleh left the Karzai Government in June of 2010 to form the Afghanistan Green Trend as a pro-democracy and anti-Taliban movement.
When asked if negotiating with the Taliban is the way, Amrullah Seleh responded by saying, "The Taliban have never asked to negotiate, they are not interested in negotiating. They are waiting for the troops to pull out to step up the violence."
Some media continue to give a voice to the oppressors instead of the real citizens like Seleh. I find this completely illogical that the very top leaders of Afghansitan sat before us, asking us to remain a little longer in Afghanistan to ensure the order that has been brought does not deteriorate into Civil War.
They referred to the Taliban as stooges of Pakistan and said they in no way represent the people of Afghanistan. And yet, this group of oppressors that does not want to negotiate for peace, that does not believe girls above the age of 11 should learn to read, continue to be interviewed by many world media.
During a meal at the conference, discussing how this makes me sad, that some of our media still give oppressors a voice instead of the people, I leaned in to a friend and asked if I was a bit too broken up about this issue. Elise Labott kindly leaned in and said, "It was honest."
One man in the audience after the panel on Afghanistan said, "You can feel the spirits of Charlie Wilson and Richard Holbrooke in this room. Now let's get it right!"
We will get it right when we truly listen to these wise leaders of Afghanistan and centres of influence like my supplier Abdullah Arsala. It is more than the spirits of Wilson and Holbrooke who both understood that literacy and economic empowerment were crucial for stability in peace. For Amrullah Seleh and Saad Mohseni and my supplier Abdullah Arsala are right here, right now, right in front of us. And we need to give them a voice in order to get to order.
I received a kind email from Amrullah Seleh after meeting him at the conference and offered to support his goals in any way that he needs us. I was very moved that he took the time to write me. He gives me hope for the future of Afghanistan.
I sent his note to my amazing supplier, Abdullah Arsala in Afghanistan who wrote back to me and said, "I am so glad you had the chance of meeting Amrullah Saleh. He is very bright and evolving with time from the war culture. The world has developed a lot in the last 35 years while Afghanistan went backwards. There are a lot of positives and the most important to me seeing young boys and girls going to school. Whenever I see young girls going to school in Jalalabad, it brings tears of joy (I am very faint hearted :) ). They look so motivated and happy that makes me forget all the misery and illiteracy around. We need a lot of education and it is the only answer to our complex situation for the future generation."
And so I cry when it comes to war. So do my friends. It's honest. And then we do something about it.
What we need to do in order to ensure literacy is to have a cavalry of businesses coming to do trade with nations like Afghanistan. Buy their saffron, buy their essential oils, buy anything so that a farmer can buy books and shoes for his children and not have their children taken away by oppressors. During this downtime in the economy, I heard government leaders saying their people don't feel we can afford to invest in Afghanistan.
I wonder why these governments aren't asking us to do more. Small to medium sized businesses are the backbone of our economy. In two short years we went from $2,000 on my visa card to $100,000 legal dollars invested in my supplier. Imagine five years from now? Imagine 300 SMEs like me. That's millions of dollars invested from business, not taxpayers and government.
I would like to add that Trevor has had an incredible healing journey since that attack March 4th, 2006. He stood to take his wedding vows (I was his best ma'am and wore a sexy tuxedo). He has written a best- selling book with his wife Debbie, called March Forth and this summer they welcomed their first son, Noah to the world.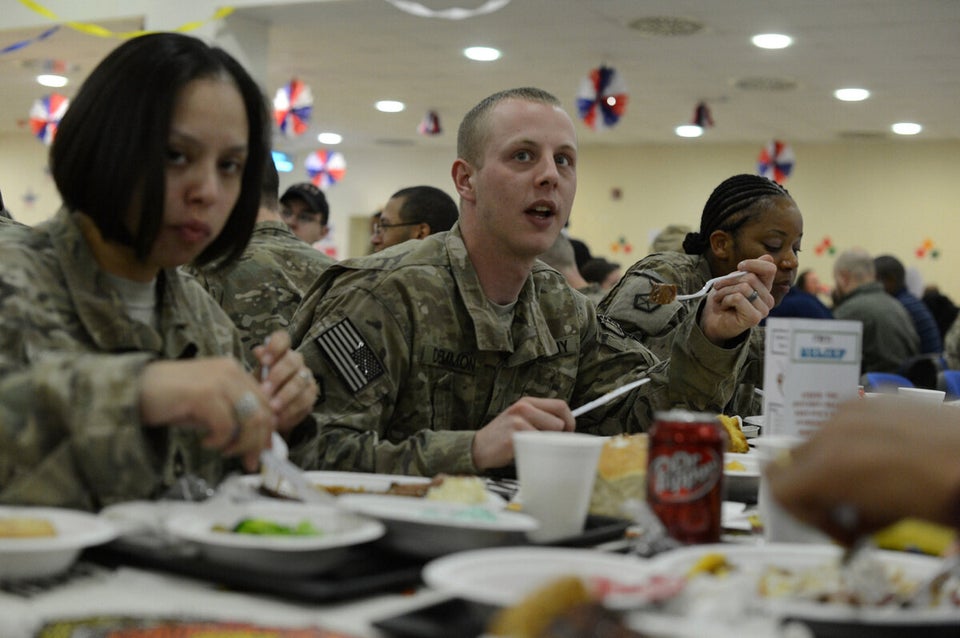 Thanksgiving In Afghanistan