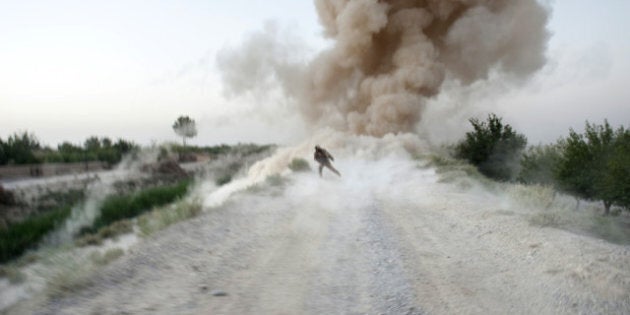 It was most encouraging to see Prime Minister Stephen Harper and his British counterpart David Cameron recently devote part of their time together in Ottawa reflecting on Afghanistan and discussing how to prevent other failing states from collapsing into mayhem and economic ruin.
The answer, Mr. Cameron said in his Sept. 22 address to Parliament, is to deploy aid more effectively not just on military defense but also on civilian assistance.
"If we'd put a fraction of our current military spending on Afghanistan into helping Afghanistan develop 15 or 20 years ago, just think what we might have been able to avoid over the last decade," Mr. Cameron said to the Canadian members of Parliament.
And, as Mr. Cameron pointedly noted, it is "better to mend broken states and act to stop problems before they come to our door."
Cameron commended Canada for its military commitment in Afghanistan and Libya and its development assistance programs, but he insisted that diplomacy, culture and the promotion of values can be just as important.
His words resonate because we have come to understand that peace is not just the absence of war, but also the presence of social and economic justice.
In too many settings, behind the façade of apparent peace, the lack of social and economic justice has been a cauldron for resentments and divisions leading to civil strife and even full-blown insurgencies.
Tragically, Afghanistan may have fallen irretrievably into this pattern and Pakistan may not be far behind. Cameron's words suggest that future development assistance efforts in other faltering nations must be preventive, thereby averting the spectacle of more fragile states spiraling into the abyss.
Experiences in stabilization and state-building since the Second World War provide important lessons and examples. Among the most significant are:
• A robust, long-term security presence is necessary to create conditions that allow reconstruction and economic and social development. Often this means waiting until a new generation of political and economic leadership takes over;
• Both central and local governance need to be effective and seen by the vast majority of citizens as legitimate and operating in their interests;
• A new generation of skilled civil servants, entrepreneurs and citizens needs to be nurtured; and
• International security and development assistance must be managed in a coordinated way, appropriately financed, and tightly and transparently spent and targeted at locally identified development priorities.
We are inclined now to turn our back on the apparent failure that is Afghanistan, but for a while anyway, assistance efforts based on the post Second World War prescriptions were on track.
Between 2001 and 2005, a large measure of stability was created in Afghanistan by securing the trust of the population in a government process which committed growing revenues to addressing poverty and exclusion.
This involved national initiatives, including a national solidarity program, which delivered block grants through transparent mechanisms to 28,000 villages, each of which set up a Community Development Council.
A national health program set standards for basic health care and encouraged partnerships to deliver services across the country. A microfinance program provided loans to more than 400,000 borrowers throughout Afghanistan. While not perfect each of these programs was seen as a global model in its field.
But in 2005, in part because of a strategic shift of resources to Iraq, donor funding dried up. The national reconstruction agency was shut down. It had been staffed with teams of Afghans and specialists, the key people who had worked to design, launch and implement the country's development programs.
Central to the success of those years was the recognition that development involves citizens improving their own lives and creating opportunities through economic, social and institutional reform. The essential route to long-term success is economic and social development, addressing the real needs and legitimate grievances of the poor and disenfranchised.
But if Afghanistan is eventually lost to the witch's brew of fundamentalists, terrorists, poppy growers, war lords and corrupt rulers -- other countries have emerged and begun teetering, but which are salvageable, more so than Afghanistan ever was. They are the Arab Spring nations of Egypt, Libya and Tunisia, and their fate is now in play.
Their success in the medium- and long-term will be determined by one essential element: development. The approach to their recovery could be shaped, in part at least, by what could be called an emerging Cameron-Clinton Doctrine.
Why Clinton? Because when Hilary Clinton watched Egypt's then-president Hosni Mubarak flee power and Cairo's people power rallies earlier this year, she summoned the country's 300 ambassadors to Washington to attend a Diplomacy and Development Review.
She told the ambassadors that going forward, international development should be treated as a central objective of foreign policy with effective use of aid as a principle instrument.
Her message was clear. Previous development programs in places like Egypt narrowly served national security concerns by propping up unresponsive corrupt regimes, but did not lead to improved governance and inclusive economic development -- and ultimately contributed to the rage of the youth that sparked the Arab street demonstrations and the relatively peaceful overthrows.
As we wrote after Ms. Clinton's diplomacy and development review:
"Recent events do point to a way forward for the West, of making effective economic and social development a central objective of foreign policy and doing it through a more strategic use of official development assistance, trade and investment, security and defence support and international diplomacy -- all key instruments of foreign policy."
Canada should seriously consider this opportunity to contribute to this burgeoning partnership between two of its oldest friends and allies, particularly considering the wealth of Canadian human resources it has to draw on, with its experts in international development, government, academia and civil society.
Joseph Ingram is President of The North-South Institute, a former Director of the World Bank office in Bosnia and Herzegovina, and Special Representative to the UN and the WTO. This article is based in part on a paper by Mr. Ingram and Claire Lockhart, Director of the Institute for State Effectiveness and a former advisor to the UN and the Government of Afghanistan. It was originally published in the February 2010 edition of The World Today, a publication of the Royal Institute of International Affairs.