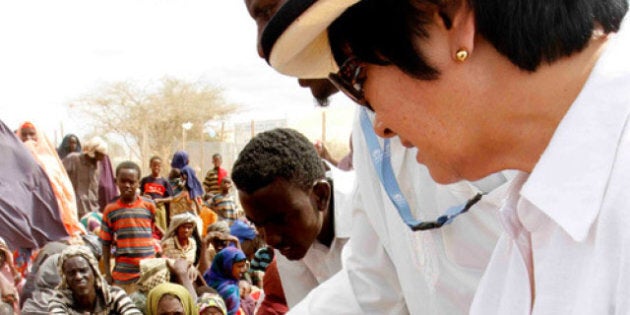 Sawubona. It's an African Zulu greeting that means "I see you." It has a long oral history and it means more that our traditional "hello."
It says, "I see your personality. I see your humanity. I see your dignity and respect." In the African village context, where everyone knows one another, it's an exceedingly powerful representation of understanding.
Canada's International Cooperation Minister Bev Oda now has her own personal reflection on Sawubona. She has just returned from visiting the regions in East Africa suffering from drought and famine, and after speaking with her on the phone this week I had the impression she might never be quite the same.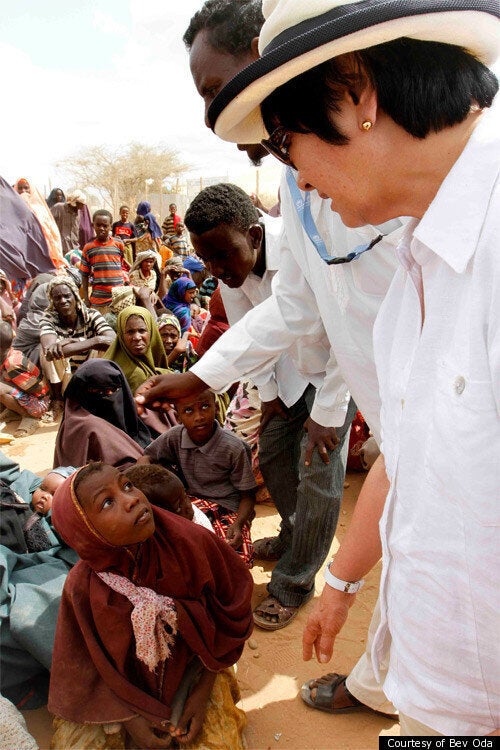 In a voice full of sadness, reflection and personal passion, Oda spoke of her experiences and encounters in a raw kind of language not normal for a minister of the Canadian government. In fact she spoke of how difficult it was to utter "professional-speak" with various NGOs and government officials and then to sit with famine victims in a refugee camp and just talk on human terms. Anyone who has been in politics understands what she means. You're there to represent your government, yet in the midst of all the human drama and misery you just want to cry aloud your own visceral feelings of helplessness and solidarity. In other words, she had to struggle hard to not let her human feelings overwhelm her professional responsibilities. Makes sense when so many people are counting on you for assistance.
Oda visited refugee camp settlements, received briefings from NGOs faced with impossible challenges, assisted at feeding centres for new arrivals, and registration centres where arm bands were placed on people - a tiny identity in a sea of humanity.
She spoke of visiting a nutrition centre where water and hard biscuits were distributed and dispensed with care, owing to the fragile body systems that had endured for so long without being able to digest anything. If the biscuits weren't softened in the water, the bodies would never pass them through.
One of her enduring memories was the leathery and cracked feet of the children who had walked for kilometres and the stunned look on the faces as their bodies struggled to survive. She spoke of visiting Haiti shortly after the devastating earthquake two years ago and how the victims had "dead eyes." There was a difference in the gaze of these Africans, however; they just seemed in some kind of shock. One South African photographer, haunted by such gazes, was forced to go outside and find some private space as he sobbed and sobbed.
The minister sat with one woman on a bench who had been walking for a month in an effort to find food and water for her children. She couldn't stay in her traditional home any longer and was forced out into the unknown. In her arms she held a three-day old baby. Another woman walked 21 days and had a 16-day old child in her arms -- born on the journey. Each night Oda reflected and wondered how these women could endure so much, even having to bury their children along the journey, or leave their sickest children behind because there was no longer enough food to provide for the family -- incredible and heart-rending choices that can only fill us with compassion.
These are important insights to hear from a government minister. She had one week's holiday this summer but opted to take her journey to this mass of humanity instead. "We say things like 'we are so fortunate' but they're just kind of throw-away lines," she states. In her grief, she is struggling for a new vocabulary.
Well, here's a new word to add to her lexicon -- ngikhona. It's the answer someone gives to the aforementioned sawubona (I see you). It means, "I am here," but it's more complex than that. It tells the observer that you feel you have been seen and understood and that your personal dignity has been recognized. Bev Oda could have observed all of this sadness from Ottawa; instead she chose to go and see for herself, and though she might not fully recognize it yet, she assisted those women and children she spoke with in feeling they had been seen and understood. In life, there are few lessons as great as this.