You've read these stories before. Elderly couple have been married for years, first one takes ill, then the other and they inevitably go within hours or days of each other.
This is one of those stories. But read this one anyway, because although the ending is much the same, there is an aspect to the story that goes beyond the ordinary.
Gerald and Jacqueline Teal spent 51 years together before death tore them asunder. They met in North Bay, Ontario when they were in their early twenties. They spent their married lives in Fort Erie, Ontario, a small town along the Niagara River just north of Buffalo, New York, where they raised their children, daughters Wendy and Laurie and son Michael.
It was an idyllic life. Gerald was a construction worker, and an avid tinkerer, fixing things in the shop. Jacqueline stayed at home to raise their children. Weekends were devoted to family. They were avid campers and enjoyed spending time together.
Then Gerald got sick. A few years ago, he went into cardiac failure and needed a quintuple bypass surgery. At 73, it was Gerald's first real illness and hospital stay. He recovered, and then fell and broke his ankle, which again, required surgery. A standard chest X-ray discovered the spot, and Gerald was diagnosed with cancer in his right lung.
There was no peace for the family during his recovery. In between Gerald's heart surgery and cancer diagnosis, Jacqueline was diagnosed with Stage 1 lung cancer, also in her right lung. Both were told the cancer had been caught early. Both looked forward to resuming their lives.
But then, in May, came devastating news. First, it was revealed that Gerald's cancer had returned. Then Jacqueline's.
"It was just surreal when they were both told the news," recalls Wendy. "I was with them both, and we could not believe what they were telling us. It was then that I thought to the future, and imagined what could happen. I wanted more than anything to hope that they were both misdiagnosed, but how could that be?"
Despite the grim news, Jacqueline and Gerald were relatively healthy throughout part of the summer. But by late August, Jacqueline was in hospital with no hope of going home. Gerald went to sit by her side every day. By September 20, he no longer needed to drive. His own health had deteriorated to the point where he was admitted to Douglas Memorial Hospital, their small community hospital, which has a palliative care team that would be the envy of metropolitan hospitals.
His room was right across the hall from the love of his life.
Jacqueline's health faltered first. She went into respiratory failure that Saturday. Nurses on the palliative care ward continued to care for her as though there was a hope of recovery. Her personal needs were attended to with loving care.
The decision was made to bring Gerald into Jacqueline's room to see her the morning before she died. Gerald sat in a wheelchair alongside Jacqueline's bed. They held hands one last time. His last words to her were, "See you soon, mummy."
Wendy and Laurie felt it would be too much for their father to watch while the love of his life passed away, so they stayed with Jacqueline for her final moments.
Immediately after Jacqueline's death on October 7, Gerald fell into decline. The family knew his time was close, but had chosen to have a funeral first for Jacqueline and then for Gerald. However, it was obvious that Gerald would not be able to leave the hospital to say goodbye to his wife, a thought none of the children could not endure.
This is where the story takes an interesting turn.
At a time when health care is accused of reducing people to line items on a budget, the nurses at Douglas Memorial Hospital hatched a plan. They ensured the hospital's public health meeting room would be available, reached out to funeral director Maria Reid and proposed bringing the funeral to the hospital so Gerald could be there to say goodbye.
Thirty chairs were set up for family and friends for the 1 p.m. service on October 9. Gerald's hospital bed was wheeled down the hallway, right behind Jacqueline's casket and placed behind her in the room.
For Gerald, it wasn't a goodbye. It truly was a "see you soon."
Just past 7 p.m. that evening, five hours after Jacqueline was laid to rest, Gerald slipped away to join her.
Dr. Kim Scher is widely respected throughout Niagara for his care not only for the dying, but for those left behind. In an interview with the community newspaper, The Fort Erie Times, he gives full credit to the nurses.
"Mr. Teal was in a very poor way and I think the nurses wanted to do something kind for him," Scher said. "Patients should be able to stay in the town they live in when they require palliative care. "It's a fantastic service we provide (and) the nurses are what make it so special."
It has been close to two months since Wendy, Laurie and Michael Teal laid their parents to rest. Wendy still marvels at the lengths the medical staff went to in order to ensure Gerald could be with Jacqueline until he would "see her soon" marvels her.
The thought of our father sitting alone while we attended our mother's funeral was too much to bear," Wendy says. "I always knew my parents would not last long without the other but we had no idea that it would literally be hours. We are all adjusting to life without them."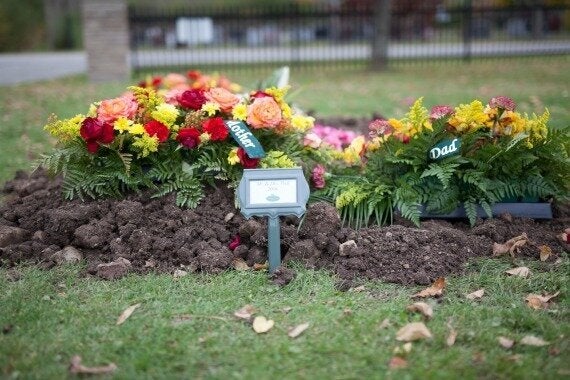 Photos for this post were taken, selected and provided by Wendy Teal.
Popular in the Community