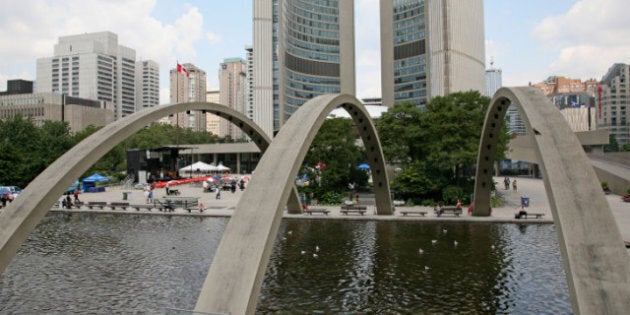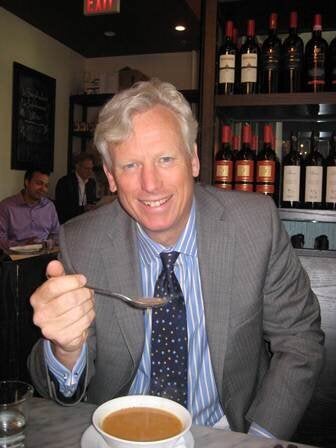 David Miller is one of the more well-known people I have taken out for lunch. It is a bit strange when everyone in the restaurant recognizes the person you are lunching with. So if you don't know who David Miller is, he is Toronto's former mayor, in office from 2003 to 2010. He was a Toronto city councilor for many years prior to that. In his life post-mayor, David is Counsel, International Business and Sustainability at Aird & Berlis, as well as Future of Cities Global Fellow at Polytechnic Institute of New York University, where he both teaches and assists in developing programs that connect technology and society to solve urban issues.
We ate at a Bay Street lunch hot spot. It was a very bustling place. We both had the soup to start, white bean and ham, and then I had a Caesar-like salad and David had the scallop appetizer. The soup was absolutely delicious, David had high praise for his scallops and my salad was pretty average, although very pretty on the plate. We both drank sparkling water. Total bill was $46 with tax.
I asked David what he misses most about being the mayor. His answer was not what I expected. He said for seven years (eight years if you count the campaign), he was forced to be at his very best. And he explained there are very few times in your life when you are forced to always be at your best and you start to simply exist at such a productive level. As an avid follower of Toronto city politics, I do see how long the hours can be and, as my lunch experience taught me, it's not like the mayor of Toronto can ever really be off the clock. So you're always on, and you're always working and always working towards something. David said that was the thing he missed the most in the first few months when he was no longer mayor. However, he said he does now enjoy being able to coach his daughter's soccer team, plan family vacations less than six months in advance and know that he will be able to actually take the vacation.
I was so nervous for this lunch. But as I was waiting for the Yonge subway to head down to Mercatto, I was just hoping for one of the new trains. Ever since the new subway trains started running, I feel like they are my good luck charm. I know I will have a good day if I catch a ride on a new subway. I may have once (transit nerd confession) completely gone out of my way and changed my entire commute just to stay on a new train for a few more stops. But today was not my day, a new train came heading north but alas, my southbound train was an old one.
But as soon as David and I sat down, I let him know how I was really wishing for a new train but didn't get it. This got us started on Toronto transit. It's one of my favourite topics and, David let me know, one of the topics everyone wants to speak with him about. I ride transit to work every day and I am relatively positive about the TTC. Being from Ottawa originally, the subway is still impressive to me in how far a distance you can travel in such a short amount of time. But our first transit topic was St. Clair. I live very near St. Clair and I am a huge fan of the streetcar right-of-way. It really bothers me when the route is called a disaster when I have seen first hand how great it is -- both in terms of travel time, and the noticeable improvements in the community.
This point is something that David feels strongly about. When you invest in a community, such as the $100 million investment in St. Clair, the community will benefit. You see it on St. Clair, you see it in Roncesvalles.
And this brought us to the idea of the "Future of Cities;" David's fellowship at New York University. I asked him if there were other cities that he sees as great models. He did say that revenue-wise, there are models in Europe that simply are not feasible for Toronto, but he does love Berlin. He says it's just an incredible city with great transit infrastructure, three operas and in general a lot of stuff going on. He says they want to do something and they just do it. I know a couple of fantastic Toronto artists who have moved to Berlin and have fallen in love with the art scene there. Seems like a place that I definitely need to visit.
We also talked about how I was able to set-up my lunch with David. I did it through a simple tweet. I just asked him, in a tweet, if he'd like to have lunch with me for my blog and he replied that he would. And here we are. He spoke about how Twitter has been such a great way for him to have conversations with Torontonians, both when he was mayor, and since. I agree that it is a great tool for having access to people that we never used to have access to in the past. I am glad to see people like David Miller using Twitter so enthusiastically.
I left the lunch feeling that the culture of a city cannot be created by the government; for example, a city's music scene is often something that exists organically within a city on its own. But, and this is me speaking, investment in communities helps to build this organic growth. And, again this is me talking, a city is not a business -- it is a mass of people with incredibly diverse needs, be they business, cultural, health, employment, social, housing, transit, etc. -- and, it should be noted, Toronto is a pretty amazing mass of people. I do love this place and I hope it keeps getting better.