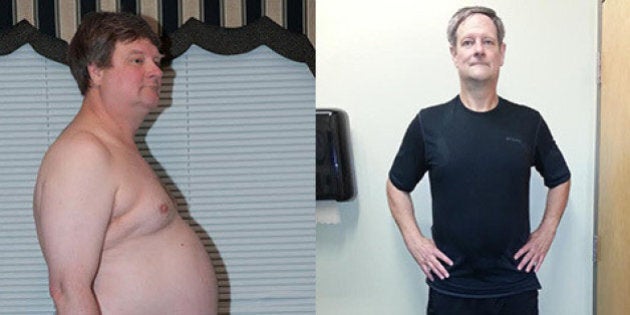 By The Numbers: 310 pounds at my heaviest, currently 225 pounds, for a total weight loss of 85 pounds.
The Weight Gain: Throughout my 20s and into my early 30s, my weight remained fairly consistent because I had an active lifestyle. As I approached mid-30s, my weight began a steady upwards trend. I associated this with a reduction in physical activity as I focused more attention on starting my family and home renovations. Occasionally, I would drop a few pounds through an attempted diet fad, but the weight would soon reappear and further increase.
At age 40, I weighed about 290 pounds. At this point I started a serious weight loss effort involving exercise and diet. I managed to shed 80 pounds, and the weight stayed off for about five years until my job responsibilities changed and I found myself working long strenuous hours. I soon gave up going to the gym and found I had little time for exercise. By the time I came home from work in the evenings, all I wanted to do was relax, eat and watch some TV.
My once healthy interests had now digressed into indulging in fattening foods and watching TV or surfing the net. When I hit my late 40s, I broke through the 300-pound mark.
Final Straw: I was interested in photography and enjoyed taking pictures outdoors. On a cold January day about three years ago, I ventured out to the beach with camera in hand when I slipped on some ice and fell. It was not a serious fall, but due to my excessive weight, I ended up tearing my abdominal tissue and developing a hernia.
I developed heart arrhythmia issues in my early 50s and underwent two procedures to address them. When talking to a surgeon, he suggested weight loss would reduce the strain on my heart significantly and may help reduce re-occurrence.
Meanwhile, The manufacturing plant I was employed at for 33 years ceased operations and I found myself retired in February 2014. The first couple of months were spent reflecting on what had happened over the recent years and what I needed to do going forward. I decided I could either dwell in self-pity at the loss of my job and poor health or move forward and attempt some positive change in my life.
The Plan of Attack: Initially I attempted some basic exercise and diet. I had no stamina and my knees, back and ankles ached from the effort. I started going to the gym and found myself frequently injuring myself while attempting to exercise.
Weight loss for the first couple of months was slow and irregular. Some weeks I would lose a couple pounds; others I would show a slight gain. I realized two obstacles I needed to overcome to be successful were to develop exercise and diet strategies.
From a diet perspective I continued to work with a dietitian and we decided I needed to do a better job of tracking my food intake. I used My Fitness Pal and it allowed me to compare my daily intake against my goals. I soon realized that diet alone was not going to cut it.
Story Continues Below. Check out more of our inspiring weight loss stories: