An Air Canada flight from Vancouver to Sydney, Australia, made an unplanned landing in Hawaii Thursday after encountering a pocket of turbulence.
A total of 233 passengers and crew members were on board Flight AC33 when it diverted to Daniel K. Inouye International Airport in Honolulu at 6:45 a.m. local time.
Approximately 37 passengers and crew members were injured after facing "unforecasted" and "sudden" turbulence, according to a statement from the airline to HuffPost Canada.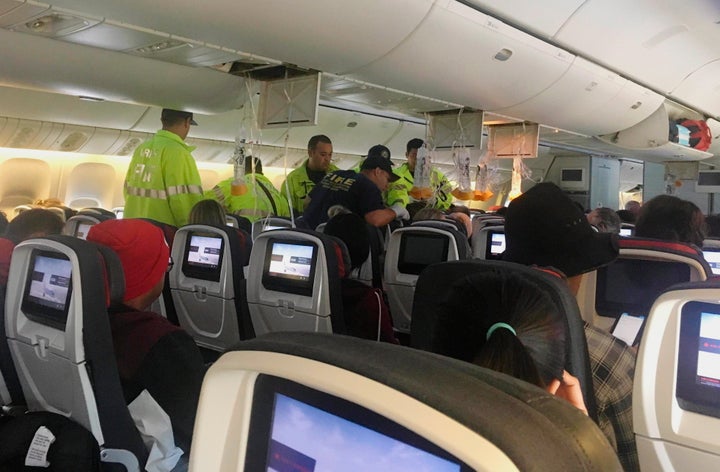 According to authorities in Honolulu, nine people were left in "serious condition," while 21 were in "stable condition." Neck, back and head injuries were reported.
"I'd say half the cabin didn't have their seatbelts on — there was no warning — and then half of them, they hit the roof," one passenger told KITV."
"Any time we get a call for an airline bringing in multiple injuries it makes our hearts beat a little faster, but we train for this kind of stuff and we were ready to respond," Honolulu EMS Chief Dean Nakano said.
Officials said the injured ranged from children to seniors and included some flight crew members. Hawaiian authorities encouraged anyone concerned about loved ones who were on the flight to get in touch with Air Canada.
"No lives lost. We are very pleased with the outcome."
"Our first priority is always the safety of our flights, passengers and crew and as a precaution, medical personnel are on standby to assist passengers in Honolulu," Air Canada's statement read.
Late Thursday, Air Canada said all of the injured had been assessed, treated and released by hospitals. The flight was to resume Friday.
"I want to say to everyone involved, including the pilots and staff on the plane, congratulations on a job well done," said Jim Howe, director of Honolulu's emergency services department.
"No lives lost. We are very pleased with the outcome," he added.
With files from The Canadian Press