Air pollution will take a "terrifying" toll in lives and money by the middle of this century, according to the Organization for Economic Co-Operation and Development (OECD).
In a new study titled "Economic Consequences of Outdoor Air Pollution," the OECD predicts that rapid economic growth, especially in Asia, will result in 6 million to 9 million premature deaths per year by 2060. That's up from an estimated 3 million air pollution-linked deaths in 2010.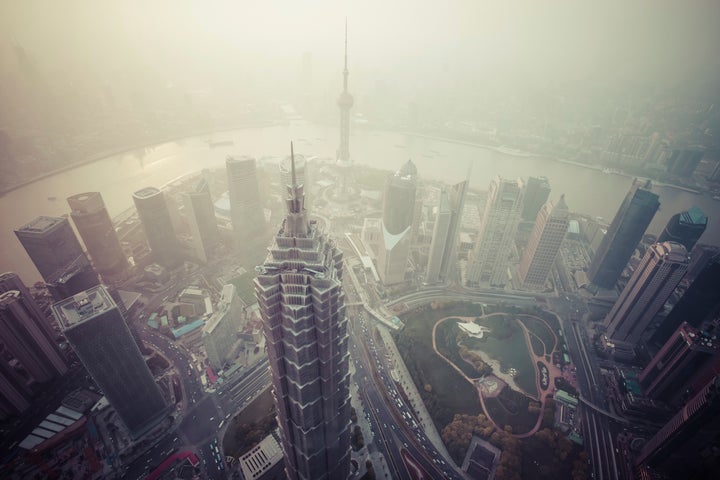 The report also puts a hefty economic price tag on air pollution: It will cost the global economy US$2.6 trillion (C$3.3 trillion) annually by that time. To put that cost in perspective, it's the equivalent of the entire economy of France disappearing from the world.
"The number of lives cut short by air pollution is already terrible and the potential rise in the next few decades is terrifying," OECD Environment Director Simon Upton told an environmental conference in Batumi, in the central Asian republic of Georgia.
"If this is not motivation enough to act, this report shows there will also be a heavy economic cost to not taking action. … We must prevent these projections from becoming reality."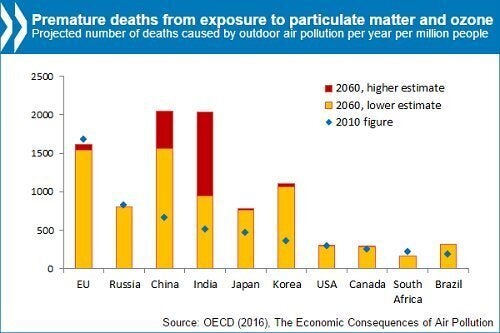 The OECD pins this loss of wealth on three effects of air pollution: Increased health care costs, increased sick days and crops ruined by air pollution.
Health care costs will spike to around US$176 billion annually by 2060, from around US$21 billion today. Sick days caused by air pollution will reach a total of 3.7 billion per year by then, from around 1.2 billion today, the OECD predicts.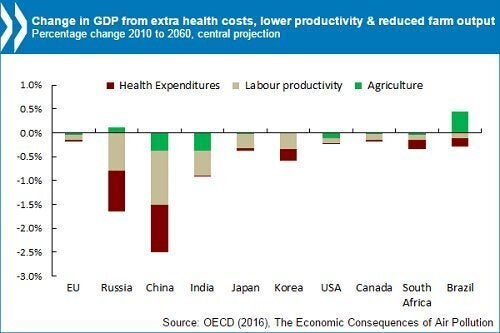 Much of the increase in the human and economic cost of air pollution will take place in China and India, the OECD predicts, but wealthier countries will not be spared entirely.
The report predicts Canada will lose 0.1 per cent of its economic output to air pollution by 2060. At current economic output, that represents a loss of about $1.6 billion annually.
The OECD report sees deaths from air pollution in Canada rising slightly, to between 285 and 300 by 2060, from roughly 250 today.