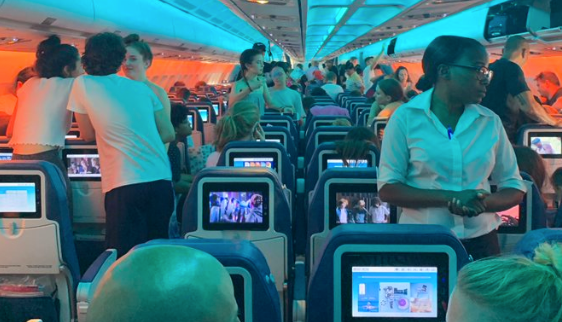 Air Transat passengers who endured a stifling six-hour wait on the tarmac at Rome's airport will be compensated hundreds of dollars for the delay, but if the delay had happened in Canada, they would likely get nothing, a consumer advocate says.
Air Transat flight 9309 from Rome to Toronto was scheduled to leave around midday Tuesday, but ended up taking off nearly 24 hours after its scheduled departure, due to what was described as a mechanical problem.
Passengers say that for a quarter of that time ― some six hours ― they were stuck on the tarmac, with no air conditioning, no food service and temperatures rising above 40 degrees C.
Watch: Canada's airline industry is undergoing rapid change, and it's not all good for passengers. Story continues below.
At least one passenger suffered from anxiety attacks and had to be let off the plane, CBC News reports.
Passengers were at one point allowed to stand on a staircase attached to the airplane, but airport security eventually forced them back into the plane. Eventually passengers were allowed to deboard and were given accommodations for the night.
"They put us in a garbage hotel, terrible accommodations," passenger Brian Costa told CityNews.
Under the European Union's air travel protection rules, passengers on this flight will be eligible to receive financial compensation, in this case 600 euro ($876) for the delay.
Canada's new air passenger bill of rights doesn't apply in this case, as it's limited to Canadian airports only. But under the Canadian rules, some of which came into effect on July 15, passengers in this situation would likely not be compensated.
The new air passengers bill of rights does require financial compensation for delays, but ― unlike the European rules ― it exempts flights that are delayed due to "urgent maintenance."
"The passengers were lucky that this happened in the EU, because they were eligible for 600 euros," Gabor Lukacs, head of the consumer advocacy group Air Passenger Rights, said via email. "Under the 'new rules' ― they would have received nothing."
Lukacs is part of a legal challenge to the new Canadian air passenger rules, arguing they disadvantage disabled flyers. In an interview with HuffPost Canada last month, he said the new rules don't do enough to encourage airlines to get passengers to their destination on time.
"Often the cost of not getting passengers (to their destination) on time is lower than increasing costs to get passengers there on time," Lukacs said, which is why he sees the tougher European rules as superior to Canada's.
"Will (airlines) do less to ensure flights leave on time? Yes, I'm worried about that," Lukacs added. "On the other hand … it's in the airline's best interest to get passengers to their destination as quickly as possible."