Airbnb: It's not so much about "sharing" your space with travellers as renting out entire homes.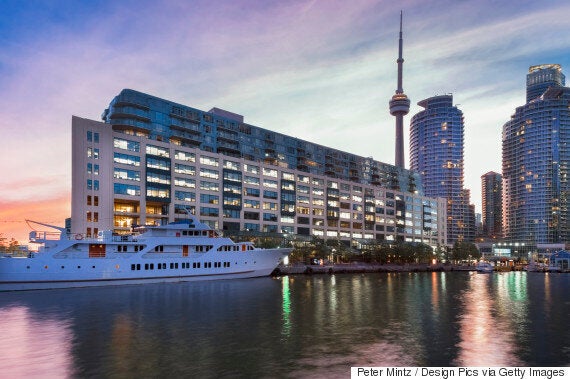 The report, titled "Nobody's Business: Airbnb in Toronto," looks at just how much "sharing" is happening through Airbnb in the Six. It used data compiled by Tom Slee, the author of "What's Yours is Mine: Against the Sharing Economy."
The CCPA focused on how much the service has grown since 2013, in three neighbourhoods where Airbnb listings are heavily concentrated: the waterfront, Liberty Village and the Church-Yonge corridor.
Airbnb says hosts can earn money by "sharing your extra space with travellers." But the think tank questioned whether that's the case when a hefty majority of listings in these areas are for entire homes.
The waterfront area only had about 400 listings between December 2013 and May 2014. That number grew to 1,676 listings in 2016.
A hefty majority of listings — 84 per cent — were for entire homes, be they apartments or houses.
In Liberty Village, 79 per cent of listings were for homes in their entirety, while in the Yonge-Church corridor 67 per cent were for whole properties.
Airbnb has proliferated in Toronto as rental vacancy rates have kept falling, the CCPA noted.
The city's rental vacancy rate was about 1.5 per cent in October 2015, below the national average of 3.5 per cent.
At the same time, rental unit vacancies have "virtually flatlined" in Liberty Village and the Church-Yonge corridor, the report said.
Waterfront rental vacancies increased, but "far less than the rise in the number of condos or units that have been built in that area," it added.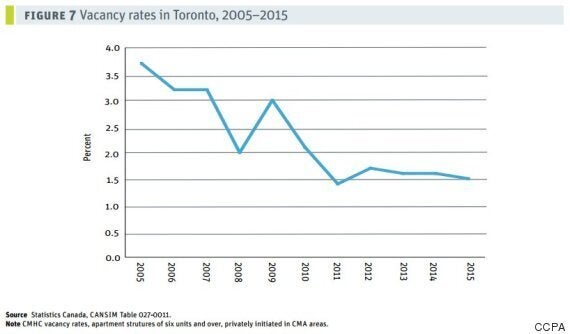 "Our review of the data suggests that the rental condo market in Toronto may possibly be supplying a large share of the Airbnb listings stock in the three hotspot zones," the report said.
There were 82,000 condo units in the city's stock in October 2015, according to the Canada Mortgage and Housing Corporation (CMHC).
Of those, only 1,230 would have been available for rent last year, if you take into account a 1.5 per cent vacancy rate — about six times fewer than the 7,607 Airbnb listings that were available around the same time.
Toronto also had a 3.1 per cent availability rate, which measures rental units where tenants have given notice they're going to leave and new ones haven't signed leases yet.
The CCPA found that a 3.1 per cent availability rate translated into 2,542 units — about three times fewer rental units than Airbnb listings.
"Together, these facts underline concerns that thousands of units may be coming out of the residential rental market to serve as short-term rentals, potentially displacing long-term renters," the report said.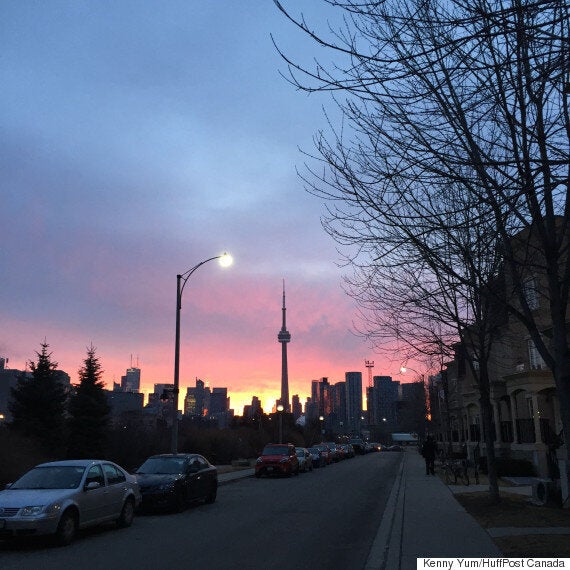 Toronto's not the only city that's grappling with the effects of Airbnb on the rental market.
Vancouver, where the vacancy rate was 0.8 per cent in October 2015, is hoping to boost rentals by implementing an empty homes tax that would apply an approximately two per cent levy on a property's assessed value if it's left vacant.
That tax will apply to secondary units that are booked full-time on Airbnb, but it won't affect principal properties, or empty units in said homes.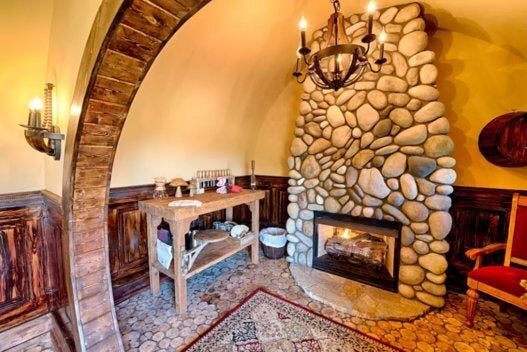 Hobbit House for Rent on Airbnb