The Insurance Bureau of Canada (IBC) told Global News the storm was "more severe than average," and declared the storms a "catastrophe event."
"Rarely do we see windows being taken out, I haven't seen too many storms where the windows get broken," Peter Green from Airdrie Autobody told Global News, estimating 75 per cent of cars in Airdrie suffered some form of damage.
Huge hail stones walloped Airdrie on Aug. 7, smashing through home and car windows, denting vehicles, ripping through vinyl siding and destroying gardens.
Farmers from Airdire to Rocky Mountain House also suffered the brutal effects of the storms, after many of their crops were destroyed.
"It's like your boss walking into your office after you've been working hard all year and saying, 'we've decided not to pay you this year.' It's so heartbreaking, and we feel so helpless," Innisfail farmer Elna Edgar told the Calgary Herald about her crop of beans and peas that didn't survive the storm.
Story continues after the slideshow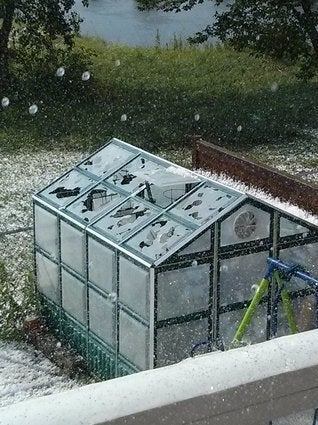 Airdrie Hail Storm, Aug. 7 2014
According to the Herald, crop insurance corporation Agriculture Financial Services Corporation (AFSC) has already received 172 claims from farmers and expects more to come.
"There are fields where the hail went through where you would swear a herd of cows grazed it off or they'd already taken the combine through. It's just mashed right to the ground — there's nothing left," said AFSC program co-ordinator Jackie Sanden.
Dan Kulak, meteorologist with Environment Canada, told the Rocky View Weekly that although the area has faced some particularly nasty weather this season, there have been less active thunderstorms this year than in 2013.