Amid all the recent bad press that airlines — particularly United — have been receiving, a new survey finds North American passengers are the most satisfied with their airlines that they've ever been.
The latest edition of the annual J.D. Power North American Airline Satisfaction Study found passengers scored airlines higher in every category related to customer satisfaction this year, a trend that has been going on for some five years.
"It's impossible to think about airline customer satisfaction without replaying the recent images of a passenger being dragged from a seat, but our data shows that, as a whole, the airline industry has been making marked improvements in customer satisfaction across a variety of metrics, from ticket cost to flight crew," J.D. Power's travel practice lead, Michael Taylor, said in a statement.
The survey of 11,015 airline passengers wrapped up in March, before the now-infamous incident of a passenger being dragged off a United flight.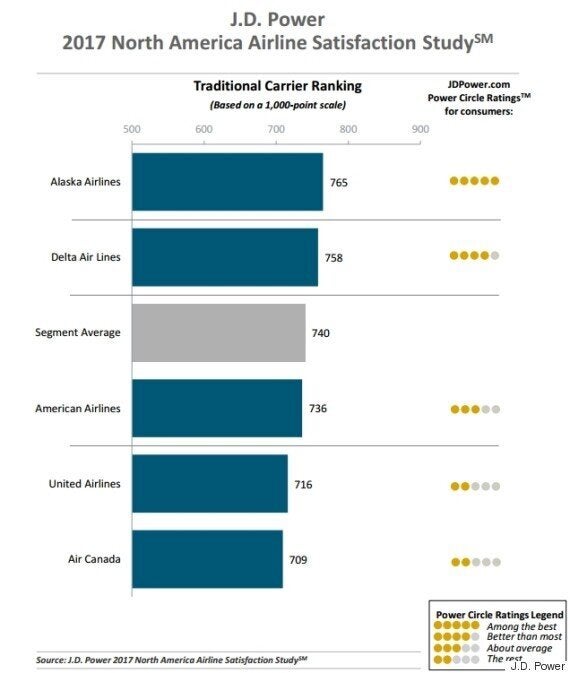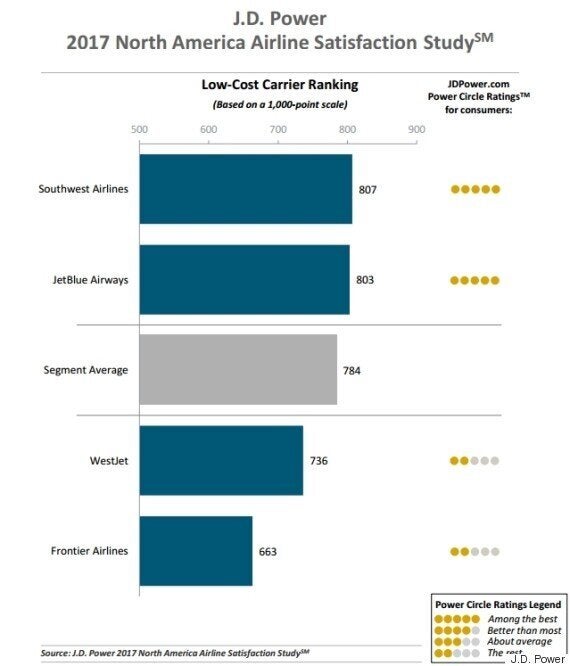 Canada's two largest airlines, Air Canada and WestJet, were laggards in the survey. With a score of 709, Air Canada ranked at the bottom of North America's traditional carriers. But that score was still up from 681 the previous year.
WestJet came in second-last in the low-cost carrier category, with a score of 736 — up from 723 the year before.
But Taylor noted that airlines overall continue to have significantly lower satisfaction rankings than other services such as hotels and car rental agencies.
"As recent events remind us … airlines have significant room for improvement."

— Michael Taylor, J.D. Power
United Airlines found itself in the middle of a media firestorm last month when police at Chicago's O'Hare International Airport dragged a passenger off a flight when he refused to give up his seat for a crew member.
The incident had an immediate impact on the industry. Southwest Airlines announced it would no longer bump overbooked passengers, while United raised the amount of compensation it offers bumped passengers.
The J.D. Power survey found that overbooking has actually "reached historic lows in frequency" — but bumping is the single biggest negative influence on customer satisfaction.
Popular in the Community