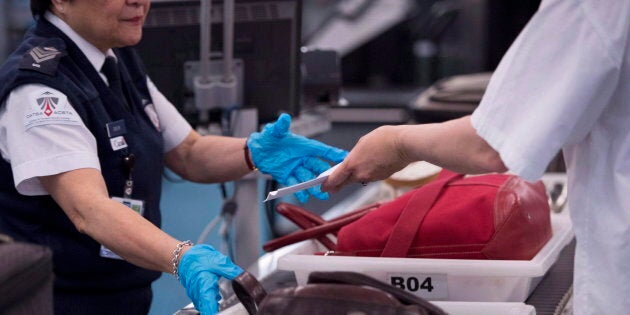 Canada's airport security officers breached their own rules by placing children into "naked" scanners without the consent of their parents and often lied to travellers about the need to undergo a full body scan.
Complaint forms sent to the Canadian Air Transport Security Authority (CATSA) and obtained by The Huffington Post Canada suggest some agents who screen carry-on bags and passengers are rude, aggressive and misinform people about their right to choose a full pat down instead of the virtual strip-search machine.
"When I asked for a pat down from a female agent, the male security agent refused and said 'everyone' did the body scan. He also told me that it was not a body scan but a radio-frequency scan and no image of my body would be made," said a passenger travelling to the U.S. from Montreal. "The full-body scan should never be lied about or forced on passengers."
"I was never given a choice," wrote another traveller, an American on a business trip who felt he had been racially profiled.
An elderly woman from Victoria, B.C., wrote to complain that she felt a CATSA officer had threatened her with what she understood to be a naked full-cavity body search if she didn't go through the scanner.
"A male security agent said to me, in a manner that sounded like he was joking, 'Would you like to have a full-body search?' ... if not, then proceed to the body scanner. I was quite taken aback, but proceeded," she wrote. "After retrieving my belongings, I walked away trembling, found a chair and sat down and cried ... I felt I was treated without respect and my dignity was violated."
Several parents said they were shocked when they realized their underage children had been scanned without their consent.
"My daughter is [age blanked out but is under 18] went through the full-body scanner without my consent on April 27, 2010 around 5 PM at YYC [Calgary airport] on our trip to Las Vegas. I talked to the supervisor who said it was a miscommunication, they though that she was older. It is not acceptable to assume the age of a passenger," she wrote.
At the Greater Moncton International Airport, another mother complained that her daughter had opted for a pat down but that the screening officer had forced her to take the full-body scan.
"I do not think it should be an option to view children naked and ask that you do not use it on anyone under 18," wrote another passenger in Halifax.
Although former transport minister John Baird assured Canadians when the machines were purchased in 2010 that no one under 18 would have to go through the scanners, CATSA now screens children between 12 and 17 who provide their own "informed consent," while parents or tutors must provide consent for kids under 11.
Transport Minister Steven Fletcher's spokesman Brayden Akers insisted there has been "no change" in policy relating to secondary screening.
In the documents, obtained by HuffPost under the Access to Information Act, many pregnant women expressed concerns they were not informed there might be a potential risk to their unborn child.
A woman travelling from Toronto to Timmins, Ont., said she asked if the full-body scan was safe and was told "yes, no problem." But as soon as she was screened, another security officer told her next time she should not opt for millimetre-wave body scans and instead ask to be given a pat down.
"I started to panic," the pregnant woman wrote. "Why am I getting two different responses? Should the staff be trained for all that beforehand? They should know whether or not it is safe?"
Citing Health Canada approval, CATSA insists the 56 L3 ProVision machines the Conservative government purchased pose no risk to passengers.
Gary Holub, a spokesman for Health Canada, said: "We don't test machines."
When asked Health Canada was asked how they could know the device poses no threat to human health if no independent testing was done, the department pointed the finger at Industry Canada, which refused to say whether or not it had tested the machines.
Several passengers told CATSA they don't believe Health Canada's assertions that the product is safe.
"Searching random individuals does not improve airport security, nor do I believe Health Canada's assertions that the full-body scan of radio waves is harmless. This same agency approved cigarettes and bpa in plastics," wrote a passenger travelling through the Calgary airport.
"I understand that the amount of radiation a traveller is exposed to in one of these machines meets the arbitrary standard set out by Health Canada, however, the risk is still not zero, and had I been told of this most basic information, I would have gladly consented to a pat down search instead," said another Calgary passenger who was upset CATSA officers didn't provide more information about the scanners.
Another passenger said the machine made her sick.
"As I stepped out of the scanner I was very dizzy and sick to my stomach ... I could barely stand," the person wrote.
When some skeptical travellers inquired about the machine's technology, several complained CATSA officials misinformed them or treated them rudely or dismissively.
One elderly woman who had undergone a mastectomy and was recuperating from breast cancer told HuffPost she was worried the full-body scanner could have a side effects on her treatment.
"I really got worried thinking here is my breast cancer and I understand from all my doctors that radiation is not something to be taken lightly, so I went back to one of the security officers ... [and said] I would like to know what the radiation level I was exposed to was," the petite woman from Victoria said. "She brushed me aside and said there was no risk. And she said, 'Well you can talk to one of our supervisors' ... She [the supervisor] pointed the finger at me to say, 'You were given the option.' And she was loud. And I said this is the first time I heard the word option. I said, nobody gave me the option."
She filed a lengthy eight-page complaint with the agency saying she couldn't believe how rudely and aggressively she was treated.
A Halifax passenger, who identified themselves as an epidemiologist, said they were "astounded" that the security agent had no knowledge of the research into the device and was assuring travellers there "was nothing to fear."
"I asked her about the risks of going through this device. She said there wasn't any. I said that although Health Canada allows its use, its effects on health are still a) debated, and b) not fully known. The agent was getting impatient, and I was getting more unsettled by her lack of knowledge, which was not at all reassuring, and by the fact that I felt pressured."
Micheal Vonn, from the B.C. Civil Liberties Association, said her organization has received similar complaints from travellers who have been rudely and aggressively treated.
"We think this is disproportionate. The idea that we can't be assured that we can be safe on an airplane until we view people essentially naked, there is just no justification for that," she said.
Several passengers told CATSA they were simply angry their time had been wasted and also questioned whether the machines were really needed.
"Despite the fact I was wearing shorts, the machine indicated I had objects on my calves, which resulted in a pat down from the CATSA officer. I am complaining about the waste of time this process was. It achieved nothing except delay me," wrote a passenger flying through the Ottawa airport.
A traveller flying out of Halifax complained that full-body scanners and two agents conducting pat downs were overkill for a short flight from Halifax to Deer Lake, Nfld. "I ask you is there anyone who can honestly say that this flight is at risk for a terrorist attack? Do you really need to see under the clothes of a [person] or pat down people on this route?"
The passenger also wrote, "You have on your website the number of complaints as compared to number of travellers — surely no one thinks that everyone who feels violated and humiliated comes forward? That would contradict everything we know about the number of actual victims and the number of those who report their experience. There is a high probability that your numbers are a mere fraction of reality."
HuffPost received nearly 100 complaints dealing specifically with full-body scanners, although the agency notes on its website that it has received between 1,219 and 1,608 yearly complaints during the last three years.
The agency suggests the number of people complaining represent a tiny fraction of the 48 to 52 million passengers it screens yearly.
If you've got a complaint or experience with a full-body scanner you would like to share, please send it to althia.raj@huffingtonpost.com
Like Huffington Post Canada's Ottawa Bureau Chief Althia Raj's reporter page on Facebook and follow her on Twitter for all the latest news from Parliament Hill.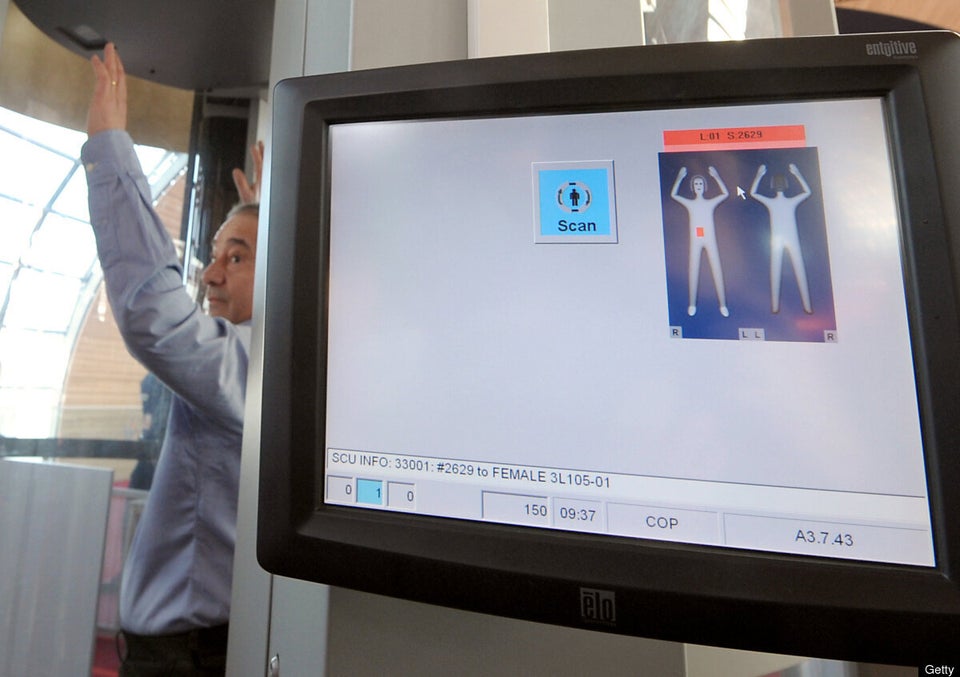 Airport Body Scanner Complaints