Celebrating International Women's Day, we will be publishing all week inspiring stories, challenges, testimonies and successful initiatives on the road to gender equality and women's rights.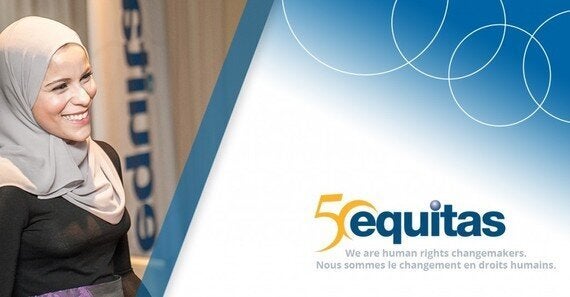 Born in Saskatoon, Canada, Alaa Murabit is the sixth child in a family of eleven children who had immigrated to Canada from Libya in the early 1980s. In the Murabit's Muslim household, daughters were treated as equals to their brothers. So, when her family moved to Zawia, Libya in 2004, Alaa found herself unsettled by the gender discrimination she experienced along with the ways in which her religion was being used to justify those inequalities.
She found herself questioning her aspirations and her own role as a Muslim woman. To be clear, she does not see discrimination and injustice as a 'Libyan problem' or even a regional problem. She sees its manifestation everywhere, taking on different forms but tracing to the same root problems. Growing up, Alaa notes that Canada became more intolerant towards people who looked, acted, or believed as she did. This made her realize that she had to stand up for herself.
"We have to do better not only for one another out of a basic sense of humanity, but we also have to do better because if we don't, nobody else will," she says.
At just fifteen Alaa finished high school and enrolled in the College of Medicine at the University of Zawia. Momentously, her final year of university in 2011 coincided with the onset of the Libyan Revolution. Inspired by women's crucial roles in the Revolution, she founded The Voice of Libyan Women (VLW) to politically, economically, and culturally mobilize and empower her fellow countrywomen. As she states, "Had my parents not moved to Canada in the 1980s, I could easily have been in that situation." Dr. Murabit completed her medical degree in Zawia. Choosing to continue her education years later, she enrolled at the London School of Economics, receiving an Executive Masters in International Strategy and Diplomacy.
Alaa participated in Equitas' International Human Rights Training Program (IHRTP) in Montreal, Canada in 2012. Through this three-week program, she gained the practical tools and skills to make her work more effective.
"I feel as though I learned more about the "culture of human rights", and what that means. I think that has helped me most as an individual in coming to terms with what we can, and cannot expect of ourselves, and to be proud of the impact we have, even if it is small," she says.
While the VLW had developed a Libyan Women's Charter, launched women's centres in numerous cities, and successfully brought together hundreds of policymakers and activists at its One Voice Conferences, it was VLW's Noor Campaign that brought Alaa to the attention of the public. Initially focused on using scriptural texts to support women's rights through an Islamic lens, the campaign reached over two million people indirectly via media and tens of thousands directly in schools, universities, and workplaces. The national campaign initially disseminated information through billboards, posters, and television and radio commercials. This was followed up with the creation of over thirty-five city-teams throughout the country, which conducted seminars for over 50,000 people, 37,000 of whom completed viable surveys. From those surveys, the VLW was able to better assess the forms of violence and who the community saw as being responsible for them.
The VLW's community outreach initiatives created opportunity for conversation which, in turn, created opportunities for change.
With regard to change-making, "We have to recognize that change does not come from one avenue alone," Dr. Murabit explains.
"Affecting cultural change is a challenge because of social and cultural barriers. So in Libya, as elsewhere, the work involves not only women's rights but also health and education inequalities, security, justice, and right of access, a complex of interrelated issues that cannot be solved by disseminating information alone."
Alaa is quick to credit her family for their support. Her TED talk, posted in July 2015, has thus far generated approximately 1.9 million views. In a gracious, humorous, and cogent presentation, she speaks about the many lessons she learned growing up in a large family. It was there, she said, that she learned about power structures, alliances, messaging, and, above all, the importance of ensuring your place at the table.
Since 2011, Alaa's focus has widened in scope. She was recently appointed as one of the seventeen United Nations Sustainable Global Goals Advocates. These individuals assist the UN Secretary General in generating momentum and commitments to reaching sustainable global goals. Also with the United Nations, she is a UN High-level Commissioner in Health Employment and Economic Growth as well as an advisor for the UN Security Council Resolution 1325 Global Study on women, peace, and security. She is an Ashoka fellow, a MIT Media Lab Directors' fellow, and a founding coalition member of Harvard University's Everywoman Everywhere Initiative. She is a trustee at International Alert and Keeping Children Safe.
Today, she continues to work on justice, inclusive peace processes, and conflict resolution as well as on ensuring equality in spaces that have traditionally experienced a lack of good governance and equal opportunity, such as in communities with large refugee populations. She is also concerned about public health and the ways in which poor health and inadequate health care can actually inhibit equality in any other sphere. She feels that adequate health care, particularly for women and minorities, is imperative if we are ever to have an inclusive society. Intersecting across these major issues, however, is the need to ensure that the voices of those most affected are always included in the decision-making process. It is a call for justice, inclusivity, and "everyone having a seat at the table."
By Susan Luccini, SML Publishing
This story is also part of the series We are human rights changemakers to celebrate Equitas' 50th anniversary.
The views expressed are those of the authors and do not necessarily reflect the views of CCIC or its members.
Follow HuffPost Canada Blogs on Facebook
Popular in the Community