On Wednesday, the Ottawa-born singer posted the beautiful snap to Instagram. In the photo, nude Morissette is seen floating peacefully underwater as she reveals her growing baby bump.
In her caption, the 42-year-old mom quoted her five-year-old son Ever Imre: "You have to be extra gentle around ladies because they are the most helpful people in the world 'cause they make persons."
Morissette had Ever with her husband, rapper Mario 'Souleye' Treadway, and is expecting their second child. The couple tied the knot in 2010.
We shouldn't be surprised that the Canadian singer chose to show off her baby bump in such a daring photo. Back in February, Morissette announced her pregnancy in an equally theatrical way.
On her website, the "Ironic" singer released an animated video depicting how her family came to be. The nearly five-minute clip ends with the singer, her husband and their son looking at an ultrasound photo of their latest addition.
The 42-year-old has always been open about her thoughts on motherhood. Following her son's birth in 2010, she opened up about how becoming a parent changed her.
"Life literally and figuratively moved through me that morning of Dec. 25," she said. "Yet another example of life's unsentimental and ruthless way of shaking me awake to the direct experience of being human. I had no idea the person I'd always dreamed of becoming was being born at the exact same time."
We can't wait to see more sweet pics of Morissette and her growing family.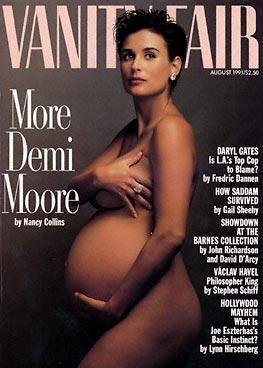 Celebs Who Weren't Afraid To Bare All During Pregnancy