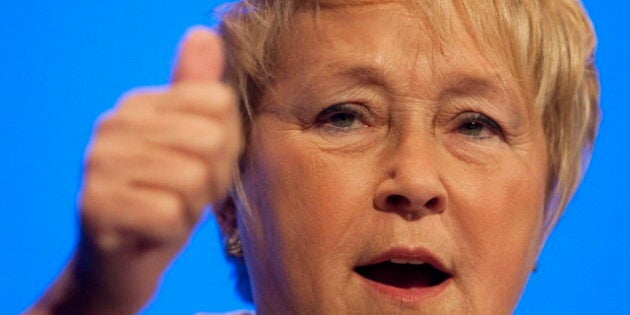 Over the last year, the provinces of Ontario (October 2011), Alberta (April 2012) and Québec (September 2012) were called to renew their representatives in their respective provincial legislatures.
In all three cases, the electorate's view of some parties shifted when unpleasant revelations came to light regarding repression of minority groups. Whether it was open disdain for same-sex relationships, immigrants or persons who speak a language other than the majority, political candidates' slip-ups -- some might say the unmasking of their obtuse opinions -- caused voters to reassess their allegiance to the associated parties.
In Ontario, Premier Dalton McGuinty's Liberals were far behind in the polls when the 2007 fall election was called, with Tim Hudak's Progressive Conservatives poised to take Queen's Park. Hudak's Tory support evaporated when the PC leader uttered the term "foreign workers" to describe new Canadians who would stand to benefit from a business tax credit proposal.
The Liberal program that would represent less than 0.01% of the provincial budget was aimed at integrating newly arrived architects, accountant and engineers by enabling them to perfect their language skills -- a timid initiative considering the scores of immigrants who could benefit from similar initiatives.
To deride new Canadian citizens as "foreigners" struck a chord among first and second generation Canadians, visible minorities and those who adhere to the Trudeau legacy of a multicultural society. Both Liberals and Tories privately expressed concerns about the racial undertones of Hudak's criticism of the Liberal pledge. In short, Hudak's refusal to apologize immediately cost him a number of votes and, ultimately, the election.
The weak apology which was forced out of Hudak a week after the utterance came too late for those who have felt the sting of subtle discrimination often attributed to right-wing conformists. Ontarians rejected the whiff of intolerance that bled out of the PC Leaders' mouth, thus contributing to the McGuinty record third mandate in Canada's most populous province.
In Alberta, the Conservative mass split in two, with Danielle Smith's Wildrose Party poised to take the mantle of "true conservatism" from the Alison Redford's more moderate Progressive Conservative Party this past Spring. A series of public gaffes caused a chill in Alberta voters who wanted to move past their redneck reputation. Calgary's Mayor Naheed Neshi, of Muslim faith, was elected to much fanfare in 2010 as he heralded a new era of Alberta's history; a stark contrast to the dark days when, for instance, the Edmonton Board of Trade passed a resolution to stop the undesirable influx of Negroes.
During the April 2012 electoral campaign, fears that the Wildrose held hard-line views on thorny social issues began to surface. So-called "conscience rights" emerged as a concern when Smith wouldn't say whether she supported allowing public servants to opt out of tasks, such as marrying gay couples or prescribing birth control, because of moral objections. Smith also faced indignation for opening the door to citizen-initiated referendums to defund abortions.
Confirming voters' sinister intuitions, an unfortunate blog post by Wildrose candidate Allan Hunsperger came to light where he claimed that homosexuals should burn in a "lake of fire."
Then comments from another candidate, Ron Leech, drew fire when he confided on live radio that, as a Caucasian man, he speaks to the whole community, whilst a visible minority candidate could only speak for their own ethnic group. He later apologized after the Mayors of Alberta's two largest cities publicly objected, while Liberal Party leader Sherman wrote off the Wildrose as "bigots." Adding insult to injury, Wildrose leader Danielle Smith stood by her men like Tammy Wynette while brushing off the string of unsettling remarks.
This week, Quebecers went to the polls after a particularly spiteful election period. A sequence of disparaging comments came from both Parti Québécois candidates and Liberal supporters. A succession of gaffes from the PQ, including their monochromatic ads, their open contempt for Anglophones and their neo-eugenics immigration policy, laid bare once again that the Party of Separatism is still the Party of Xenophobic Tribalism. PQ Leader Pauline Marois first cheered discriminatory policy proposals before backpedalling: she caved to national criticism on the anti-Anglophone issues, while falling to condemn star candidate Jean-Francois Lisée's ethnically neutral immigration policy.
Meanwhile, when a long-time Liberal supporter and Mayor of Saguenay Jean Tremblay asserted that candidate Djemila Benhabib was "not a real Quebecer," despite her 20 years of active life in the province, Liberal Leader Jean Charest's silence on the grotesque affront was deafening. Another rural Quebec Mayor agreed that preference for a purelaine candidate was prevalent in the riding. Mayor Tremblay, still unrepentant, was later invited to pal around with Premier Charest at a community barbecue.
Contrary to the trend in Ontario and Alberta, where the revelation of a candidate's bias would stain a campaign like the oil that spills from a perforated pipeline, the Parti Québecois rose in the polls following the aforementioned disturbing disclosures, and even managed to win a minority government.
As pundits and voters alike analyse the results, many Canadians in and outside Québec want to hang their hopes on unity and inclusion, not divisiveness and derision.
Popular in the Community