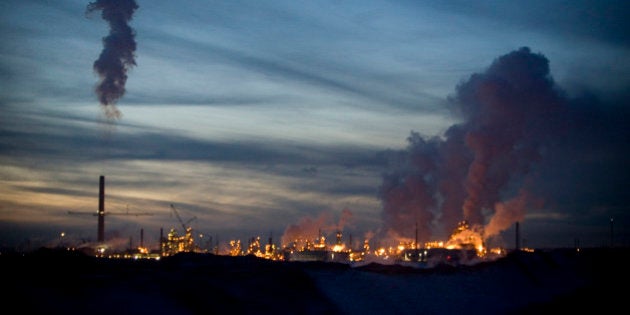 Today people slowed the beast again, but this time we did it at the source.
After a string of pipeline victories and over a decade of campaigning on at least three different continents, the Alberta government has finally put a limit to the tar sands. They announced they will cap its expansion and limit the tar sands monster to 100 megatonnes of carbon emissions a year (equivalent to what projects already operating and those currently under construction would produce).
As momentous an occasion as it is when an oil jurisdiction actually puts limits on growth, 100 million tonnes of carbon a year at a time when science is demanding bold reductions is still far too much. While historic, the government's cap needs to be viewed as a ceiling rather then a floor, and a ceiling that we will need to work like crazy to ratchet down until it meets the science.
On the good side what the current cap does mean is that, without dramatic and likely unachievable efficiency improvements, the two-to-five fold expansion the tar sands industry had planned will not happen.
If you add up the data using Canadian OilSands Navigator, that means the 2,270,820 barrels a day already approved will stay in the ground, the 1,890,850 barrels a day in the application process will never see the light of day and the 1,923,00 barrels a day disclosed and announced will go no further then that. That's 6,084,670 barrels a day that the government helped stop today and 154.07 million tonnes of carbon a year that we will be keeping from getting poured into the atmosphere.
All I have to say to that is BAM!
Investors better take note and start moving away from high-carbon assets as soon as they can.
The Alberta government also started investing in solutions. By 2030 30 per cent of Alberta's electricity will come from renewable energy sources (the same year that the province just committed to phasing out coal). In addition the province also announced supports for energy efficiency, mass transit and the start of an economy-wide carbon tax that will start providing the resources to make it all happen.
It was people power that did that.
People concerned about Indigenous rights, about health, about a growing climate crisis and about the lack of sustainable solutions that came together and worked for years, in some cases decades, to make today's victory possible.
It's because we raised our voices, because we marched, danced, risked arrest and organized community to community that we were able to stand up to the largest corporations on the planet and win.
However, it's not the end of the battle. Alberta still has a lot of work to do to meet the demands of climate science, and the tarsands are still bigger that what the climate can handle. More change is necessary and possible. We need to be ready in the days ahead to keep up the pressure and turn it up. We need to continue to stop the pipelines, continue to constrain production and continue to push and mobilize for solutions til this plan meets the science and equity.
Today is a historic moment for climate activism in Alberta and its one more win for the climate movement that continues to rack up victories right across North America.
Just two weeks ago the President of the United States rejected the Keystone XL tarsands pipeline, ending a seven-year battle. Last week Prime Minister Justin Trudeau put the nail in Enbridge's tar sands pipeline by directing his minister to implement a tanker ban on B.C.'s north shore. Add to that the growing successes of the fossil fuel divestment movement; the Keep It In the Ground bill seven American Senators, including Presidential candidate Bernie Sanders, put forward; the Exxon climate investigation; and the global movement we're building to go 100 per cent renewable -- and you can see together we are building quite the resume.
It amazes me sometimes that so much beauty has come from such a horrific place, but it is because of this project that we found each other. We learned that as much as pipeline routes were pathways of destruction they were also maps of resistance. They showed us the communities we could connect to, the perspectives we could learn from, and created lights of hope we could follow along the way. They taught us that when we worked together and supported each other, led by the original caretakers of the land, we could become an unstoppable force. And what a force we are.
I have no idea what victory will come next.
All I know is that today I will celebrate, toast to the power of people and social movements, and tomorrow I will get back to work preparing for our next big moment in Ottawa before coming back to Alberta to push the government to do more.
The road to climate justice is a long and hard one, but it's a beautiful one too that's getting a little easier by the day. It's easier because now we know that when we work together with love for each other and the land we can beat the biggest of foes, turn the largest of tides and make history in the process.