 Albertans are unique because they don't occupy a parallel universe, living on other peoples' money. They live in the real world and the province's current fiscal deficit has sparked intelligent conversation.
The Alberta Advantage is its adherence to discipline and is why it has the lowest taxes in the country. Alberta is the only debt-free sub-national in the Western Hemisphere. And now that a rainy day has hit, the province is financially resilient: it has some $16 billion (in a stability fund) on hand to ride out shortfalls, a $16 billion Heritage Fund and, most importantly, the backing of its voters to cut spending rather than raise taxes. "There will be no taxes raised," said Premier Alison Redford in a discussion I had with her at an Alberta Enterprise Group gathering this week.
Meanwhile in Ontario, a study calling for major fiscal reforms last year was totally ignored by the Liberal government. Like an addict used to excesses, its pledge to increase spending by 1% a year, roughly $1 billion, was even lauded by opposition parties for its "discipline". At the time, the Canadian Taxpayers spokesman summarized the political culture as "a delusional [legislature] with three left-wing parties that think they can spend like Greece and fix the Ontario economy."
Dalton McGuinty doubled the debt of the province on his watch mostly by giving his public sector unions every pay raise and perq they requested in return for their voting support, a ruinous quid pro quo. He left behind his mess in a hurry and his newly anointed successor pledges to get spending under control. But, given her reckless caucus and party, that will require a cultural sea change. The truth is that Ontario voters have allowed the debt to reach $273 billion, making their province one of the world's largest sub-national borrowers, according to Reuters.
This represents the Ontario Disadvantage. There is also the Quebec Disadvantage, a province in dire straits. Both provinces, unlike Alberta, have nothing in the cupboard to work with, and face the prospect of nasty politics, tax hikes, spending amputations and sizeable privatizations to raise money to pay down debt.
Of course, all is not rosy in Alberta. The pipeline controversies and environmental attacks on the oil sands dominate headlines. Eventually, both will be addressed and, most importantly, the province's fiscal rectitude provides the funds to rise out transitions.
Emissions are being reduced and research dollars earmarked to address environmental problems. On distribution, railways are already playing an increasing role in moving oil to markets and I'm optimistic that the Keystone XL will go ahead or, if not, a series of pipeline capacity increases along the border (and to existing pipelines through B.C.) will be approved to get the Canadian oil out to markets. The Americans need our oil sands and less high profile means of shipping it there will work and will be welcome. (Obama approved an equally large pipeline in 2009 for bitumen but the oil went to Chicago refineries, not through pristine farmland enroute to refineries owned by Tea Party billionaires, the extremist Koch brothers, where the Keystone stuff is destined. This was a major political miscalculation on the part of Keystone backers.)
The biggest long-term challenge for Alberta, and therefore Canada, involves the glut of natural gas due to a collapsing U.S. export market thanks to the "shale gas" transformation. Within five years, according to pessimistic forecasts, Americans won't need any Canadian natural gas at all. This represents a loss as serious and as negative as the gradual shuttering of manufacturing in Ontario and Quebec, caused by high taxes and a high dollar.
"The Alberta treasury has been a sinking ship since U.S. `shale gale' knocked the price of natural gas below $3," wrote former Alberta Finance Minister Ted Morton. "The first year I was an MLA, in 2005, natural gas royalties topped $8 billion. By 2010 -- when I became Finance Minister -- they had dropped to $1 billion. And that is where they have stayed -- and will continue to stay, at least until later in this decade. New liquefied natural gas (LNG) export terminals on the West Coast are going to be built, but not soon enough to rescue the Alberta budget."
Frankly, Alberta must find ways to promote and distribute this product as have other gas-rich regimes in remote locations such as Qatar and Norway. LNG on Canada's west coast (which will rely mostly on B.C. gas not Alberta) will help, as will development of petrochemicals plants. The biggest bonanza could be the conversion of dirty coal power plants into natural gas plants. Such conversions will eventually happen but could be sped up. Perhaps Alberta could provide incentives to utilities in the form of secure, reasonable supply contracts. Perhaps the federal government could provide faster write offs or other tax incentives to promote this process to use cleaner natural gas. Perhaps Alberta and the feds could provide even more incentives to oil sands producers to build more upgraders, which use lots of natural gas as fuel.
Unfortunately, Ontario and Quebec face threats to their core industries and products. But they have no wiggle room, no cash and two few enlightened voters. These provinces now find themselves in the same position Alberta found itself in the 1980s when its politicians asked for, and obtained, major sacrifices from their voters and set a course of sound and stale economic development.
*This article previously appeared in the Financial Post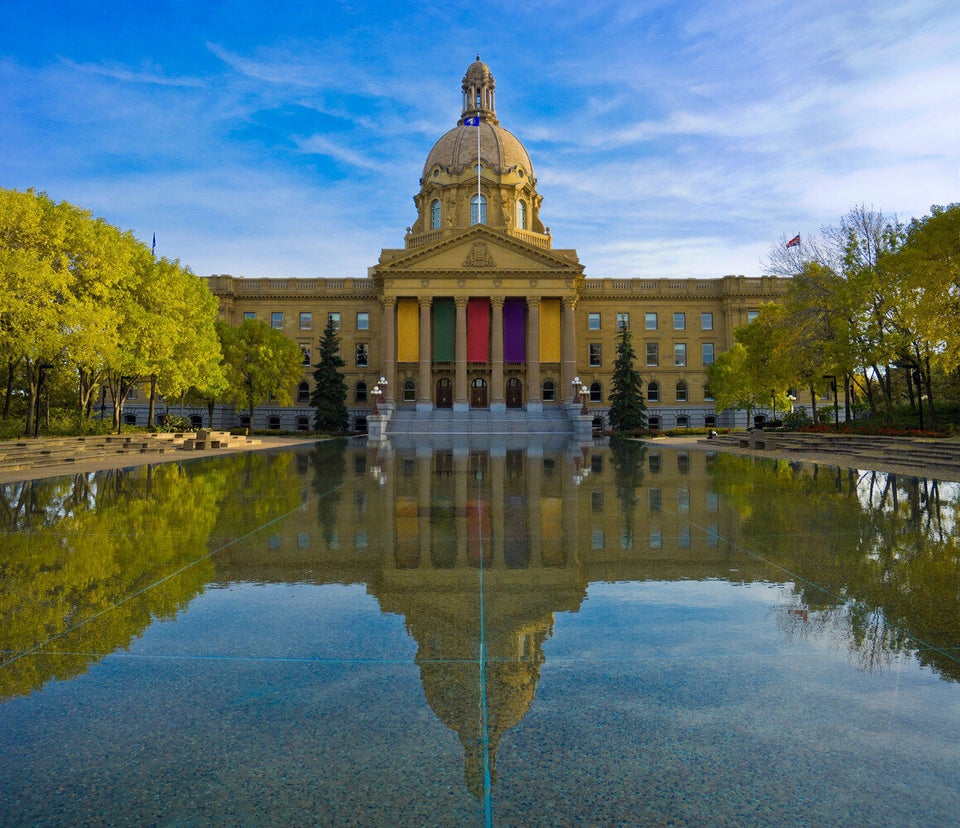 Where 2012 Budget Money Was Spent
Popular in the Community