It's been a year since heavy, relentless rain began falling on the southern Alberta Rockies.
Torrential rains began in Canmore, where more than 200 millimetres fell in 2 1/2 days — 10 times the amount of a typical rainfall that time of year.
The flood waters rushed through the foothills, water spilling the banks of the Bow and Elbow rivers, sweeping through streets and homes in Exshaw, Bragg Creek, High River and eventually through the heart of downtown Calgary and on to Medicine Hat.
As many as 100,000 people did what they could to survive — escaping the deluge in canoes and boats, in the backs of combines or in the scoop of a front-end loader. Some swam for their lives.
In the days that followed, Albertans opened their hearts and their homes to neighbours, friends, family and strangers. The province continues to recover and mourns four lives lost during the floods.
It's a time that will forever be remembered in our province.
ALBERTA 2013 FLOOD TIMELINE
June 19, 2013: Torrential rains begin falling over southern Alberta.
June 20, 2013: Environment Canada issues a rainfall warning for southern Alberta. About 100 mm of rain falls on the region. The national forecaster predicts the amount could double over the next few days. More than a dozen communities from north of Calgary, south to Lethbridge and west to the Rocky Mountain parks declare states of emergency. High River and Canmore are among those worst hit by flooding. In Turner Valley, a pipeline ruptures leaking potentially deadly sour gas. Mud slides cause part of the Trans-Canada Highway running through Banff National Park to be closed. Evacuation orders begin to be issued in low-lying areas of Calgary.
June 21, 2013: As the Bow and Elbow rivers continue to rise, about 75,000 people are forced to flee their Calgary homes. Water rushes into the Saddledome, the city's National Hockey League arena, and swamps the grounds of the Calgary Stampede. Premier Alison Redford promises financial assistance for flood victims. The Department of National Defence deploys soldiers to the flood zone to help out. Prime Minister Stephen Harper visits Calgary and offers words of encouragement. Officials say at least three people have died as a result of the flooding. The city of Medicine Hat declares a state of emergency.
June 22, 2013: Rivers in Calgary begin to recede and officials begin giving permission for some residents to return home. In Medicine Hat, thousands of people are ordered to evacuate as the South Saskatchewan River continues to rise. Flood watches go into effect for Edmonton. Flooding also forces evacuations in communities in Saskatchewan and British Columbia.
June 23, 2013: About 65,000 Calgary residents are given the all-clear to return home as cleanup efforts continue. Provincial officials say 27 communities have declared states of emergency. The North Saskatchewan River continues to rise, further threatening Medicine Hat.
June 24, 2013: The Alberta government announces a $1-billion fund for flood repair and restoration work.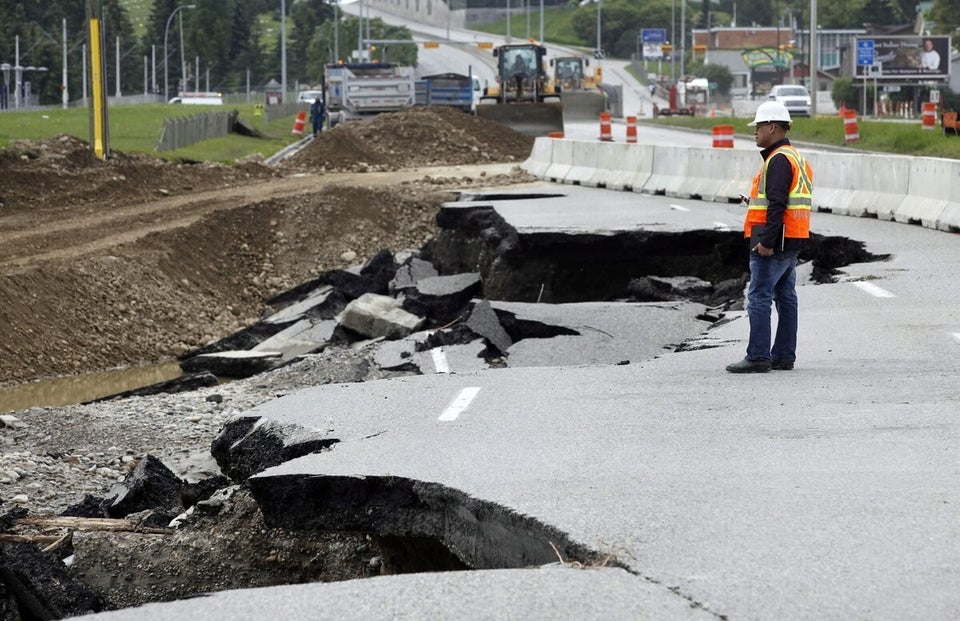 Powerful Images From The 2013 Alberta Floods
June 27, 2013: A bridge spanning Calgary's swollen Bow River gives way as a Canadian Pacific freight train is crossing over it. The cars are eventually unloaded and removed without a spill, but Calgary Mayor Naheed Nenshi is furious with CP Rail.
July 5, 2013: After an extensive and frantic cleanup effort, the 101st edition of the Calgary Stampede goes ahead with the slogan "Come hell or high water." Some events have to be relocated and some headlining concerts, including a performance by rock band Kiss at the badly damaged Saddledome, have to be scrubbed.
July 28, 2013: The province announces details of assistance it is offering to repair flood-damaged houses. Homeowners who qualify will get assistance for repairs or a complete rebuild — if that turns out to be cheaper. The funding formula covers "basic levels of finish" such as vinyl siding, asphalt shingles, "basic-quality" carpet and laminate counter tops.
Aug. 15, 2013: A concert to raise money for flood relief is held at McMahon Stadium. The lineup includes, Loverboy, Nickelback, Jann Arden, Randy Bachman, Tom Cochrane and Ian Tyson.
Aug. 22, 2013: The government offers buyouts to 254 homeowners whose houses were built in the flood plain. The buyout covers the property-tax-assessed value of the home. Those who refuse to leave are told they won't be covered by the province in a future flood. The maps are controversial. Some buyout eligible homes weren't damaged in the flood, while other homes that were destroyed aren't included in the program.
Sept. 11, 2013: The Saddledome reopens with two concerts by the legendary rock band the Eagles. About 2,500 seats in the lower bowl needed to be replaced first, as well as the ice pad, dressing rooms and the scoreboard electronics. It took 650,000 man-hours of work. The Flames return for their first exhibition game Sept. 14.
Nov. 21, 2013: Premier Redford says the province will go ahead with two flood mitigation projects. She says reviews are set to begin on a diversion channel around High River and on a dry dam upstream of Calgary. The province says it will also give money to the city of Calgary to study the merits of an underground diversion channel to take water from the Glenmore Reservoir to the Bow River.
Nov. 28, 2013: The Calgary Zoo fully reopens.
June 6: The province updates its numbers: 10,500 people have applied for money to repair their properties through the Disaster Recovery Program. Of those, 1,500 were small business owners. Of the more than 250 homes in the flood plain eligible for buyout, 77 have agreed to sell at a cost of $81 million to the province.
Like this article? Follow our Facebook page

Or follow us on Twitter