Prime Minister Stephen Harper flew to Calgary Friday to assess the extent of damage caused by floods sweeping across southern Alberta.
In a quiet moment of contemplation, Harper could be seen looking out the window of a helicopter down at the flooded landscape.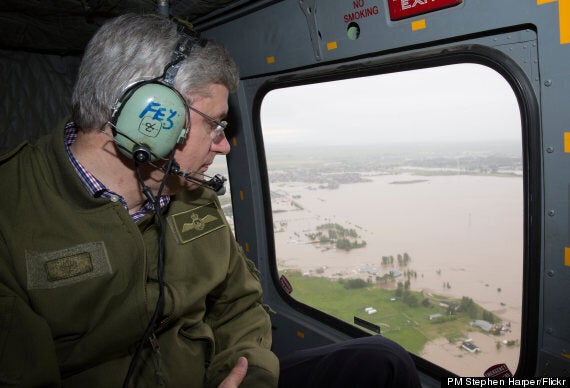 More from the Canadian Press:
CALGARY - Prime Minister Stephen Harper says as an Albertan, he never imagined there could be a flood of such magnitude in this part of Canada.

Harper, flanked by Alberta Premier Alison Redford and Calgary Mayor Naheed Nenshi, has spoken to reporters in Calgary where is is touring the region's hardest-hit areas.

"I've seen a little bit of flooding in Calgary before," he said. "I don't think any of us have seen anything like this."

He says he knows residents are going through a "very difficult time'' but promised that down the road life would get back to normal, urging everyone to stay optimistic.

He says the federal government has provided aid by deploying the military and providing equipment.

He and Redford say there will be funding available under provincial and federal disaster assistance programs under the usual formulas for such incidents.

Harper says for now it appears the flooding has peaked and stabilized, but he adds there are always fears that more water could have an impact on infrastructure.