The database was made public by former premier Jim Prentice after Alison Redford's government handed an undisclosed, unofficial sole-source contract to public relations firm Navigator Ltd. to the tune of $247,000, reports CBC News.
According to the Government of Alberta's website, all sole-source contracts totalling $10,000 or more must be reported to the public every three months, unless the disclosure would be contrary to the Freedom of Information and Protection of Privacy Act, impede law enforcement, or be contrary to public interest.
"Contracts worth more than $75,000 must go out to tender, although some sole-sourced contracts are worth several million," the Journal adds.
"Our government is committed to accountable, transparent and fair contracting processes. Sole-sourcing should not stay behind closed doors, because Albertans deserve to know where those dollars are going and how they are being spent," said Deron Bilous, Minister of Service Alberta, in a media release.
Many of the contracts are related to social services providers, as the government relies on a number of non-profit or philanthropic institutions to support the province's vulnerable communities.
Other contracts include legal advice, administrative support and treasury services.
One of the sole-sourced contracts was handed to former Saskatchewan NDP MLA Patricia Atkinson for $25,000, under the memo that she would "provide lived experience and practical advice to Ministers and the Premier."
A few of the contracts support arts and cultural initiatives for the province, such as $48,000 towards the Canadian Pavilion at the Mexican Petroleum Congress 2015 in Guadalajara, Mexico.
Another detailed $18,500 to Sherwood Park's Wild Creations Art Studio for the creation of illuminated scrolls reflecting the individual Alberta Order of Excellence inductees.
The Wildrose Party, Alberta's Official Opposition, expressed concern with the NDP's spending.
"There is bloat and mismanagement in our system that can and should be eliminated – a common sense review would find inefficiencies and reduce the burden that we will on be passing on to future generations," Wildrose Shadow Finance Minister Derek Fildebrandt said in a Friday afternoon press release.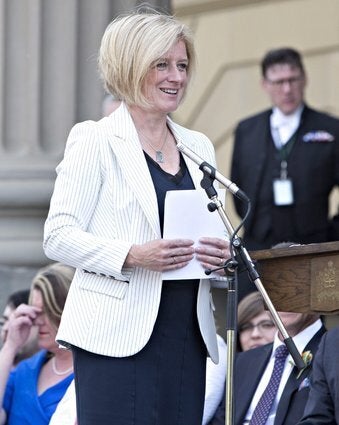 Rachel Notley's Cabinet