Some federal Conservatives are sounding the alarm as polls show the Alberta NDP stands an honest-to-goodness chance of forming government for the first time.
On Friday, federal Health Minister Rona Ambrose, who represents the riding of Edmonton—Spruce Grove, told reporters that an NDP government in her province could negatively impact the rest of Canada.
"We're the economic engine of this country and what happens here under a NDP government will affect every single province in the entire country," she said, according to the Edmonton Journal.
"I ask Albertans to really think twice and take a serious look at a party that wants to raise taxes on businesses."
Alberta NDP Leader Rachel Notley has promised to increase the corporate tax rate to 12 per cent from 10 per cent and hike income taxes on high-end earners.
Also on Friday, Tory MP Chris Warkentin, who represents the riding of Peace River, rose in the House of Commons to criticize the energy policies of federal New Democrats. Yet, the backbencher also referenced the election in his province.
"Unfortunately the Alberta NDP is taking their cues from the folks across the way," he said. "They're supporting higher taxes that Albertans cannot afford. They will kill jobs that Albertans desperately need."
Notley has vowed to review the royalties that energy companies pay to develop oil and gas resources in order to ensure Albertans are getting a fair return.
"The last royalty review cost the province billions of dollars in investments and cost thousands of Albertans their jobs," Warkentin said.
In 2007, Ed Stelmach's government increased royalty rates, but rolled them back after major criticism from the oil and gas industry and a serious loss of investment in the province. Producers suggested royalty increases compounded the effects of falling demand and low prices during the 2008 economic downturn.
Notley has also announced her party will move away from the Northern Gateway pipeline, a project the federal NDP opposes.
Earlier this week, Alberta Conservative Senator Doug Black released a statement to the media warning the Alberta NDP would be an "economic disaster" for his province.
"The NDP position on Gateway, taxes and royalties should make all Albertans very worried," he said. "The reality is that if Ms. Notley is elected, we will see fewer jobs, substantially higher taxes and lower economic growth in Alberta."
Black's tweet linking to his statement was shared by Ambrose and Calgary Centre MP Joan Crockatt.
Calgary Northeast MP Devinder Shory has also been active on Twitter in recent days criticizing Notley's team.
Alberta PCs Also Targeting Mulcair?
The criticisms all echo recent remarks from Alberta Progressive Conservative Leader Jim Prentice, who previously served in Prime Minister Stephen Harper's cabinet and was once expected to win the election easily. The PCs have been in power for 44 years.
Prentice has warned that an NDP government would be disastrous for a province wrestling with plunging oil prices. He has accused New Democrats of having a "fundamental distrust of business."
And, at a rally Thursday night, he took a shot at the federal NDP leader.
"We don't need a pipeline policy in this province that feels like it was scripted by Thomas Mulcair," Prentice said. "That is for sure."
Mulcair's criticism of pipelines that ship raw product abroad has made him a polarizing figure in Alberta.
Notley has said that Mulcair has no role in her campaign and that she has not spoken with him in months. She conceded this week, however, that some of her candidates had also been nominated to run federally in October.
She told The Canadian Press that all the "groundless name-calling" shows her opponents are getting desperate.
On Friday, Mulcair heaped praise on his Alberta counterpart, saying she has a "superb vision" for the province.
"Rachel Notley is an extraordinary politician, she's a very seasoned politician, she's an extraordinary leader and she's shown that with the type of campaign that she's run," he said.
Alberta voters head to the polls Tuesday.
With files from The Canadian Press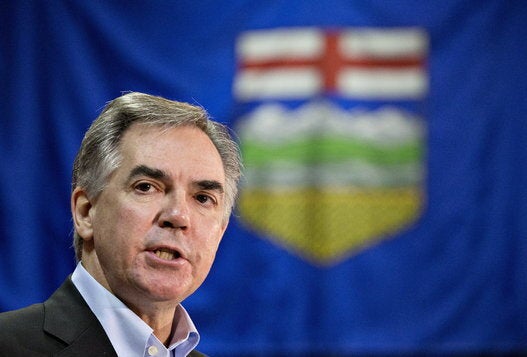 Alberta Election 2015 In Photos