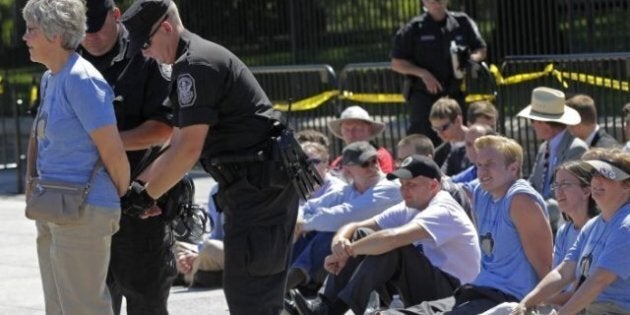 As hundreds of demonstrators prepare to descend on Parliament Hill on Monday to protest the development of the Alberta oil sands, the patience of some of their most prominent adversaries appears to be wearing thin for what they claim is a campaign of rhetoric not based on fact.
In a speech to the Canadian Club of Toronto Friday, Natural Resources Minister Joe Oliver turned his attention to the question of how to address the increasingly vocal opposition to the proposed Keystone XL Pipeline, acknowledging that "There is a significant communications challenge."
Noting the "celebrity protesters" that have made headlines in recent weeks for opposing the transport of bitumen from Alberta to Texas, Oliver outlined the safety and environmental standards the pipeline has met, pointing out that greenhouse gas emissions in the oil sands are lower than in coal plants in Wisconsin.
"We just have to keep repeating those points and making people understand that this exaggerated rhetoric about the end of the planet just doesn't pass muster," he said. "With regard to the oil sands and the Keystone XL Pipeline in particular, it's time to separate fact from fiction."
More than 1,200 demonstrators were arrested in Washington earlier this month as they protested Keystone XL, which is currently awaiting approval from U.S. President Barack Obama. The protesters, many of whom represent environmental and First Nations groups, say the pipeline will pollute waterways and fisheries.
Following his speech, Oliver told media his statements were not born out of frustration.
"People are entirely free to express their views, as long as its done in a civilized way," he said. "They're free just as I'm free to counter with the facts if I believe the facts are not being stated as clearly as they should be."
But in a recent conversation with the spokesman for TransCanada Corp., the Calgary-based company behind Keystone XL, the emotion was considerably more palpable.
Shawn Howard told The Huffington Post Canada that the information being propagated by some of those opposed to the project has made it "very difficult to have any kind of an informed discussion."
"As a company, we're held to a certain standard. We're expected to be precise, we're expected to provide a lot of facts," he said. "It becomes frustrating when people will willfully make things up, or lie right through their teeth, even though reality and the real world and facts tell them something completely different. It's kind of perplexing."
Howard points to an assertion that the pipeline could someday be used for bulk water removal of the Ogallala aquifer, which runs below the U.S. Great Plains, as a recent example.
The accusation, leveled by the Council of Canadians in August, stems from testimony delivered at the Nebraska state assembly earlier this year. When asked about how the company would eventually take the pipeline out of service, a TransCanada official prefaced his response by listing the various products that it could be used to transport before that time, including oil, gasoline and water.
"He was talking about how thorough our monitoring programs are that they would stand the test of time," says Howard. "He wasn't talking about some secret deal [to transport water]."
Howard's comments come as tension between those on both sides of the issue mounts. In advance of Monday's protest, organizers report that hundreds have expressed a willingness to risk arrest.
"You see people beginning to step forward and say there is a role for non-violent civil disobedience," said Andrea Harden-Donahue, energy campaigner for the Council of Canadians. "That's to underscore the seriousness of an issue to our government, and to stand side-by-side with other people who share that opinion and share the opinion that enough is enough."
Labour officials, who believe that the Keystone XL Pipeline will costs the Canadian economy tens of thousands of jobs, have also spoken out about the issue. On Thursday, the Communications, Energy and Paperworkers Union of Canada (CEP), petitioned MPs in Ottawa to reverse their approval of the pipeline, calling it a "jobs killer."
"This is one of those sea-change moments, not just for First Nations but for everybody who is concerned about the psychotic energy policy of Canada, and their attempts to market dirty tar sands to the world."