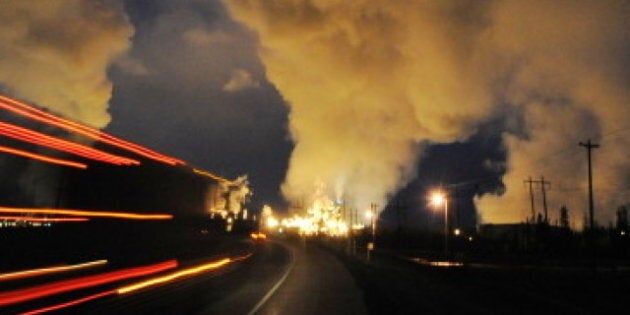 The EC, an executive body comprised of all EU member countries, plans to propose that tar sands oil be given a carbon emission value of 107 grams per megajoule of energy, compared to 87.5 grams of carbon for conventional crude oil.
The European Parliament must approve the proposal before it becomes law.
The proposal is meant to be part of the EU's Fuel Quality Directive, a plan that aims to reduce carbon emissions from transportation by six per cent by 2020.
For Canada's oil exporters, the EC move is a potential public relations disaster. Besides the negative optics of oil sands bitumen being singled out as an extra-dirty form oil, exporters and government officials worry that it could set a precedent that the U.S. -- Canada's largest oil market -- could follow in the future.
European environmental activists welcomed the move Thursday.
The EC's move comes as a political battle rages in the United States over the construction of TransCanada Corp.'s Keystone XL Pipeline, a $7-billion project that, if completed, would carry oil from Alberta's oil sands to refineries in Texas.
Critics of the pipeline in the U.S. fear the possibility of environmental degradation from the pipeline, and the potential for costly and environmentally devastating oil spills. Critics in Canada say the pipeline will hollow out Canada's oil refining business by sending refinery jobs to Texas. And critics on both sides oppose the expansion of what they say is a particularly environmentally harmful type of oil.
The move also comes as Europe and Canada are locked in the middle of free trade negotiations that were supposed to have been concluded this year, but continue to be delayed. A separate carbon designation for the oil sands could further delay -- or even scuttle -- those talks.
Europe's environmental programs -- among the most aggressive in the world -- have caused tensions between the continent and many of its partners. The U.S. and Canada are both actively fighting EU plans to apply a cap-and-trade plan to international airlines, meaning airlines flying to Europe would have to buy permits if their flights exceed set limits for carbon emissions.
The IATA, the body that governs international air travel, has come out against the move. But the EU remains steadfast, with an EC spokesman telling the media "there is no plan B" for airline carbon emissions.
Popular in the Community